Sun Feb 14, 2021, 03:10 PM
marble falls (39,258 posts)
2 men arrested for allegedly stealing military veterans' remains, using them in 'religious practices
2 men arrested for allegedly stealing military veterans' remains, using them in 'religious practices'
https://abcnews.go.com/US/men-arrested-allegedly-stealing-military-veterans-remains-religious/story?id=75174590
They said they needed remains from those who have "done something heroic."
ByJon Haworth
January 11, 2021, 6:48 AM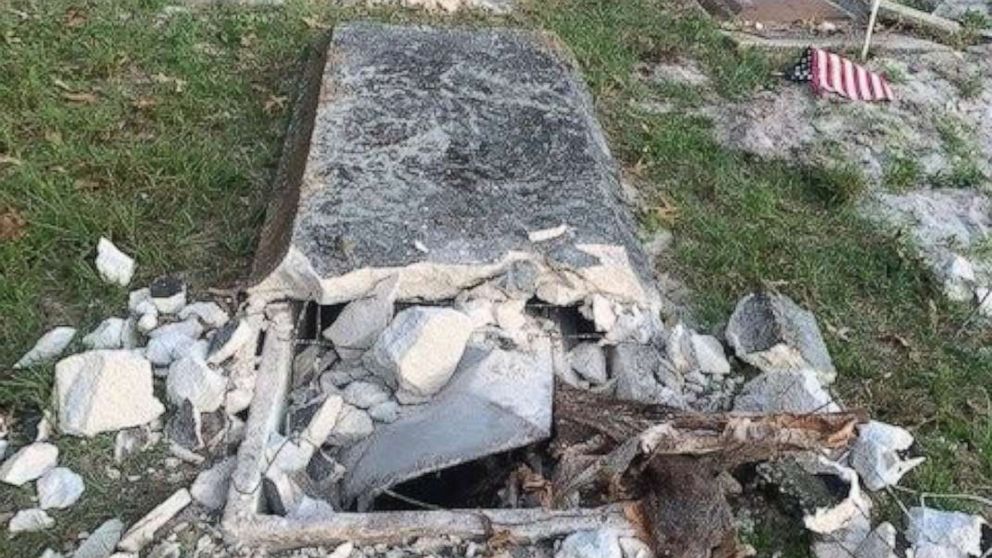 -snip-
Investigators collected items that were left behind – including cigar butts – and sent those items off for DNA testing, which authorities say they matched with Brian Montalvo Tolentino, 43, of Davenport, Florida.
"Lake [County] detectives then met with and interviewed Tolentino, during which he confessed to going to the cemetery with another individual, 39-year-old Juan Burgos-Lopez … and committing the crimes," said Lake County Sheriff's Office in a statement released on Jan. 7 after contacting the Polk County Sheriff's Office whose detectives obtained a search warrant for the suspects. "Tolentino stated that Lopez used a crowbar to open the vaults and then removed the heads of the deceased. He stated they removed four heads from the four graves and then returned to Lopez's residence. He stated the heads were taken for religious practices."
-snip-
According to the Polk County Sheriff's Office, the suspects told detectives that they were using the human remains in their religious practice called Palo Mayombe -- a religion that developed in during the slavery era in Cuba among enslaved African people and their descendants, according to Lonely Planet -- and that they robbed graves of veterans because they needed remains from those who have "done something heroic."
-snip-
"During the search, detectives located a total of six skulls, a hand, partial arm, and multiple other large bones within what appeared to be some sort of religious shrine," the Lake County Sheriff's Office said in a statement. "Lopez identified four skulls as being those obtained from the Edgewood Cemetery and stated the other two skulls were obtained from other practitioners. He also had an additional skull that he claimed was fake."
-snip-
5 replies, 1047 views
Replies to this discussion thread
| | | | |
| --- | --- | --- | --- |
| 5 replies | Author | Time | Post |
| 2 men arrested for allegedly stealing military veterans' remains, using them in 'religious practices (Original post) | marble falls | Feb 14 | OP |
| | rampartc | Feb 14 | #1 |
| | SWBTATTReg | Feb 14 | #2 |
| | dhill926 | Feb 14 | #3 |
| | XanaDUer2 | Feb 14 | #4 |
| | marmar | Feb 15 | #5 |
---
Response to marble falls (Original post)
Sun Feb 14, 2021, 03:30 PM
rampartc (3,606 posts)
1. freedom of religion
the story puts me in mind of prescott bush's adventure with geronimo's skull ......
http://content.time.com/time/specials/packages/article/0,28804,1988719_1988728_1988723,00.html
"It's a strange fate that the bones of one of America's most fearful enemies have come to define one of its most hallowed institutions of power. The Apache warlord Geronimo, part-guerrilla, part-shaman, launched raids across the Southwest and harried and evaded U.S. and Mexican troops for nearly three decades until his capture in 1886.
But, as the story goes, the legendary rebel was not allowed to lie in peace after his death in U.S. captivity in 1909: Six members of Yale's Skull and Bones secret society, including Prescott Bush, grandfather of 43rd President George W. Bush, allegedly dug up Geronimo's grave while serving as army volunteers in Oklahoma during World War I. A letter written by one of the member's of the society in 1918 was brought to light by a New Haven-based researcher four years ago: "The skull of the worthy Geronimo the Terrible," it read, "exhumed from its tomb at Fort Sill by your club... is now safe inside the tomb and bone together with his well worn femurs, bit and saddle horn."
The second "tomb" mentioned presumably refers to the society's windowless, red stone edifice in New Haven. A flurry of law suits to retrieve Geronimo's skull followed, but have been deflected by the Skull and Bones, which denies possession of the Apache's remains. It still can't ward away campus rumors of the skull appearing in the society's nocturnal initiation rites, staring hollowly at the future rulers of the nation whose expansion he fought so fiercely."
---
Response to marble falls (Original post)
Sun Feb 14, 2021, 03:52 PM
SWBTATTReg (15,461 posts)
2. I hope that the authorities throw the book at these idiots for disturbing these soldiers' graves.
This is disgusting and they really do need to throw the book at these people so others won't get the same filthy idea to go dig up others for their weird and obscene 'religious' rituals.
---
Response to marble falls (Original post)
Sun Feb 14, 2021, 05:12 PM
dhill926 (12,301 posts)
3. Florida Man taking it to a whole 'nother level...
this is some sick shit...
---
Response to marble falls (Original post)
Sun Feb 14, 2021, 05:16 PM
XanaDUer2 (1,583 posts)
4. And....
I knew it would be Florida. Disgusting
---
Response to marble falls (Original post)
Mon Feb 15, 2021, 12:29 PM
marmar (72,851 posts)
5. Creepy AF