Mon Mar 29, 2021, 02:04 PM
catbyte (26,282 posts)
Squirrel vandalizes Mackinac Island church, breaks antique crucifix
Today 7:35 AM
By Tanda Gmiter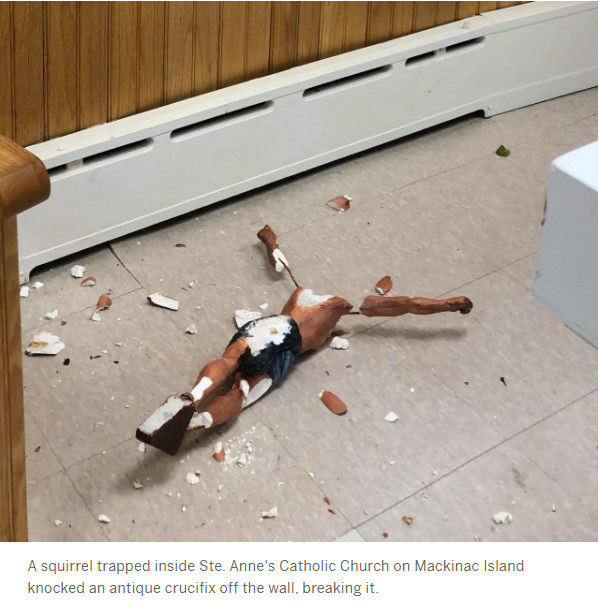 MACKINAC ISLAND, MI – A squirrel accidentally trapped overnight in one of Mackinac Island's oldest churches did some unholy damage – breaking apart the figure of Jesus on an antique crucifix and sending the cross crashing to the floor. But with some patience, some patching and the deft touch of two artists on the island, Ste. Anne's Catholic Church now has its vintage treasure back on the wall behind the altar.
The damage done by the uninvited visitor was discovered earlier this winter. Leanne Brodeur, the church's administrative assistant, said when she walked into the downstairs area the parish uses to celebrate Mass in the winter, she initially thought vandals had broken in. Plants were tipped over. Unlit votive candles were knocked askew. And the crucifix that had been on the wall behind the altar was on the floor, the plaster figure of Jesus broken into pieces.
Brodeur called Jim Morse, the church's maintenance engineer, to survey the mess. "Jim thought it was a critter," Brodeur said. "We looked around, and that's when we saw him. There was a squirrel sitting on top of the piano, looking at us."
They opened the church's side doors and chased out the four-legged intruder. They suspect the squirrel had gotten in through a door someone had left open the day before, then found itself trapped inside for the night. The rodent had chewed up the wooden window sills, too, likely trying to get back outside.
snip
https://www.mlive.com/news/2021/03/squirrel-vandalizes-mackinac-island-church-breaks-antique-crucifix.html
4 replies, 483 views
Replies to this discussion thread
| | | | |
| --- | --- | --- | --- |
| 4 replies | Author | Time | Post |
| Squirrel vandalizes Mackinac Island church, breaks antique crucifix (Original post) | catbyte | Mar 29 | OP |
| | marble falls | Mar 29 | #1 |
| | jpak | Mar 29 | #2 |
| | Botany | Mar 29 | #3 |
| | catbyte | Mar 29 | #4 |
---
Response to catbyte (Original post)
Mon Mar 29, 2021, 02:20 PM
marble falls (39,473 posts)
1. They made short work of my birdseed bin once they figured out what was in it: Black Sunflower seed.
Little buttheads left the corn that they get regularly and hemp seed bins I was using to keep the sparrows away from the sunflower seed (the sparrows will mob the black seed if their favorite, hemp seed isn't available) alone completely.

Wildlife is a matter of balancing interests. And they've let me know I am clueless once we get to level three. That no matter what, the squirrels always win.
---
Response to catbyte (Original post)
Mon Mar 29, 2021, 03:04 PM
jpak (40,164 posts)
2. J H C
---
Response to catbyte (Original post)
Mon Mar 29, 2021, 04:14 PM
Botany (59,511 posts)
3. I wonder how many Hail Marys the squirrel will have to say?
---
Response to Botany (Reply #3)
Mon Mar 29, 2021, 04:16 PM
catbyte (26,282 posts)
4. They'll probably go easy on him. Everybody on Mackinac Island goes a little nuts in the winter and
early spring.