Wed May 5, 2021, 05:50 AM
muriel_volestrangler (95,954 posts)
Hanging rhinos upside down is 'vital' for their conservation
The black rhino is critically endangered, predominantly due to significant demand for rhino horn. Conservationists have been finding ways to better protect them for a number of years and often find themselves having to think outside the box.
Sometimes the rhinos need to be moved from inaccessible, wilderness areas by helicopter, to bring them to safety. But as transporting the enormous creatures can be a tricky manoeuvre, the rhinos need to be tranquillised. This allows them to be airlifted by their feet, which saves time and is thought to be kinder to the animals, according to WWF.
While this transportation method has been used for ten years now, there has been debate over whether the anaesthetic drugs can be dangerous when the rhinos are hung upside down, as opposed to lying down on their side.
A new study has now concluded that rhinos "actually fare[d] slightly better when slung up in the sky," in a positive step towards conserving the species. The research was published in the Journal of Wildlife Diseases, led by Cornell University in New York, US.
https://www.euronews.com/green/2021/02/02/hanging-rhinos-upside-down-is-vital-for-their-conservation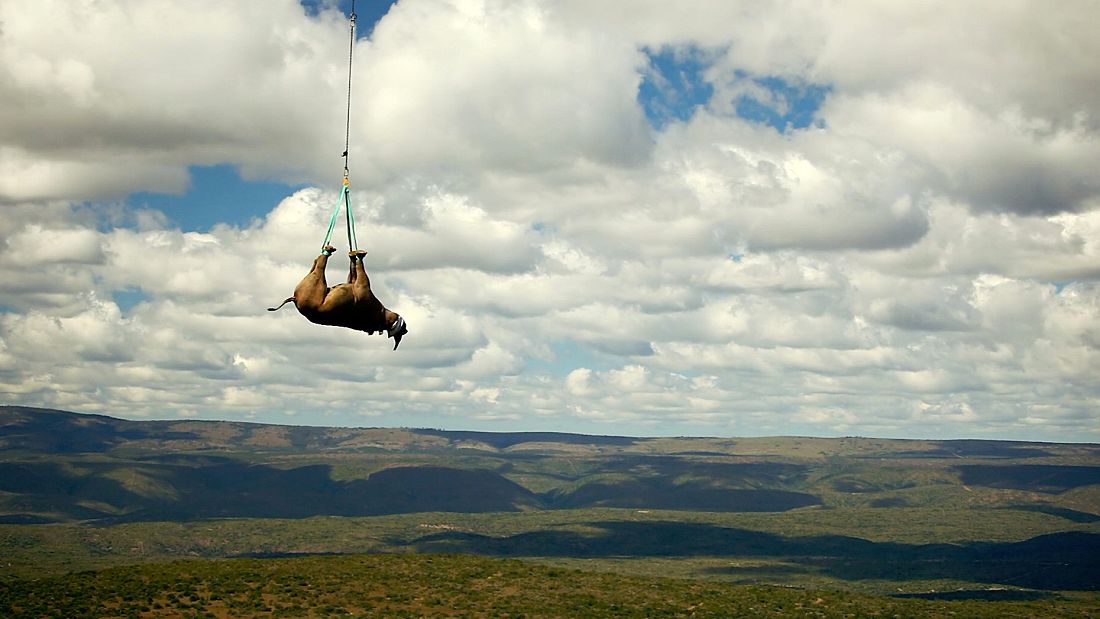 5 replies, 642 views
Replies to this discussion thread
| | | | |
| --- | --- | --- | --- |
| 5 replies | Author | Time | Post |
| Hanging rhinos upside down is 'vital' for their conservation (Original post) | muriel_volestrangler | May 5 | OP |
| | TreasonousBastard | May 5 | #1 |
| | jimfields33 | May 5 | #2 |
| | Midnightwalk | May 5 | #3 |
| | jimfields33 | May 5 | #5 |
| | packman | May 5 | #4 |
---
Response to muriel_volestrangler (Original post)
Wed May 5, 2021, 06:00 AM
TreasonousBastard (38,127 posts)
1. Just guessing, but it's still better than being shot and your horn slashed off.
---
Response to TreasonousBastard (Reply #1)
Wed May 5, 2021, 06:03 AM
jimfields33 (6,085 posts)
2. I really hate that they do something and then say, "oops maybe not safe"
Why not find out first before loading the Rhinos up on tranquilizers? Doesn't make sense.
---
Response to jimfields33 (Reply #2)
Wed May 5, 2021, 08:05 AM
Midnightwalk (3,106 posts)
3. There's more info in the article linked in article
The article linked in the article gives some more information
Since then, this has been the technique of choice for moving rhinos out of tricky terrain – but only for short stretches until they can be loaded onto a truck. They are usually airborne for 10 minutes or less.

The advantage of this airlift technique is that fewer people are needed on the ground because the rhino does not have to be rolled onto a net. This saves time and is kinder to the rhino which is unconscious for a much shorter period.

No ill effects

"This is now the method of choice because it is quick and harmless to the rhinos – always the main concern in these operations," says Dr Flamand, a wildlife vet who has overseen the translocation of thousands of rhinos during his career.
[link:
https://www.euronews.com/green/2021/02/02/hanging-rhinos-upside-down-is-vital-for-their-conservation
|]
I think it's more like to save the rhinos they have to move them by helicopter to truck. They didn't set up the danger. The choices are tranquilize and roll them in net or tranquilize and transport by feet. By feet takes less people but the rhino is kept tranquilized less time.
Now the study says it actually is better.
I can't fault them for saving the rhinos by the what they thought was the best technique before they could probe that. The real crime is they needed to be transported.
Anyway your post pushed me to read the imbedded article so thanks. I didn't know they removed their horns after to protect the rhinos from poaching. They say painless and they grow back.
---
Response to Midnightwalk (Reply #3)
Wed May 5, 2021, 11:30 AM
jimfields33 (6,085 posts)
5. Thank you for providing this.
It does seem like it's better. I never knew the horns grew back. How cool.
---
Response to muriel_volestrangler (Original post)
Wed May 5, 2021, 10:49 AM
packman (13,481 posts)
4. Somehow I find this mildly amusing
It is only a matter of time that someone gets killed from a falling rhino from the sky.

"so sorry , Mrs. Smith your husband is dead"
How?
A rhino fell on him