Tue Dec 13, 2011, 06:22 AM
ellisonz (27,186 posts)
Howard Dean, Speeches, Campaign Press Releases, Interviews and more...
This discussion thread is pinned and locked. It is closed to new replies.
This extensive collection goes up until 2008 and is the best accumulation I've found on the web.
http://www.crocuta.net/Dean/Dean_Speeches.htm
Please post what you find in the 1,000 Posts to Applaud Howard Dean Thread:
http://www.democraticunderground.com/11051
- I've locked this thread so we'll make it!
Enjoy!
Here's a favorite of mine from the 2005 Winter DNC Meeting when Howard was elected Chairman:
You've given me enormous responsibility, but it's a responsibility that we share. We can change the party, but only by working together and competing in all 50 states and territories. [Cheers and applause] We can change the party, but only by working together and becoming a national party again. We can change this party, but only by working together at the local level, because if we want to win nationally we have to start by winning locally.
[Applause]
With your help, I'm certain that today will not mark the end of the process of selecting a DNC chair; today will be the beginning of the reemergence of the Democratic Party.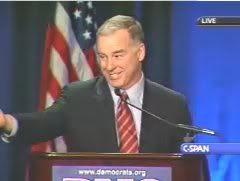 [Applause]
We have a lot of work to do. We have a bright future, exemplified by other candidates, the other candidates who had joined me in this race, and I want to thank all these great Democrats for having competed, 'cause I learned something from every one of them. [Points to someone off camera] I thank you [inaudible-- "wes"?]
[Applause]
"...he has given this party so much..."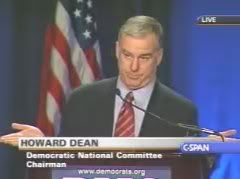 [speaks slowly and emphatically] And I want to thank Terry McAuliffe. He has given... [Applause] ...He has given this party so much, every waking day for the past four years of his chairmanship, and he's given us something else. A party in strong financial shape, with an infrastructure to meet the challenges of the future. This is no small gift.
I can't tell you how ironic it is for us to be side by side two years later, and me telling you that I have learned a great deal from a man I am proud to call my friend, and every Democrat in this room owes an enormous debt to Chairman Terry McAuliffe. Thank you so very much.
[Applause. McAuliffe gets up from his chair and he and Dean shake hands warmly.]
Dean: We're gonna build on his work. Among the first things I will do is to establish a budget and finance committee that's inclusive. [Scattered cheers and applause]
I want to thank others as well. Most important, my family-- I would not be here, not only without their support, or their belief in a more just and fair America. And I want to thank my wife Judy for her patience, and her love, and she is here today. Judy, would you please stand and be recognized?
Dr. Judy Steinberg Dean
[There are cheers and applause. Judy stands up briefly, smiling bashfully, then goes to sit right back down again.]
Dean: [coaxingly] Stand up.
[Judy stands back up, smiling broadly. The audience comes to their feet as they continue to applaud her.]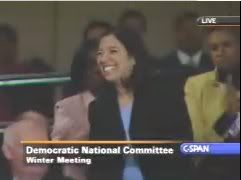 http://www.crocuta.net/Dean/DNC_WinterMeetingFull_Feb12_2005.htm
Remember Terry McAuliffe?
0 replies, 12563 views
Cannot reply in locked threads