Sun Mar 6, 2016, 08:30 PM
Haveadream (1,621 posts)
Democratic Battle for Battleground States - Hillary's Winning!
I did some research and numbers crunching this morning and, no surprise, found that the forecast for the battleground States shows clearly and unequivocally that Hillary, not Bernie, is by far the more electable Democratic candidate. So, I posted the following in the GDP this morning and although some people looked at it, as usual, when the available data challenges what Sander's supporters want to believe, they simply pretend it isn't there. For the most part, it got lost in the shuffle because the numbers do not favor Bernie or his chances in the General.
I am posting it here because I think the Hillary Group will appreciate the facts quite a bit more!
Enjoy!
Primary elections give us a predictive insight into what may happen in the General Election. Democrats who are focused on a win in November are paying close attention to the wins in the swing states and the margins by which we are able to do it. Here is a map that shows the States that vote solidly Republican and Democrat and the ones we need to take in November to hold on to to have a Democrat in the Oval Office and a Supreme Court that upholds Civil Rights: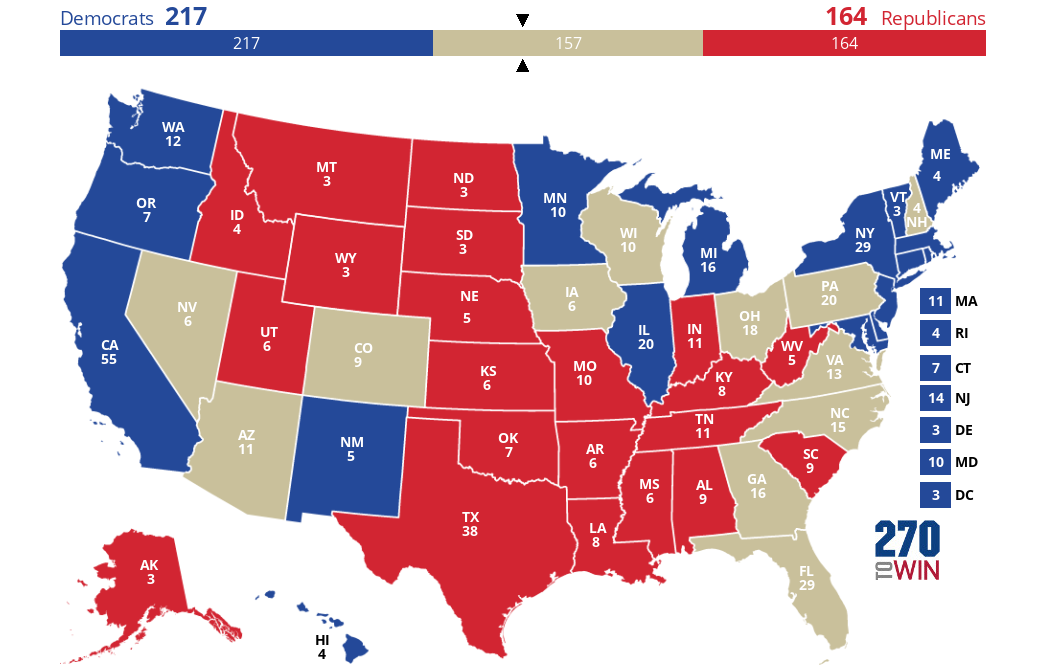 Here are each candidate's Swing State wins in the Primary and the number of Electoral Votes those States have in the General Election.
How have Democrats voted so far? For purposes of this accounting, I'm calling Iowa, with 6 electoral votes, a split:
Clinton

Iowa: 6

Nevada: 6

Virginia: 13

Total: 25


Sanders:

Iowa: 6

New Hampshire: 4

Colorado: 6

Total:16

How are the candidates polling in the on-coming Swing State Primaries that really matter for Democrats?:



Pennsylvania: 20 -- Clinton@ 48% Sanders@ 27%


Ohio: 18 -- Clinton @ 55% Sanders @ 40 %


North Carolina:15 -- Clinton @ 51% Sanders @ 34%


Florida: 29 -- Clinton @57 Sanders @ 32%


Ohio: 18 -- Clinton@55% Sanders @ 40%


Wisconsin: 10 -- Sanders @ 44% Clinton @ 43%
2 replies, 1418 views
Replies to this discussion thread
| | | | |
| --- | --- | --- | --- |
| 2 replies | Author | Time | Post |
| Democratic Battle for Battleground States - Hillary's Winning! (Original post) | Haveadream | Mar 2016 | OP |
| | beachbum bob | Mar 2016 | #1 |
| | UtahLib | Mar 2016 | #2 |
---
Response to Haveadream (Original post)
Sun Mar 6, 2016, 09:29 PM
beachbum bob (10,437 posts)
1. you should post the links for the polling stats
that always helps a lot....not that I disagree with any
---
Response to Haveadream (Original post)
Sun Mar 6, 2016, 09:32 PM
UtahLib (3,159 posts)
2. K&R