Sun Jan 5, 2014, 05:10 PM
Judi Lynn (149,888 posts)
'Lawyers in some countries are disappeared simply for doing their jobs'
'Lawyers in some countries are disappeared simply for doing their jobs'
Alliance of Lawyers at Risk urgently seeks volunteers to provide unarmed protection for those under threat for their rights work
Duncan Campbell
theguardian.com, Friday 3 January 2014 14.39 EST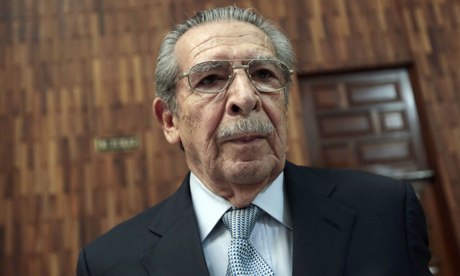 [font size=1]
Former Guatemalan dictator José Efraín Rios Montt's conviction for genocide was
overturned. The Alliance and PBI hope to get a decision to put pressure on national
courts to get back his 80-year sentence. Photograph: Jorge Dan Lopez/Reuters[/font]
The death of Nelson Mandela was a reminder that it was as a lawyer that he first ran into serious trouble with the authorities in South Africa. Around the world, from Colombia to Nepal, from Mexico to Indonesia, there are still many lawyers under threat of prison or death as a direct result of their work.
It is three years now since the Alliance of Lawyers at Risk was launched in conjunction with Peace Brigades International (PBI), the organisation that sends volunteers around the world to provide unarmed protection for those under threat because of their human rights work.
The list of their members is a long one – Sir Henry Brooke, Peter Roth, Lord Woolf, Baroness Scotland, Phil Shiner, Dinah Rose, Nicholas Green, Geoffrey Robertson, Michael Mansfield, Lord Carlile, Sir Geoffrey Bindman to name but a few – but they are now urgently seeking new supporters and activists with legal skills for 2014.
"Lawyers in some countries are regularly subjected to threats to themselves or their families, are physically attacked and even abducted and forcibly 'disappeared' simply for doing their jobs," says Susi Bascon of PBI UK. "In Colombia alone, as many as 25 lawyers may be killed each year."
More:
http://www.theguardian.com/law/2014/jan/03/alliance-of-lawyers-at-risk
0 replies, 467 views