Wed Sep 10, 2014, 04:59 AM
Judi Lynn (140,950 posts)
Zebra-suited urbanists of Bolivia undeterred by hit-and-run death
Zebra-suited urbanists of Bolivia undeterred by hit-and-run death
The recent death of a teenager working as a 'zebra' road safety helper shines a spotlight on what has otherwise been a success story of how at-risk youth can transform a city
Sara Shahriari in La Paz
theguardian.com, Tuesday 26 August 2014 10.00 EDT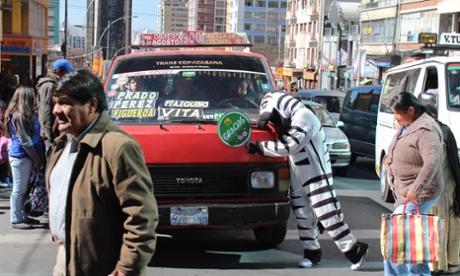 [font size=1]
'A zebra is humility' ... zebra urbanists in La Paz, Bolivia. All photographs: Sara Shahriari
for the Guardian [/font]
On a freezing, brilliantly sunny day, Karen Huaylluco is trotting along an intersection on the busiest street in downtown La Paz, wearing a striped suit and plush zebra mask. Waving her hooves, she ushers people along the black-and-white pedestrian crossing, rejoicing when they wait for green and clutching her head in agony when an errant soul sprints across oncoming traffic. Her work earns many smiles from harried commuters.
"A zebra is love, a zebra is humility, it's respect," says Huaylluco, 24, a soft-spoken young woman who cares for her three younger sisters while her parents work in neighbouring Chile. "We learned all that here, and we take it with us and will be this way wherever we go."
Huaylluco began the programme four years ago and is now a "zebra administrator". Any morning during rush hour in La Paz, you will find her and a herd of zebras capering down the sidewalk, calling out buenos días and stopping to hug children.
La Paz has experienced a dramatic population increase in recent decades as people relocate from rural areas, and an even bigger spike in the number of cars that cruise its narrow, colonial-era streets. The people and cars are a chaotic, sometimes dangerous mix, so in 2001 the city government created the zebras to educate pedestrians and drivers on sharing the road.
More:
http://www.theguardian.com/cities/2014/aug/26/zebra-urbanists-bolivia-hit-run-death-road-safety
0 replies, 573 views