Fri Nov 21, 2014, 09:06 PM
Judi Lynn (146,595 posts)
Chilean ex-navy officers found guilty of murdering priest
Chilean ex-navy officers found guilty of murdering priest
Jose Manuel Garcia Reyes and Hector Palomino Lopez given three-year sentences for killing Michael Woodward 40 years ago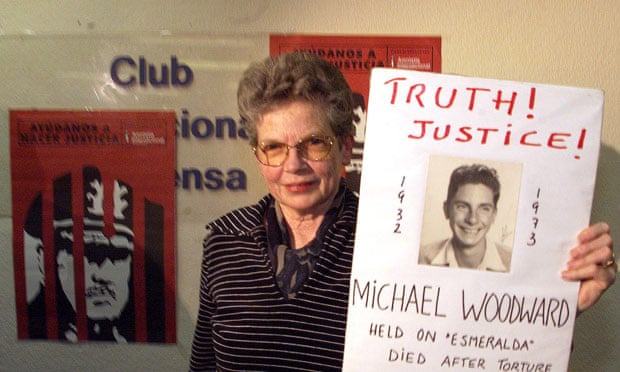 [font size=1]
Patricia Bennets holds up a placard with a picture of her brother priest Michael Woodward at a press conference in 1999.
Photograph: Christophe Simon/AFP
[/font]
Four decades after British Roman Catholic priest Michael Woodward was arrested, tortured and murdered by Chilean navy personnel during a coup led by notorious dictator general Augusto Pinochet, two of his killers have at last been found guilty by a local court. But while the sentence provides final recognition that he was kidnapped and taken to the four-masted navy training ship Esmeralda to be tortured, it does not provide a solution to one of the most painful mysteries left over from his murder – the whereabouts of his clandestine grave, which Chile's armed forces have done nothing to find.
The three-year sentences handed down to non-commissioned officers Jose Manuel Garcia Reyes and Hector Palomino Lopez fell far short of the aims of a tireless campaign by his sister Patricia Bennetts.
"The truth about what happened to Michael has been revealed," his sister said in a statement on Thursday. "We regret that Michael's body, hidden by the Chilean Navy, has still not been found."
The original court investigation involved 33 navy personnel, including four vice-admirals, but only seven were eventually brought to trial.
Threats of violence by supporters of Pinochet were part of a concentrated attempt to intimidate his septuagenarian sister and those who backed her quiet but tenacious campaign for justice.
On one occasion protesters tried to kick her when she arrived at court. On another, prosecutor Karina Fernandez had her house broken into and her laptop stolen, while the thieves deliberately left her jewellery and money on her bed. Investigating magistrate Eliana Quezada received regular death threats.
More:
http://www.theguardian.com/world/2013/may/09/chilean-officers-reyes-lopez-guilty-murder-priest
[center]~ ~ ~[/center]
Surely sounds like right-wingers, doesn't it?
0 replies, 594 views