Sun Nov 23, 2014, 10:40 PM
Judi Lynn (146,669 posts)
Mexico's Military & Political Class In The Eye of Ayotzinapa Storm
Mexico's Military & Political Class In The Eye of Ayotzinapa Storm
By Ted Lewis, www.huffingtonpost.com
November 22nd, 2014
Troubling Questions on Role of Military in Ayotzinapa Case as National Crisis Builds
Political Class and Governing Institutions Discredited on a Scale Not Seen for Generations
When Iguala, Guerrero municipal police and masked men in unmarked black uniforms opened fire on unarmed students from the Ayotzinapa teachers college last September, killing six people and kidnapping 43 students, they lit the fuse of a national crisis.
The atrocity triggered outrage because it illuminated the shadowy collaboration between local police, political bosses, militarized criminal gangs, and other state actors. It also raised deeply troubling questions about the role of Mexico's armed forces that remain unanswered.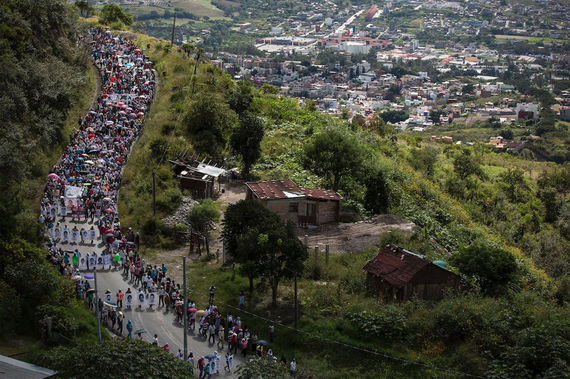 Mexico's political class and governing institutions are suddenly under attack and discredited on a scale not seen for generations. The poor, angry, politically savvy and mostly rural families of the murdered and disappeared students are at the lead of a fast growing dissident movement that has the attention and sympathy of tens of millions of Mexicans. It should have the attention of the U.S. public and foreign policy decision makers as well.
A confrontation looms. Last week the families of the 43 disappeared students rejected the findings of the Mexican Attorney General who declared the students dead. His findings were based on the confessions of alleged participants, who described mass slaughter and the burning of corpses at a garbage dump.
More:
https://www.popularresistance.org/mexicos-military-political-class-in-the-eye-of-ayotzinapa-storm/
0 replies, 470 views