Sat Jun 20, 2015, 01:28 PM
Judi Lynn (139,931 posts)
Havana: one of the world's great cities on the brink of a fraught transition
Havana: one of the world's great cities on the brink of a fraught transition
With negotiations under way to restore US ties, the Cuban capital's days as a kind of open-air museum where time stood still are numbered. As the country opens up to the outside world, its people look likely to push for faster change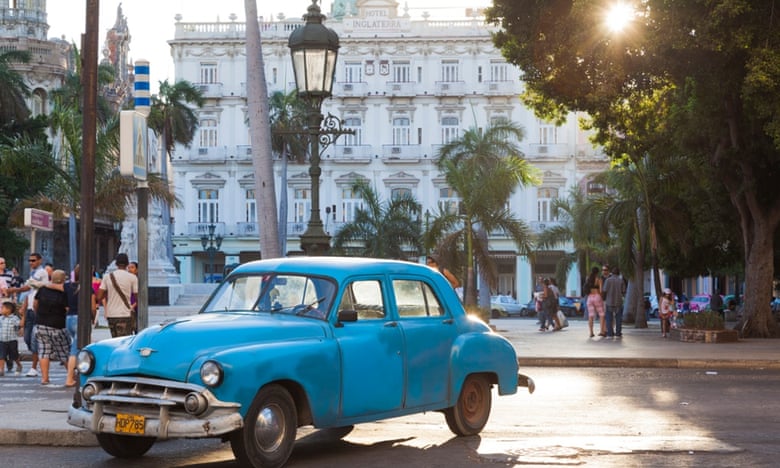 [font size=1]
'Havana today can be a jarring collision of the antique and the nouveau'. Photograph: Walter Bibikow/JAI/Corbis
[/font]
Michael Deibert in Havana
Wednesday 17 June 2015 02.30 EDT
To visit Havana in the late spring, before the torpid humidity and showers of summer, is a glorious thing. Strolling through the streets of La Habana Vieja, its derelict and weather-worn facades still elegant, one encounters the grandeur of squares such as the Plaza de la Catedral, its church built in 1727, where leisurely cats and songbirds find refuge from the exhaust fumes that plague so much of the city.
As they have for decades, at dusk fishermen cast their lines and nets off the Malecón and into the splashing Caribbean, the sun descending as a fiery globe into the sea before them. In Vedado, once a glittering nightlife destination for the 1950s jet set, the old houses and green parks manage to catch some afternoon coolness as they slouch down towards the bay.
The last few years have one been ones of rapid change in Havana, one of the world's great iconic cities for well over a hundred years and a traditional weathervane of the fortunes of the country as a whole. The days where it served as a kind of an open-air museum where time stood still appear to be drawing to a close, with the opening of a long-closed system generating an inevitable tension and dynamism.
Cuba – including even its increasingly cosmopolitan capital – remains an authoritarian state
Ruled by the Communist dictatorship of the Castro brothers since 1959 (and by the US-backed capitalist dictatorship of Fulgencio Batista for seven years before that), last December US president Barack Obama and Cuban president Raúl Castro announced that long-standing travel and commercial restrictions the US had placed on Cuba would be relaxed, and that full diplomatic relations would be restored. Confirmation that embassies are to reopen in Washington DC and Havana is expected in early July, according to the latest reports. Many in Cuba and abroad hope that the US embargo on the country – a blunt and ineffective tool that collectively punishes Cubans as a whole rather than their government – will soon end as well.
More:
http://www.theguardian.com/cities/2015/jun/17/havana-city-brink-change
0 replies, 482 views