Tue Sep 29, 2015, 04:07 PM
forest444 (5,902 posts)
Who is the U.S. official that offered Argentina a deal with Iran?
Speaking at the General Assembly of the United Nations on Monday, Argentine President Cristina Fernández de Kirchner welcomed the agreement the United States, Russia, China, Germany, Britain, and France negotiated with Iran in order to stop its nuclear arms development, stating however that "there is a lot of hypocrisy and little interest in the truth." To this effect, she pointed
to a 2010 request by a White House official that Argentina collaborate in providing Iran with nuclear fuel for its reactor
.
Who was she talking about? White House Coordinator for Arms Control (WMD czar)
Gary Samore
, who informed Mrs. Kirchner at the time that his country was in dialogue with Tehran and who made the request. In response, the Argentine government asked that the request to grant fuel to Iran be put in writing; but far from happening, Samore disappeared from these talks without further notice.
"I told the Foreign Minister (Héctor Timerman) that if the request were made ​​in writing, we would cooperate - because the goal of nuclear non-proliferation was important." Mrs. Kirchner said. "I think it was the last time Foreign Minster Timerman saw Gary Samore."
"When in 2013 Argentina signed the memorandum of understanding with Iran to unblock the investigation of the 1994 AMIA attack, it seemed to have unleashed the demons.
And now that the April 2 agreement between Iran and the U.S. has been signed, one wonders what the reason was to oppose the judicial cooperation agreement between Iran and Argentina. What is the reason? I heard another president speak here today of hypocrisy. There is indeed a lot of hypocrisy, much geopolitical posturing, and little interest in reaching memory, truth, and justice for the families
." she said.
At:
http://www.politicargentina.com/notas/201509/8612-quien-es-el-funcionario-estadounidense-que-le-ofrecio-a-argentina-un-acuerdo-con-iran.html
4 replies, 4911 views
Replies to this discussion thread
| | | | |
| --- | --- | --- | --- |
| 4 replies | Author | Time | Post |
| Who is the U.S. official that offered Argentina a deal with Iran? (Original post) | forest444 | Sep 2015 | OP |
| | Judi Lynn | Sep 2015 | #1 |
| | Judi Lynn | Oct 2015 | #2 |
| | forest444 | Oct 2015 | #3 |
| | Judi Lynn | Oct 2015 | #4 |
---
Response to forest444 (Original post)
Tue Sep 29, 2015, 05:21 PM
Judi Lynn (153,515 posts)
1. This is truly wierd, isn't it? What are we left to imagine had Argentina gone ahead & done that?
No proof they had ever been asked by the administration to do it could leave it all looking far different, obviously!
[center]
Gary Samore
White House Coordinator for Arms Control (WMD czar)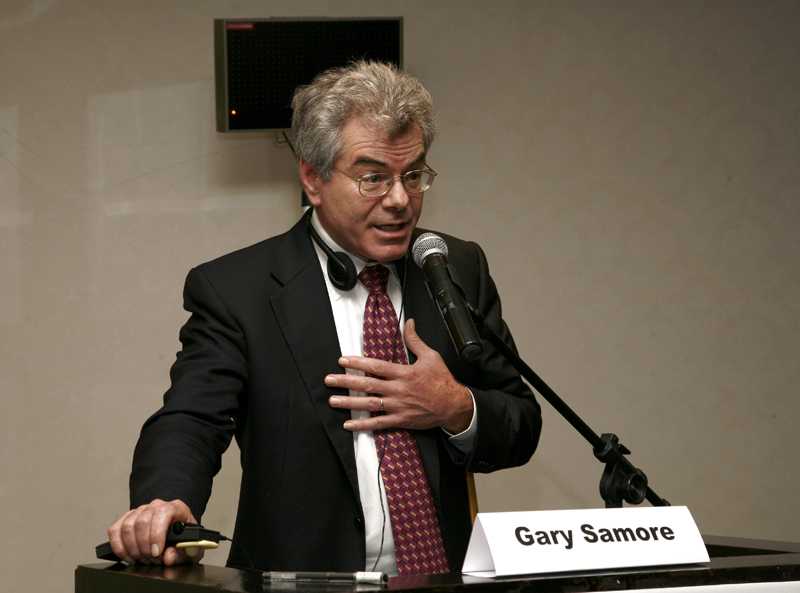 [/center]
What's Samore got against Argentina's leftist President, anyway?
Wow, it's stupendous Argentina's President's administration was too damned quick to fall for that one. It could have been a broken elevator shaft to hell!
Who doesn't remember when Hillary started making sly remarks that she wondered if Christina was able to hold it together mentally as the President after her husband, Nestor Kirchner suddenly died of a heart attack? Dirty, dirty game.
Thank you for this completely unsettling story, forest444. Sure glad they were ready for them this time!
---
Response to forest444 (Original post)
Thu Oct 1, 2015, 07:36 PM
Judi Lynn (153,515 posts)
2. US scum meddling in Argentina: Nisman documentary tied to US conservatives
FIlmmaker has history of campaign work
Thursday, October 1, 2015
Nisman documentary tied to US conservatives
A US filmmaker known for making controversial documentaries friendly to Republican and neo-conservative causes premiered a film yesterday in Washington about the death of former special AMIA prosecutor Alberto Nisman.
Los Abandonados (The Abandoned) is directed Matthew A. Taylor and produced by Alan Peterson, both of whom have worked on several other documentaries and political ads for the Republican Political Action Committee Citizens United.
Taylor and Peterson have previously made documentaries targeting Hillary Clinton, the American Civil Liberties Union, illegal immigrants and praising conservative leaders such as Ronald Reagan.
Taylor was also involved in George W. Bush's 2004 re-election campaign, helping produce some of the most emblematic attack ads of the campaign, including one that showed John Kerry windsurfing to illustrate his changing views.
The Herald tried for several days to contact Taylor's media company, Electrolift Creative, members of his production team and Citizen United, but they all refused to comment.
The company's web site states that it is a creative agency specialized in "high concept" advertisement for political and commercial purposes.
More:
http://www.buenosairesherald.com/article/199965/nisman-documentary-tied-to-us-conservatives-
Good reads:
http://www.democraticunderground.com/1016133550
---
Response to Judi Lynn (Reply #2)
Thu Oct 1, 2015, 10:09 PM
forest444 (5,902 posts)
3. The "abandoned" have in fact spoken - and unanimously repudiated Nisman for 10 years of bad faith.
Last edited Fri Oct 2, 2015, 01:20 AM - Edit history (1)
Relatives of AMIA victims repudiated Nisman: "he's playing politics."
InfoNews
. January 15, 2015.
Diana Malamud, Olga Degtiar, and Sergio Burstein (the heads of the three leading AMIA victims rights groups) rejected the complaint filed against President Cristina Fernández de Kirchner by Alberto Nisman. "He wants to be fired in order to victimize himself" Burstein said.
Diana Malamud
, director of
Memoria Activa
, accused the prosecutor of engaging in "domestic espionage" and said that her group made ​​numerous allegations against Nisman because his actions "never had anything to do with the investigation and clarification" but rather with "issues of power and politicians." "The last three years have been devoted to domestic espionage - but about AMIA, not a word," she said.
"We have been denouncing him systematically, and have asked to have him removed from his post. He does not represent the victims, or their families, and has used this solely for his own career. Nisman has never clarified anything, and we're still at square one," said the wife of one of the victims of the attack.
Malamud added that Memoria Activa supported the memorandum because "after so many years we've had nothing, and thought we had nothing to lose because no one had offered us no way out. This, moreover, would test Nisman."
Olga Degtiar
, director of Family and Friends of the Victims of the AMIA bombing, said: "The accusation is not only against the national government; but it's hurting the 85 families who have been suffering and fighting for justice for 20 years. I think it's an attempt by Nisman to be taken off the case."
"I find it shameful that he's presenting this complaint in January - when most of the judiciary is on holiday - and at the beginning of an election year, which gives this a political connotation. Why did he not present this before?" asked Degtiar.
"We were confident that Nisman was on our side at first. But the years went by and his credibility was diluted because we've had no results. The AMIA case hasn't moved forward at all; his credibility was lost. I think the prosecutor wants to vacate the case. He should stay and finish his job," Degtiar said.
Sergio Burstein
, director of 18-J said: "Nisman is playing politics. He wants to be fired in order to victimize himself."
Burstein asked: "Why file the complaint now if he's had that information for years. This is all gossip, bickering, and conjecture baked into a complaint. Nothing more."
"To be sure, I do not say that Iran has nothing to do with the bombing. I say that if he ever had the accused sitting in front of him for cross-examination, he's have no proof and the case would fall apart," said Burstein, referring to the fact that through the Memorandum of Understanding with Iran, the Argentine judiciary could finally investigate the accused.
"This complaint is the consequence of the dismissal of the former SIDE Counterintelligence Director Antonio "Jaime" Stiuso," Burstein concluded.
"I sincerely hope that Nisman can prove everything he says (
note: Interpol discredited the complaint within days
). You cannot keep playing with the AMIA dead."
At:
http://www.infonews.com/nota/181273/familiares-de-las-victimas-cruzaron-a-nisman-esta-haciendo-politica
---
Response to forest444 (Reply #3)
Fri Oct 2, 2015, 12:39 AM
Judi Lynn (153,515 posts)
4. This is a great article. Makes you ponder how hard it must be for corporate "news" "journalists"
to write stories while taking great pains to make sure the vital, essential truths don't live to see the sunlight on any given day. Gotta get them outta sight as soon as possible.

So much noise and innuendo made about the death of this guy, and they NEVER considered getting a straight, honest answer from a non-agenda'd person for their reading customers.

It's really good to hear what the "Family and Friends of the Victims of the AMIA bombing" have to say about this. Their observations are somewhat relative to this situation....

Looks as if a lot of people knew what this lizard was doing for a long time before he stepped off the curb. They knew, they discussed it publically, but yet our corporate media had its own angle to peddle, the one scripted by the fascists.

Our own media haven't uttered a peep on any of this information which seems completely new to us since we never heard it until now.

Thank you.