Wed May 25, 2016, 08:29 PM
forest444 (5,902 posts)
Fearful of protests, Argentina's Macri closes Buenos Aires' Plaza de Mayo on Independence Day.
Buenos Aires residents were surprised today with the sight of the city's iconic Plaza de Mayo - the square facing the Casa Rosada presidential offices and other national landmarks - cordoned off by a contingent of Federal Police and largely closed to the public.
The sight was all the more surprising because today, May 25, is one of the two Argentine Independence days.
President Mauricio Macri, who has been facing political backlash over austerity policies that have led to 155,000 layoffs and a doubling of inflation to 42% since taking office five months ago, reportedly made the decision to limit public access to the Plaza de Mayo (as well as other city landmarks such as the Obelisk)
for fear that instead of the traditional Independence Day celebrations there might be protests
.
Macri's Security Minister, far-right former Congresswoman Patricia Bullrich, justified the day-long closure of the square by citing the president's attendance at the neighboring Metropolitan Cathedral's
Te Deum
, a brief religious ceremony traditionally held on this day. The only members of the public allowed outside, were a pre-selected group of schoolchildren for the flag-raising ceremony.
"It's important the president be kept safe," Bullrich said.
The Plaza de Mayo has long been the focal point of political life in Buenos Aires. Its very name commemorates the May Revolution of 1810, which led to the country's Declaration of Independence from Spain in 1816.
The square is probably best known in Argentina for the mass demonstrations held on October 17, 1945, to demand the release of the recently arrested populist Vice President at the time, Juan Perón. The Plaza de Mayo has been the site of spirited - and occasionally violent - political rallies ever since. The most tumultuous such demonstration, held to protest harsh austerity policies and an economic collapse on December 21, 2001, led to the resignation that afternoon of President Fernando de la Rúa (a Macri supporter).
Macri's predecessor, former President Cristina Fernández de Kirchner, hosted public celebrations featuring Argentine rock and folk musicians every Independence Day during her 8-year tenure.
At:
https://translate.google.com/translate?hl=en&sl=es&u=http://www.lanacion.com.ar/1902297-cerraron-al-publico-la-plaza-de-mayo-por-el-primer-tedeum-de-mauricio-macri&prev=search
[center]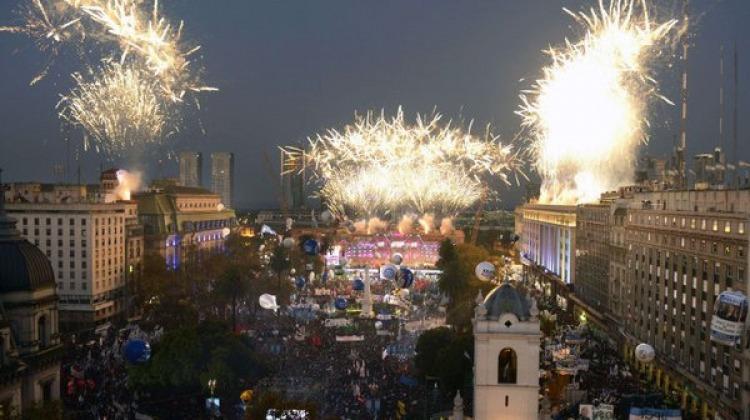 Independence Day celebration in 2015[/center]
[center]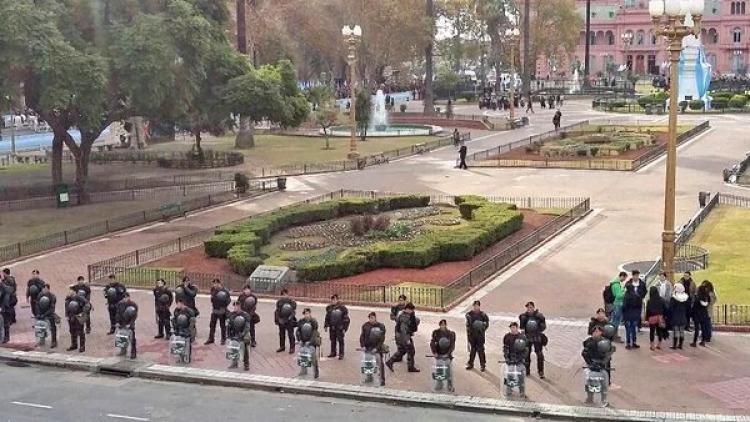 and Independence Day desolation in 2016.[/center]
5 replies, 2694 views
Replies to this discussion thread
| | | | |
| --- | --- | --- | --- |
| 5 replies | Author | Time | Post |
| Fearful of protests, Argentina's Macri closes Buenos Aires' Plaza de Mayo on Independence Day. (Original post) | forest444 | May 2016 | OP |
| | Judi Lynn | May 2016 | #1 |
| | forest444 | May 2016 | #2 |
| | Judi Lynn | May 2016 | #3 |
| | forest444 | May 2016 | #4 |
| | Judi Lynn | May 2016 | #5 |
---
Response to forest444 (Original post)
Wed May 25, 2016, 09:39 PM
Judi Lynn (153,580 posts)
1. So he's hiding behind a group of small school children on May 25. How elegant.
What a mighty leader.
Same plaza where people went to protest the military dictatorship and the military started spying on them in order to haul them off to torture and murder. What memories.
I love these photos turned into a sign, showing the Emperor and his Protector, Patricia Bullrich:
[center]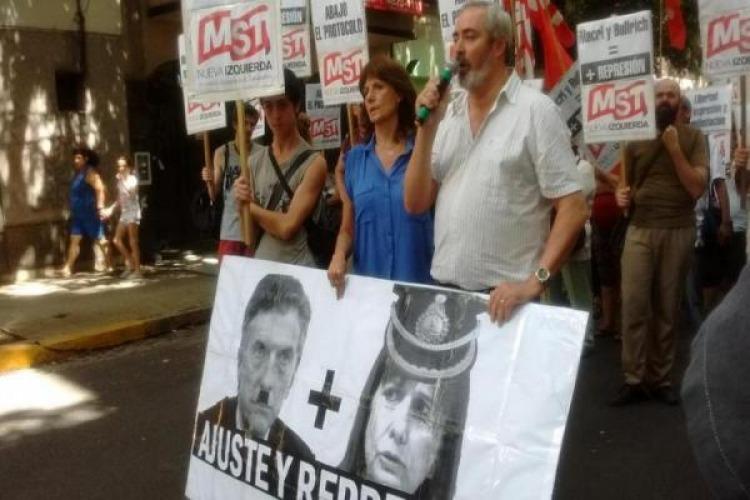 I could swear the lady in the blue dress holding the poster is Patricia Bullrich. Odd.
[/center]
---
Response to Judi Lynn (Reply #1)
Wed May 25, 2016, 10:46 PM
forest444 (5,902 posts)
2. Macri's famous for using children as props (although sometimes with Ted Cruz-style results)
The people holding the MST (Socialist Workers' Movement) sign are that party's leaders, Vilma Ripoll and Alejandro Bodart. They were protesting Macri's new, very restrictive protest protocols at the time (in February).

While they are perhaps a little to the left of me, they've both been two of my favorite people in Argentine politics for a number of years.

Ripoll, who led the MST in the Buenos Aires City Legislature some years ago, was one of the first elected officials in Argentina to call for marriage equality - a full decade before Cristina Kirchner signed it into law in 2010 - and has always been one of the most powerful voices for full abortion rights in the country (rather than only in cases of rape, incest, or for the health of the mother, as is the case now).

She was a nurse before entering politics in 2000, and no doubt saw more women hospitalized for botched abortions than she would like to remember.

Bodart currently leads the MST in the City Legislature, and has earned renown for exposing padded contracts and a lot of other city contractor fraud that went on while Macri was mayor (much of it in favor of Nicky Caputo, Macri's best man; and Ángel Calcaterra, his cousin).

Thanks you as always for your insights, Judi.
---
Response to forest444 (Reply #2)
Thu May 26, 2016, 12:10 AM
Judi Lynn (153,580 posts)
3. Had no idea who the people are who were holding the poster. How cool!
I can't imagine how you can know so much about your former country. It's a real education reading your posts!
They sound fantastic, and dedicated. Life can't be that easy for them right now. Hope they will be O.K.
I can see why children wouldn't be comfortable around Macri. He looks extremely tense, and wired, and rigid, someone who's always acting, and not being. Like a slimmer, taller version of Richard Nixon!
[center]
Uh, oh! Went to look at photos of Macri, found this one!
Looks as if he's had his beak reshaped, since he was younger!
Or has he?
Back to the drawing board.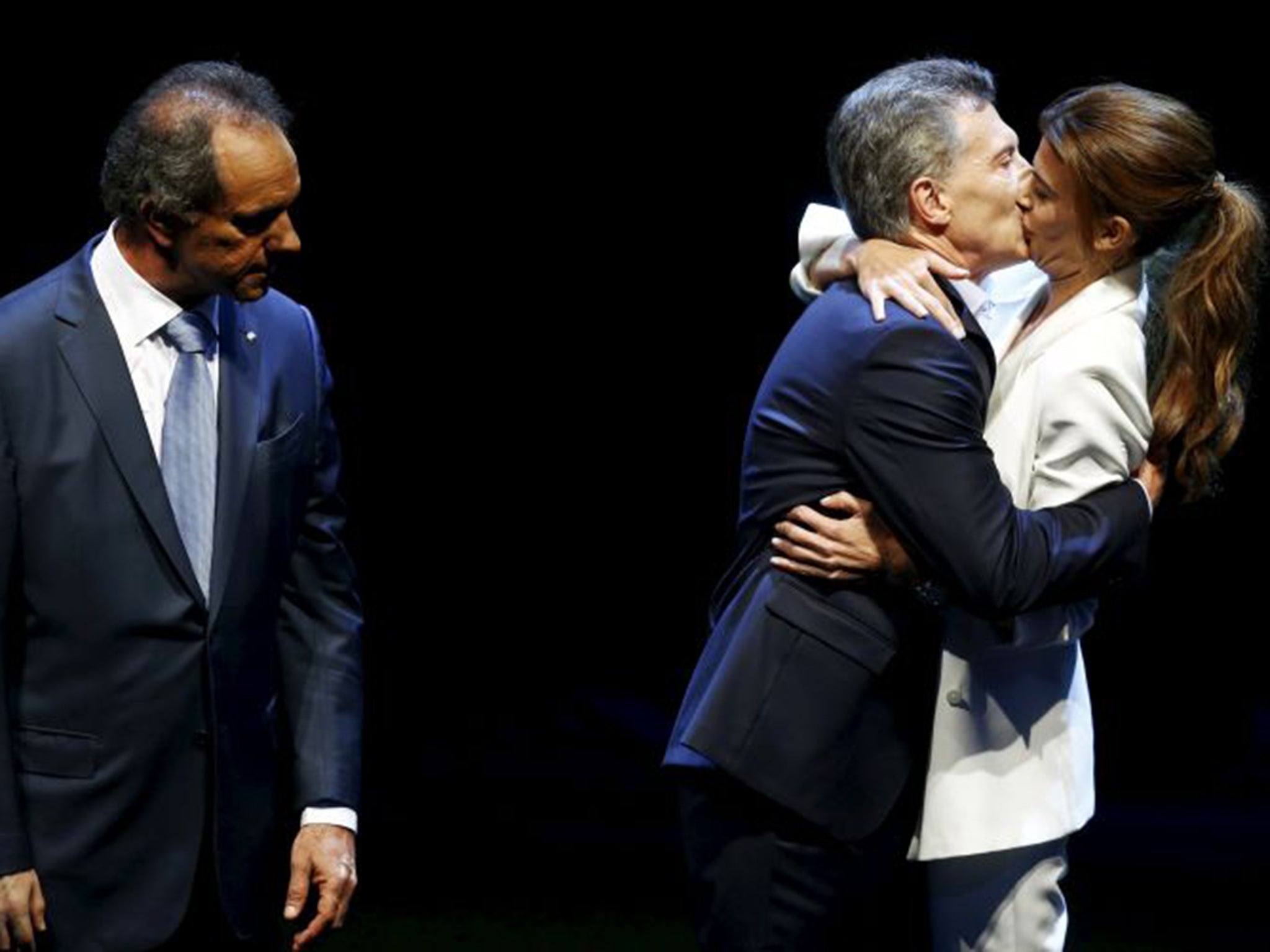 Yikes! The caption below this photo says this happened during a Presidential debate! This doesn't seem odd, does it?[/center]
---
Response to Judi Lynn (Reply #3)
Thu May 26, 2016, 12:38 AM
forest444 (5,902 posts)
4. Kind of you to say. Thank you, Judi.
Great research on that Macri photo album!

They say a nose by any other name would smell as sweet; but Macri is indeed said to have had a nip and a tuck back in 2011, when he first broached the idea of a presidential run (and to be fair, Cristina Kirchner had her botox sessions). You are very sharp to catch that.

The photo at top I had never seen; but I can tell you it's of his wedding to the former Isabel Menditegui in 1994 (his second wife). The guy clapping at left is his cousin, Jorge Macri (another one of the Panama Papers people, wouldn't you know it).

His marriage to Ms. Menditegui - like his first marriage - ended in divorce on account of his infidelities. Let's hope Juliana Awada has better luck!
---
Response to forest444 (Reply #4)
Thu May 26, 2016, 02:32 AM
Judi Lynn (153,580 posts)
5. If he's blown through two marriages already, it may be he hasn't "sewn his wild oats" even yet.
He may have a lifetime oat supply!
Loved the "nose by any other name." Exquisite.
[center]
[/center]