Sat Jun 3, 2017, 08:38 PM
sandensea (18,300 posts)
Pinochet's widow receives luxury rents from the Chilean military pension fund
Lucía Hiriart, the widow of the Chilean dictator Augusto Pinochet, receives a sizable pension from the military pension fund (Capredena) according to the authorities.
Hiriart, who is being investigated for illicit enrichment, is currently receiving approximately $ 4,600 from Capredena. Hiriart, 94, has been paying her pension since the death of her husband in 2006; Pinochet, who was charged with crimes against humanity in several cases dating from 1973-90 dictatorship, died before his trial.
His widow, who inherited his retirement fund, is at the moment being investigated for alleged insider trading. In her role as lifelong president of the CemaChile foundation, she is said to have made tens of thousands of dollars.
It was also announced that 95 former generals and officers of the Chilean army who were convicted of murder, torture, and the disappearance of people, received similar monthly pension payments of up to $ 4,700. Nearly 2,300 people disappeared during the dictatorship, and 30,000 more were tortured.
On average, the military receives five times as much ($ 1,500) as people who receive their pension from the national pension insurance system (IPS) or private funds - even if they have worked twice as long.
The Chilean pension insurance system, in its current form, was privatized in 1980 from the pay-as-you-go system to one based on market capitalization; the change is often cited as the most significant change enacted to Chile's economy enacted under Pinochet.
Chile's private pension funds (AFPs), however, usually collect 30% commissions off the top. Consequently 80% of Chilean contributors retire with little in their pension accounts, and thus depend on a state subsidy to cover the minimum $200 pension Chilean law guarantees.
Members of the military, however, were exempted by the 1980 reform, have their own pension scheme (on a pay-as-you-go basis), and do not have to pay into the general pension system or the AFPs. The state, moreover, finances 75% of military pensions, with only 25% of funding coming from Capredena itself.
A recent transparency law signed by President Michelle Bachelet has forced Capredena to publish its payments for the first time.
https://translate.google.com/translate?sl=auto&tl=en&js=y&prev=_t&hl=en&ie=UTF-8&u=https%3A%2F%2Famerika21.de%2F2017%2F05%2F177137%2Fwitwe-pinochet-luxusrente-chile&edit-text=
Señora Pinochet
1 replies, 6183 views
Replies to this discussion thread
| | | | |
| --- | --- | --- | --- |
| 1 replies | Author | Time | Post |
| Pinochet's widow receives luxury rents from the Chilean military pension fund (Original post) | sandensea | Jun 2017 | OP |
| | Judi Lynn | Jun 2017 | #1 |
---
Response to sandensea (Original post)
Sun Jun 4, 2017, 09:10 PM
Judi Lynn (155,218 posts)
1. Thank goodness a little light is finally shown on this area of perverse excess which was created
Last edited Sun Jun 4, 2017, 09:59 PM - Edit history (1)
to serve the interests of the political oligarchs. Kleptomaniac Pinochet and his entire famiy started bleeding dry the national treasury, sucking up the taxes of Chilean citizens so long ago, living like nasty, bloated emperors. Even as his kidnappers and torturers, and assorted other murderous henchmen plied their crafts, the US taxpayers continued to pay the Agustin Edward's media empire, with staffing by the U.S. C.I.A., starting before the coup, to make certain everyone in public life only got the total whitewash of these psychological vampires, who lived to torment and terrorize, torture and murder political dissidents as they worked night and day to rewire the government to fully support their own self-indulgent, traitorous lifestyles.
Pinochet's family has been fighting giving up one red cent for decades, now, although anyone in the world with half a watt of brain power knows the family has had so much more money squirreled away in banks around the world than the old murderous fart, Pinochet, could have EVER dreamed of earning, inheriting in his own natural historical lifetime.
Of course it was pilfered, stolen, gleefully, greedily taken, just as his pig wife received indulgences from her husband's corruption.
Pinochets, enjoying their power.
Lucia shows them how it's done as she applies her lipstick.
Their handsome sonny boy, Augusto Pinochet Hiriart
Their similarly lovely daughter, Lucía Pinochet Hiriart
Enchanting granddaughter with Lucia at commemorative
mass for U.S. ally, General Augusto Pinochet
Pinochet, perhaps laughing because the lady beside him
had fallen for his old time-worn "pull my finger" trick.
Carmen Gloria Quintana
Carmen Gloria Quintana so many years later, after so many operations.
Wikipedia:
Carmen Gloria Quintana Arancibia (born c. 1968) is a Chilean woman who suffered severe burns in an incident where she and other young people were detained by an army patrol during a street demonstration against the dictatorship of Augusto Pinochet.[1] She survived, and thereafter became a symbol of hope for democracy in Chile to many, receiving an embrace and encouragement from Pope John Paul II.[2]
On 2 July 1986, at 8 a.m., she was part of a small group of people preparing a barricade in Los Nogales, part of the district of Estación Central in Santiago. That day a national protest was taking place against the military dictatorship of General Pinochet. The group were carrying five used car tyres, molotov cocktails and a gallon of petrol. They were intercepted by a military patrol that was engaged in demolishing barricades in the area of Avenida General Velásquez. All of the group managed to escape except Quintana and Rodrigo Rojas DeNegri, a young photographer. The patrol, under the command of Lieutenant Pedro Fernández Dittus, was composed of three officers, five non-commissioned officers, and 17 soldiers.[citation needed]
There are two versions of the succeeding events: according to the official version of the military patrol as Quintana and Rojas were arrested, some of the molotov cocktails they were carrying broke, setting them on fire accidentally. The opposing version (of Quintana, the only survivor) alleges that both were severely beaten by military personnel, and later soaked with petrol and set on fire. What is clearly known is that after both were aflame and unconscious, patrol members wrapped them in blankets, loaded them into a military vehicle and drove them to an isolated road in the outskirts of Santiago, over 20 kilometres away. There, in an irrigation ditch, they were dumped and left to die. Some agricultural workers found them and notified the police, who then took them to a public hospital.[citation needed]
Quintana and Rojas were later transferred to another hospital, but Rojas died from his injuries four days later. Despite the second and third degree burns that Quintana suffered on 62% of her body, with many teeth broken – she was in a critical condition for several weeks – she finally survived. She was given extensive medical treatment in Chile and in Canada, but still bears disfiguring scars as a result of her burns.[3]
https://en.wikipedia.org/wiki/Carmen_Gloria_Quintana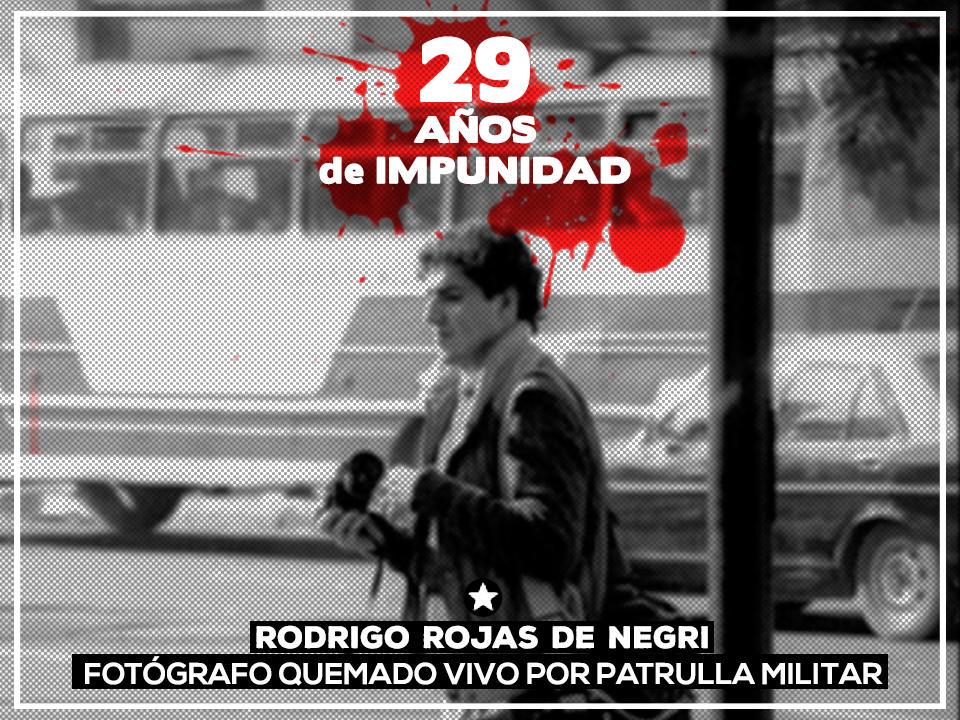 Rodrigo Rojas
~ ~ ~ ~ ~
Lucía Hiriart for Caso Quemados: "So much to complain this girl, if it burned so little"
Carmen Gloria Quintana was 19 years old, it was July 2, 1986, when she and the 18 year old photographer were burned alive in the framework of a national strike against the dictator, Augusto Pinochet.
http://mqltv.com/lucia-hiriarte-por-caso-quemados-para-que-se-queja-tanto-esta-nina-si-se-quemo-tan-poco/
The cold declaration of Augusto Pinochet on the Burned Case
WRITTEN BY PATRICIO PÉREZ
One of the most terrible attacks of those occurred in the dictatorship was the one suffered by two young women, Carmen Gloria Quintana and Rodrigo Rojas De Negri, who were burned alive during a day of national unemployment in 1986. 30 years after the so-called "Burned Case" The former conscript and member of the military patrol Fernando Guzman Espndola broke the silence , delivering an important testimony that opened an artist to determine those responsible for this repudiable case.
Given these facts, Radio Cooperativa dusted off a crude recording made in 1986 with the harsh reaction of Augusto Pinochet on this fact: "Maybe (Rodrigo) had something hidden, it burst and burned."
https://translate.google.com/translate?sl=pt&tl=en&js=y&prev=_t&hl=en&ie=UTF-8&u=http%3A%2F%2Fmqltv.com%2Fla-fria-declaracion-de-augusto-pinochet-sobre-el-caso-quemados%2F&edit-text=&act=url