Tue Feb 27, 2018, 11:26 PM
Judi Lynn (147,125 posts)
Argentina Dirty War ex-general Luciano Menndez dies at 90
4 hours ago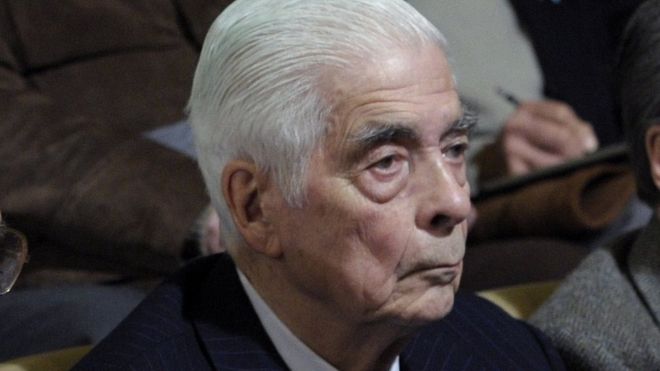 GETTY IMAGES
Image caption
Menendez was sentenced to life imprisonment for kidnap, murder and torture
Former Argentine army general Luciano Benjamín Menéndez, convicted of crimes against humanity, has died aged 90.
He was sentenced to life imprisonment for kidnapping, murdering and torturing hundreds of opponents of Argentina's brutal military regime.
Menéndez, also known as "The Hyena," was the military commander of ten Argentine provinces from 1975 to 1979.
Some 30,000 people are estimated to have been killed by the military in its infamous Dirty War against dissidents.
More:
http://www.bbc.com/news/world-latin-america-43220470
1 replies, 542 views
Replies to this discussion thread
| | | | |
| --- | --- | --- | --- |
| 1 replies | Author | Time | Post |
| Argentina Dirty War ex-general Luciano Menndez dies at 90 (Original post) | Judi Lynn | Feb 2018 | OP |
| | Judi Lynn | Feb 2018 | #1 |
---
Response to Judi Lynn (Original post)
Tue Feb 27, 2018, 11:33 PM
Judi Lynn (147,125 posts)
1. New Files Reveal US Sold Argentina Military Aircraft to Dump Bodies in Ocean
Published 16 December 2016
Uki Goñi in Buenos Aires
Tue 9 Aug 2016 14.05 EDT
Former secretary of state Henry Kissinger jeopardized US efforts to stop mass killings by Argentina's 1976-83 military dictatorship by congratulating the country's military leaders for "wiping out" terrorism, according to a large trove of newly declassified state department files.
The documents, which were released on Monday night, show how Kissinger's close relationship to Argentina's military rulers hindered Jimmy Carter's carrot-and-stick attempts to influence the regime during his 1977-81 presidency.
Carter officials were infuriated by Kissinger's attendance at the 1978 World Cup in Argentina as the personal guest of dictator Jorge Videla, the general who oversaw the forced disappearance of up to 30,000 opponents of the military regime.
At the time, Kissinger was no longer in office after Carter defeated Gerald Ford in the 1976 presidential election, but the documents reveal that US diplomats feared his praise for Argentina's crackdown would encourage further bloodshed.
More:
https://www.theguardian.com/world/2016/aug/09/henry-kissinger-mass-killings-argentina-declassified-files