Tue Feb 5, 2019, 03:59 AM
Judi Lynn (143,149 posts)
Dinosaur that defended itself with spiny backbone found in Patagonia
Date created : 04/02/2019 - 21:32
A replica of the skull and neck of the "Bajadasaurus pronuspinax," a new species of sauropod discovered in Patagonia AFP
Buenos Aires (AFP)
A herbivorous dinosaur that fended off predators with a row of spines running along its back and lived 140 million years ago has been found in Argentine Patagonia.
The discovery of the new species of dicraeosauridae, christened Bajadasaurus pronuspinax, was revealed in scientific journal Nature.
A reproduction of its spiny neck was exhibited in the Cultural Science Center in Buenos Aires.
"We believe that the long and sharp spines -- very long and thin -- on the neck and back of Bajadasaurus and Amargasaurus cazaui (another dicraeosauridae) must have been to deter possible predators," said Pablo Gallina, an assistant researcher at the state council of scientific and technical investigations (CONICET) and Maimonides University.
"We think that had they been just bare bone structures or covered only by skin, they could have been easily broken or fractured with a blow or when being attacked by other animals," he added.
More:
https://www.france24.com/en/20190204-dinosaur-defended-itself-with-spiny-backbone-found-patagonia
Science:
https://www.democraticunderground.com/122862203
1 replies, 362 views
Replies to this discussion thread
| | | | |
| --- | --- | --- | --- |
| 1 replies | Author | Time | Post |
| Dinosaur that defended itself with spiny backbone found in Patagonia (Original post) | Judi Lynn | Feb 2019 | OP |
| | Judi Lynn | Feb 2019 | #1 |
---
Response to Judi Lynn (Original post)
Wed Feb 6, 2019, 02:37 AM
Judi Lynn (143,149 posts)
1. Badass Dinosaur With a 'Mohawk' of Spikes Uncovered in Patagonia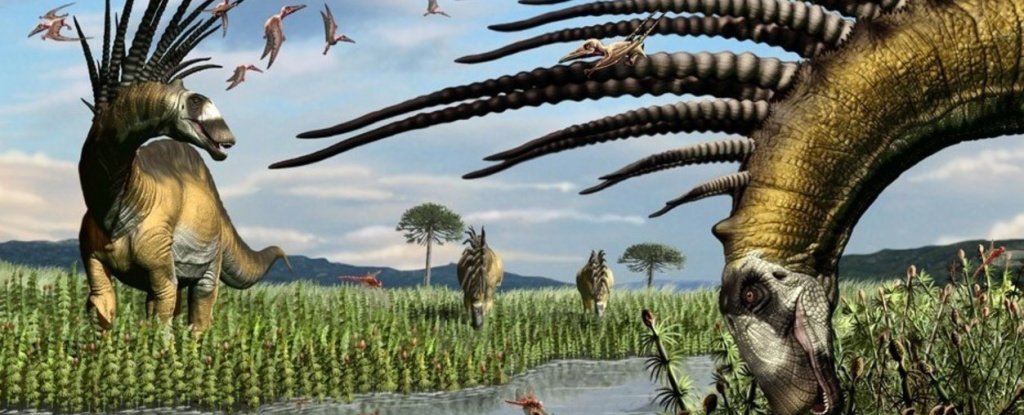 JACINTA BOWLER 6 FEB 2019
When dinosaurs roamed the Earth in ancient Patagonia, one particular type of dinosaur might have stuck out amongst the rest.
Living 140 million years ago in the early Lower Cretaceous, the newly discovered herbivore Bajadasaurus pronuspinax had a thing for growing spikes.
It was part of the
Sauropod
family, but looked a little like a small
Brontosaurus
crossed with a porcupine.
"The sauropods are the big dinosaurs with long necks and long tails, but specifically this is a small family within the sauropods which were about 9 or 10 metres in length," palaeontologist Pablo Gallina from the National Scientific and Technical Research Council in Argentina told Agencia EFE.
More:
https://www.sciencealert.com/this-weird-new-spiky-dinosaur-looks-like-a-giant-backwards-porcupine