Thu Aug 8, 2019, 01:51 AM
Judi Lynn (147,816 posts)
Congress Finally Challenges the Cuba Travel Ban
This Cold War relic is an outrageous violation of citizens' rights.
By Peter Kornbluh Twitter AUGUST 1, 2019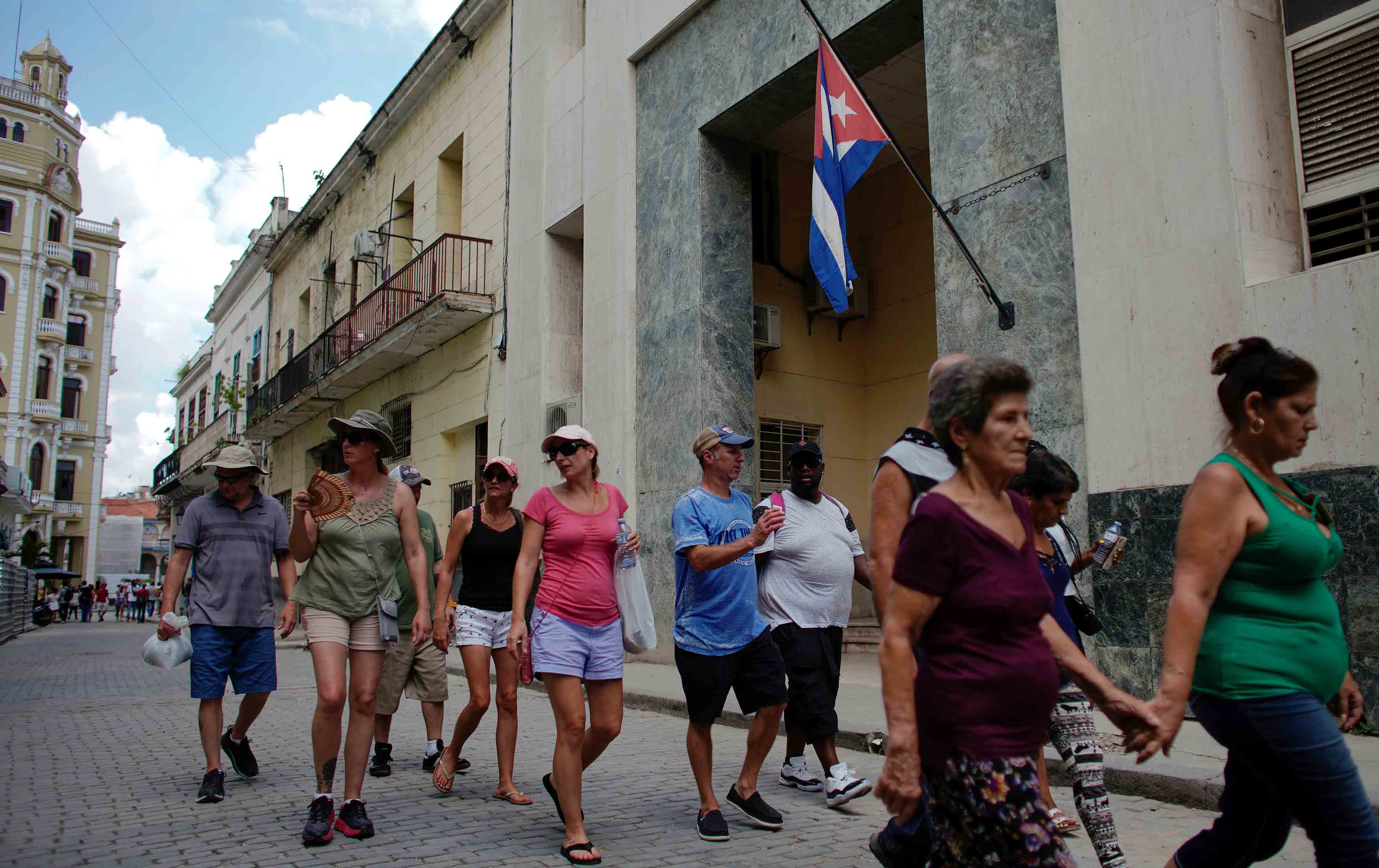 A group of US tourists in Havana, Cuba, in June, 2019. (Reuters / Alexandre Meneghini)
"The bipartisan bill I will introduce on Monday is about the right of Americans, not Cubans, to travel," Senator Patrick Leahy stated, as he prepared to introduce the "Freedom for Americans to Travel to Cuba Act of 2019" this week. "Every member of Congress," he declared, "especially those who have been to Cuba, should oppose restrictions on American citizens that have no place in the law books of a free society."
In the House, Congressmen James McGovern and Tom Emmer introduced identical legislation last week, setting the stage for Congress to debate President Trump's ongoing efforts to restrict travel in order to score electoral points in Florida. Although congressional proponents of free travel to Cuba have tried, and failed, to lift existing restrictions in the past, Trump's recent flagrant assault on freedom to travel, along with the natural constituency of millions of citizens who have flocked to Cuba over the past few years, may combine to give this latest legislative initiative a better chance of success.
Few people are aware that Cuba is the
only
nation in the world to which a congressional statute prohibits US citizens from traveling for a simple vacation. From the end of the Eisenhower administration to the mid-1990s, restrictions on travel, like the trade embargo itself, fell under executive authority; the restrictions were imposed by the president and could be rescinded by the president. That changed in 1996, when President Clinton signed the punitive Helms-Burton Act, which codified the embargo into law, along with restrictions on travel. After Clinton moved to create exemptions that would allow travel to Cuba for specific, non-touristic, purposes—journalism, education, religious activities, business transactions, professional meetings, etc.—Congress amended the Trade Sanctions Reform and Export Enhancement Act of 2000 to read: "the Secretary of the Treasury may not authorize travel-related transactions for travel to, from, or within Cuba for tourist activities."
That language was used first by President George W. Bush as the legal basis for restricting the constitutionally supported right of US citizens to travel to the island and see its complex realities for themselves. Now it is being used by Donald Trump.
More:
https://www.thenation.com/article/cuba-travel-ban-congress-trump-leahy/
2 replies, 387 views
Replies to this discussion thread
| | | | |
| --- | --- | --- | --- |
| 2 replies | Author | Time | Post |
| Congress Finally Challenges the Cuba Travel Ban (Original post) | Judi Lynn | Aug 2019 | OP |
| | OnDoutside | Aug 2019 | #1 |
| | Judi Lynn | Aug 2019 | #2 |
---
Response to Judi Lynn (Original post)
Thu Aug 8, 2019, 02:30 AM
OnDoutside (17,482 posts)
1. Dead in the Senate though ? Still important to make the statement.
---
Response to OnDoutside (Reply #1)
Thu Aug 8, 2019, 03:10 AM
Judi Lynn (147,816 posts)
2. So true to show resistance to the inexcusable actions of the hard right extremists running policy.
They have been vicious, sociopathic, and out of line all these long decades. Stupid, immoral bullies.