Tue Aug 13, 2019, 04:15 PM
sandensea (11,211 posts)
Argentina's Macrisis: $20 billion bailout sought from U.S.
Following a surprisingly strong rebuke at the polls on Sunday, Argentine President Mauricio Macri is reportedly in talks with
U.S. Federal Reserve
officials for a loan of at least $20 billion.
The loan, if granted, would follow an already-record,
$57 billion IMF bailout
following the collapse in April 2018 of a Macri-sponsored carry-trade debt bubble known locally as the "
financial bicycle
."
U.S. President
Donald Trump
has signaled staunch support for the right-wing Macri, with whom he shares both ideology and a 35-year friendship.
The news, reported this morning by Marcelo Bonelli, chief economist at the pro-Macri TN cable news, comes after a steep selloff in the Argentine peso and stocks following Macri's decisive loss in the first round of presidential voting on Sunday.
Amid high turnout, Macri
lost by 15.6%
to center-left opposition candidate
Alberto Fernández
- outperforming polls, and making the pragmatic Fernández the likely winner of a second round on October 27.
Macrisis
Fernández has
pledged to pay debts but curb financial speculation
, which many blame for the ongoing crisis - the deepest since Argentina's 2001-02 crash, which followed similar financial deregulation and free trade policies.
The dollar climbed
23%
on Monday, from 46.55 to a record 57.30 pesos - its sharpest since Macri's own, December 17, 2015, devaluation just a week after taking office. The dollar rose today to
58.33
.
Hoarding has been reported since Monday's devaluation, expected to push inflation from 2.7% monthly in June to
14% in August
- the highest in 28 years.
"With 80% of Argentina's debt denominated in foreign currency," the
Financial Times
noted today (up from 40% when Macri took office), "a continued devaluation would put further pressure on the country's debt and
increase the likelihood of another Argentine sovereign default
."
'Operation Fear'
Macri reaped criticism for refusing to intervene in local currency markets, allowing the dollar to climb to
62 pesos
before intervening at
1:30 p.m.
with around $150 million in dollar sales, and a similar amount on Tuesday - well within the $250 million daily limit set by the IMF (which routinely grants Argentina waivers).
Opposition leaders have slammed the administration for both creating the current debt crisis, as well as for their relative inaction over the past two days.
"It's obvious that (Macri) is creating an '
operation fear
' by using the markets," Sergio Massa, one of Fernández's leading allies, said.
"The Central Bank did not intervene. The government had a 'goalie' (the Central Bank) who had the obligation to act - but instead let two goals through."
At:
https://translate.google.com/translate?hl=en&sl=es&tl=en&u=https%3A%2F%2Fwww.eldestapeweb.com%2Fnota%2Fel-gobierno-pidio-un-prestamo-por-u-s20-mil-millones-a-ee-uu-para-contener-al-dolar-hasta-diciembre--201981312200


A billboard outside a Buenos Aires currency exchange advertises Monday's intra-day record of 63 pesos per dollar; it closed today at 58.33.

Argentina's deepening debt crisis - and Sunday's first-round victory by center-left challenger Alberto Fernández by 15.6% - have made President Mauricio Macri's second-round defeat all but certain this October.

Macri is reportedly hoping to capitalize on his friendship with U.S. President Donald Trump by seeking a $20 billion U.S. Federal Reserve bailout to boost his slim chances.

The idea of a direct U.S. bailout - on top of a record $57 billion from the IMF - was first broached last September by Trump's National Economic Council Director Larry Kudlow.

But many now question Trump's policy of propping Macri up with more debt - and in vain.

"By October," Latin America analyst Siobhan Morden at Amherst Pierpont Securities said, "the next government could inherit an unmanageable crisis."
4 replies, 446 views
Replies to this discussion thread
| | | | |
| --- | --- | --- | --- |
| 4 replies | Author | Time | Post |
| Argentina's Macrisis: $20 billion bailout sought from U.S. (Original post) | sandensea | Aug 2019 | OP |
| | Judi Lynn | Aug 2019 | #1 |
| | sandensea | Aug 2019 | #2 |
| | Judi Lynn | Aug 2019 | #3 |
| | Judi Lynn | Aug 2019 | #4 |
---
Response to sandensea (Original post)
Tue Aug 13, 2019, 07:11 PM
Judi Lynn (140,957 posts)
1. What the heck is going on with Macri? This is insane.
Looking forward to hear what Argentine financial people's comments will be on this hideous decision.

Thank you, sandensea.
---
Response to Judi Lynn (Reply #1)
Wed Aug 14, 2019, 01:13 AM
sandensea (11,211 posts)
2. Seeing all is lost, Macri opted for a Nero-like ending: letting as much burn around him as possible
The tactic seemed to be one of revenge - against his own people (!): "You voted against me? Take that!"

Plus, he and his gang made a very tidy profit in the bargain. The only thing missing, was the fiddle.

Having said that, it's important to note that after Monday's panic (which, as noted in the article, the Central Bank deliberately waited until 1:30 to put out), Buenos Aires markets were a lot calmer on Tuesday.

The dollar rose just one peso (after vaulting 12 pesos on Monday), and the stock market rebounded by 9.3% - a sharp turnaround from yesterday's 38% crash.

While the situation's fluid and could still change, the "markets" (speculators) seem to be learning to live with the simple fact that voters really did reject Macri - contrary to all his blowing smoke about being "competitive."

And that it's probably for the best - for everyone. Debt snowballs, after all, are nothing but trouble.

Especially in Argentina!

It's very hard to say what's next for Macri; indeed, there's an air of great uncertainty at the moment (especially among right-wing voters and media). But don't be surprised if he resigns within the next few weeks.

If he does, his own allies in Argentine business and finance will probably have been the ones to have persuaded him to do so.

Politically, he's become a corpse - and no one likes having that lying around.
---
Response to sandensea (Reply #2)
Wed Aug 14, 2019, 03:19 AM
Judi Lynn (140,957 posts)
3. Wow. Such an interesting, unexpected post, had to read it twice to make sure!
Had no idea the impact would have been this decisive, considering the unbelievable destruction Macri has created in such a short time, considering.

Absolutely relished the reading!

This is so important, will be holding one's breath, nearly every day until that guy has fled back tp where the Macris came from, like Martinelli, for a while.

And to think he's trying to float another loan, this time from the U.S. From Trump (U.S. taxpayers, actually) directly into the pockets of Macri and his allies. Probably would include a kickback to Trump, as dirty as he is, of course.

Thank you, so much, for this exception information.
---
Response to sandensea (Original post)
Wed Aug 14, 2019, 04:05 AM
Judi Lynn (140,957 posts)
4. Just found a fascinating photo of Macri in "Folha," the Brazilian newspaper: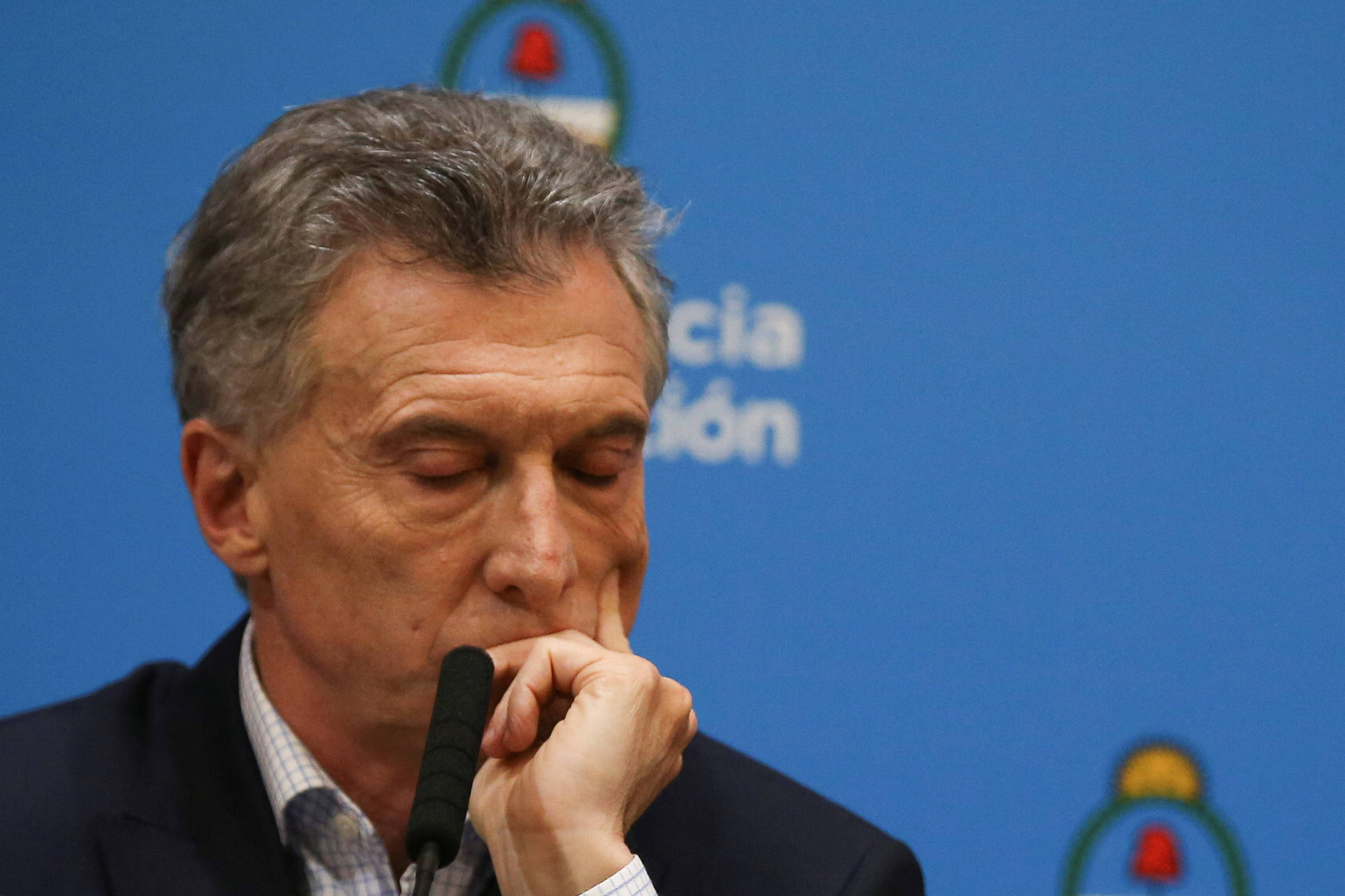 Argentina's President Mauricio Macri attends a news conference after the presidential primaries, in Buenos Aires, Argentina August 12, 2019. REUTERS/Agustin Marcarian - REUTERS
Kirchnerist Ticket Victory in Presidential Primaries Scares Investors
Argentina stock market falls 37% and the dollar reaches R$4 in Brazil with Argentinian election
Aug.13.2019 8:53AM
SYLVIA COLOMBO
Júlia Moura
The clear victory of the left-wing Kirchnerist ticket in the Argentine presidential primaries surprised investors, toppled the stock exchange and sent the dollar high on Monday in Argentina, dragging down the Brazilian market.
Argentines voted on Sunday in a preview of what will likely happen in the October Presidential elections.
Among the leaders of the elections were the current president, the liberal Mauricio Macri, and the Kirchnerist ticket, led by Alberto Fernández, who has former president Cristina Kirchner as his vice.
The financial market was already expecting a defeat for Macri, but with a smaller margin--between the plates of 3 to 5 percentage points.
More:
https://www1.folha.uol.com.br/internacional/en/business/2019/08/kirchnerist-ticket-victory-in-presidential-primaries-scares-investors.shtml