Mon Nov 25, 2019, 01:00 PM
sandensea (9,740 posts)
Uruguay awaits final vote count, with Lacalle Pou holding a thin lead
Uruguayans will have to wait several days for final confirmation of who will be the next president, after a tighter-than-expected runoff on Sunday triggered an official recount.
As of the latest count on Monday, the center-right National Party, led by Luis Lacalle Pou, has 1,168,019 (50.6%); the ruling center-left Broad Front, led by Daniel Martínez, with 1,139,353 (49.4%).
Authorities will start an official count Tuesday that may not yield final results until November 29.
"There has never been such a tight result," Electoral Court President José Arocena told reporters.
Not right
The winner will start his five-year term on March 1. Should Lacalle's lead hold, it would mark the end of the 15-year Broad Front era, during which GDP grew 4% annually - compared to 1.5% in the previous 50 years - while poverty fell from 40% to 8.1%.
Martínez, 62, won the first round on October 27 by 11%.
But Lacalle secured endorsements from the center-right Red Party - as well as
the far-right Open Cabildo Party
, whose nominee, retired Gen. Guido Manini Ríos, exhorted fellow officers to vote against the Broad Front to "
close the door on communism and gender ideology
."
Lacalle Pou, 46, sought to distance himself from Manini's statements, calling them "not right" before voting on Sunday.
Martínez had compared Lacalle to neighboring Argentina's right-wing President
Mauricio Macri
, who last month became the first Argentine president to lose re-election amid an economic crisis that has in turn pushed Uruguay into recession.
At;
https://www.batimes.com.ar/news/latin-america/uruguay-awaits-final-vote-count-with-lacalle-pou-holding-a-thin-lead.phtml


Their paths crossing often in Latin America's least populous country, Daniel Martínez greets Luis Lacalle Pou shortly before the first round in October.

Lacalle holds a narrow lead in what would be the first shift to the right in Uruguay since 1999. President Tabaré Vázquez, 79, is retiring after two non-consecutive terms; he has been diagnosed with lung cancer.

Martínez touted a record of economic growth and reduced inequality during the last 15 years under the Broad Front, while Lacalle hammered at rising crime rates.

"I live in Argentina," a voter said to Lacalle before he cast his ballot. "Don't make Mauricio Macri's mistakes."
3 replies, 261 views
Replies to this discussion thread
| | | | |
| --- | --- | --- | --- |
| 3 replies | Author | Time | Post |
| Uruguay awaits final vote count, with Lacalle Pou holding a thin lead (Original post) | sandensea | Nov 25 | OP |
| | Judi Lynn | Nov 25 | #1 |
| | sandensea | Nov 25 | #2 |
| | Judi Lynn | Nov 25 | #3 |
---
Response to sandensea (Original post)
Mon Nov 25, 2019, 04:01 PM
Judi Lynn (136,706 posts)
1. Not such great news for a country having Vzquez and Jos Alberto "Pepe" Mujica recently.
Looks as if the same fascist wave which tried to hijack the others was intended to control Uruguay, too, for a season.

Looking forward to the official result. It would be hard to believe Uruguayans want this new right-wing "leadership" any more than they did during previous right-wing administrations when they started making themselves at home at the tragic expense of the powerless many.

Nice hearing the comment on the big impression Macri has made.
---
Response to Judi Lynn (Reply #1)
Mon Nov 25, 2019, 04:53 PM
sandensea (9,740 posts)
2. It's a cliffhanger
I understand there are still around 50,000 votes left to count - plus 35,000 "observed" (provisional) votes.

But Lacalle is ahead by a devilish 28,666 (vade retro). Martínez would have to run the table to get enough of a margin from the votes outstanding, to make up for Lacalle's difference.

As you know, after any given party is in office for 15 years - even a very successful one like the Broad Front - voter fatigue starts to set in.

That was partly what happened in Argentina in 2015 - and here in the U.S. in 1952, for example.

Although Macri's no Eisenhower, that's for sure!

Here's hoping Lacalle governs (if he wins) as a moderate. He'd need a voice coach though: his voice, like Pinochet's, is too high-pitched.
---
Response to sandensea (Reply #2)
Mon Nov 25, 2019, 08:52 PM
Judi Lynn (136,706 posts)
3. Whoa! Never heard either Pinochet's or Lacalle's voice. Had no idea!
I can only wonder what it would have been like to hear Pinochet telling an aide to inform the military it must "torture the subjects until they either tell us what we want to know or die, I really don't care which" in a high squeaky voice.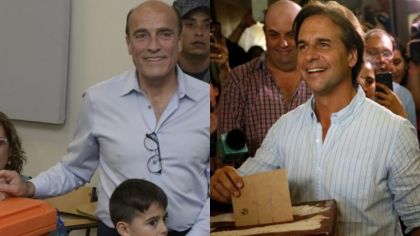 Lacalle on the right, Daniel Martínez on the left.
Lacalle doesn't look as focused and thoughtful as Martínez, but he doesn't look as deplorable as Bolsonaro's kids.
Bolsonaro's "boys."
I'm sure your thoughts on voter fatigue are sound, and that's really sad, considering how it worked out for Argentina's voters....
Thank you.