Thu Apr 16, 2020, 11:53 PM
Judi Lynn (141,038 posts)
Holy War: Latin America's Far Right
Old arguments about morality, Christianity, and the essential correctness of postcolonial racial and social stratification have proven a tremendous asset to the reaction against the Pink Tide.
Kirsten Weld ▪ Spring 2020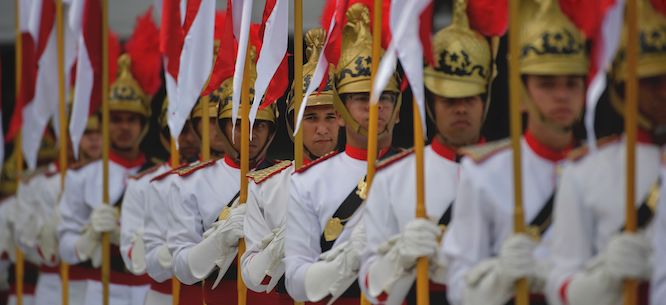 Soldiers at Bolsonaro's inauguration, where he proclaimed a crusade against crime, corruption, and leftism
(Carl De Souza/AFP via Getty Images)
By any measure, the extreme right is ascendant in Latin America. In Brazil, president Jair Bolsonaro boasts of being a proud homophobe, promises to banish "red outlaws," insists that his country is a "Christian nation," and sings the praises of the Cold War–era military dictatorship, his only critique being that it tended to torture dissidents instead of killing them outright. In Chile, billionaire president Sebastián Piñera responded to anti-austerity demonstrations by sending the army into the streets, part of a supposed "war against a powerful enemy," recycling Augusto Pinochet's language in effectively giving carte blanche to security forces as they blinded hundreds of demonstrators with rubber bullets. And in Bolivia, where neo-fascist paramilitaries based in the Santa Cruz lowlands co-opted the electoral unrest that led to president Evo Morales's ouster, thugs burned indigenous flags, police massacred protesters, and ministers of the new interim government called Morales and his followers "savages and terrorists." Self-declared president Jeanine Áñez triumphantly pronounced, "God has allowed the Bible to return to the palace," as her followers stormed the legislature.
A decade ago, the regional panorama looked very different, with the center-left governments of the so-called Pink Tide working gamely against sobering structural constraints to try and dismantle entrenched economic, racial, and gender inequalities. The results were uneven, but the successes real. What happened?
In one sense, Latin America's right-wing resurgence parallels dynamics playing out elsewhere in the world, from India to Turkey to the United States. Conservatives, fringe and mainstream alike, are alluding to the Crusades, decrying the influence of "gender ideology" and "cultural Marxism," and hardening borders both figurative and physical between "us" and "them." The movements driven by these constellations of ideas complement one another, and regularly collaborate, in their attempts to roll back democratization on a global scale.
Yet while the dynamics have global resonances, many characteristics of the Latin American right are specific to the region's postcolonial history. The far right's exaltation of Christianity, patriarchy, "Hispanic" whiteness, and authoritarianism—and its violent rejection of secularism, homosexuality, indigeneity, blackness, and liberalism—reflect how Latin America's decolonization unfolded, and the nature of its relationships with its former colonizers, Spain and Portugal. Only recently in the United States have the Middle Ages been invoked in right-wing political discourse, used to bolster Islamophobia since 9/11. In Latin America, though, such rhetoric is part of a long-standing right-wing intellectual current characterized by a racist identification with European imperialism; since the 1930s, it has also bolstered religious justifications for campaigns of violence against "communists."
More:
https://www.dissentmagazine.org/article/holy-war-latin-americas-far-right
2 replies, 458 views
Replies to this discussion thread
| | | | |
| --- | --- | --- | --- |
| 2 replies | Author | Time | Post |
| Holy War: Latin America's Far Right (Original post) | Judi Lynn | Apr 16 | OP |
| | Bernardo de La Paz | Apr 17 | #1 |
| | no_hypocrisy | Apr 17 | #2 |
---
Response to Judi Lynn (Original post)
Fri Apr 17, 2020, 12:06 AM
Bernardo de La Paz (34,119 posts)
1. Asked if his sons would marry a black woman, he said "I brought my sons up right." . . . nt
---
Response to Judi Lynn (Original post)
Fri Apr 17, 2020, 02:35 AM
no_hypocrisy (35,897 posts)
2. Another factor to be calculated into the equation:
For decades, evangelical Christian religious organizations have been making progress in South America, to the point of supplanting Catholicism. Far right politics are very comfortable with Evangelicals.