Thu Apr 30, 2020, 11:05 PM
Judi Lynn (141,089 posts)
Mexican protest singer Oscar Chvez dies of COVID-19 at 85 [ sic ]
Last edited Fri May 1, 2020, 12:32 AM - Edit history (1)
an hour ago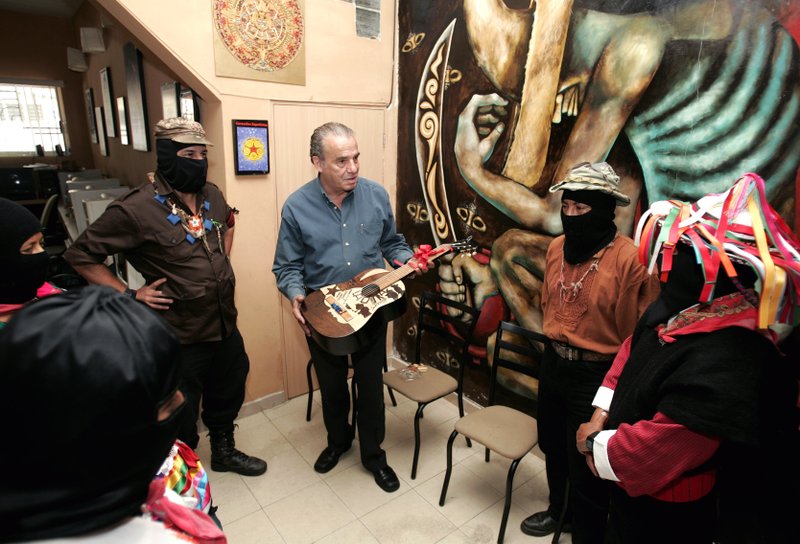 FILE - In this March 31, 2007 file photo, masked Zapatista rebel leader Subcomandante Marcos, left, singer Oscar Chavez, center, and Zapatista commanders Tacho, second from right, and David talk during a meeting in Mexico City. Chavez's office announced Thursday, April 30, 2020, that he has died after being hospitalized with COVID-19 symptoms. (AP Photo/Eduardo Verudog, File)
MEXICO CITY (AP) — One of Mexico's best-known protest singers, Oscar Chávez, has died at age 85, apparently after being infected with the coronavirus.
Mexico's culture secretary confirmed the singer's death, but the Social Security Institute would not comment on local media reports saying he died Thursday of complications from COVID-19. A note on Chavez's personal twitter account, signed by his staff, said he had been hospitalized Wednesday with symptoms of the disease caused by the coronavirus.
Chávez was best known for folk-style songs lampooning Mexico's corrupt political elite. One such song was "La Casita" ("The Little House"), which described an imaginary politician's mansion.
Culture Secretary Alejandra Frausto wrote in her Twitter account: "Thank you, Oscar Chávez, your life was journey worthy of you! My deepest sympathy to your relatives, friends and companions in struggle and song."
More:
https://apnews.com/c4dd75cc360bd28e6e0351a79640b9ec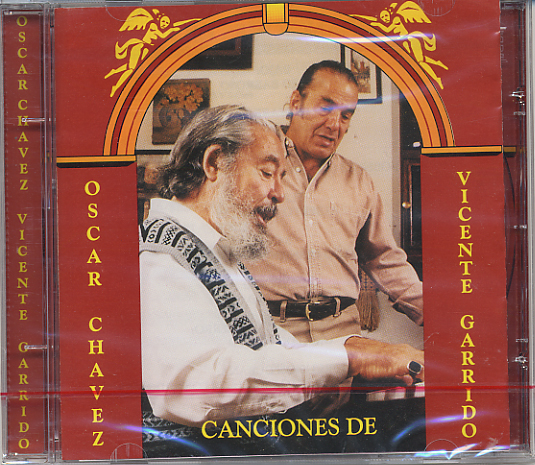 Lyrics:
La masacre en Tlatelolco
El Pendejo - lyrics in Spanish and English
https://lyricstranslate.com/en/el-pendejo-fool.html
8 replies, 316 views
Replies to this discussion thread
| | | | |
| --- | --- | --- | --- |
| 8 replies | Author | Time | Post |
| Mexican protest singer Oscar Chvez dies of COVID-19 at 85 [ sic ] (Original post) | Judi Lynn | Apr 30 | OP |
| | 3Hotdogs | Apr 30 | #1 |
| | Judi Lynn | May 1 | #4 |
| | RestoreAmerica2020 | Apr 30 | #2 |
| | Judi Lynn | May 1 | #7 |
| | Skittles | Apr 30 | #3 |
| | Judi Lynn | May 1 | #5 |
| | Skittles | May 1 | #6 |
| | Judi Lynn | May 1 | #8 |
---
Response to Judi Lynn (Original post)
Thu Apr 30, 2020, 11:50 PM
3Hotdogs (4,501 posts)
1. What happened to Subcomandante Marcos?
---
Response to 3Hotdogs (Reply #1)
Fri May 1, 2020, 12:10 AM
Judi Lynn (141,089 posts)
4. Haven't heard a word about him after he "retired" his image a few years ago. That was a surprise.
However he started a very strong movement which changed life for so many people.
Here's an article which will seem familiar from that time:
MAY 25, 2014 / 11:13 PM / 6 YEARS AGO
Mexican rebel leader Marcos retires, says 'no longer exists'
3 MIN READ
MEXICO CITY (Reuters) - Subcommandante Marcos, who led an indigenous uprising in southern Mexico and became one of Latin America's most iconic revolutionaries, on Sunday said he was stepping down as spokesman for the Zapatista rebels and would disappear.
The ski-masked, pipe-smoking guerrilla leader became an idol of the anti-globalization movement after he led the 1994 Zapatista rebellion in the southern state of Chiapas, but he had avoided public appearances in recent years.
"We have decided that today Marcos no longer exists," he wrote in a lengthy statement published on the Zapatista website that he said was his last message as the rebel leader.
Marcos denied rumors he had become ill, saying he was making way for a new generation to take over speaking for the rebels, who still hold a handful of communities deep in Chiapas.
More:
https://www.reuters.com/article/us-mexico-marcos/mexican-rebel-leader-marcos-retires-says-no-longer-exists-idUSBREA4P01E20140526?feedType=RSS
I didn't hear anything about any illness in the info. I read then, and the tone of the news didn't really seem to point in that direction, although it did seem unexpected. It all seemed natural, as if he had been planning to do it for quite a while, although no doubt a great, great many people didn't want to think of him as "gone." Of course he's not "gone" he's just "gone fishing," officially moving on. It probably was his plan to never make his work a personalized thing, but to be a catalyst for necessary change.

I'm glad you brought it up. It doesn't seem that long since he "disappeared." I've read articles regarding people meeting with and being inspired by Zapatistas over the years. He definitely showed the way, lit the light, and gave people hope.
---
Response to Judi Lynn (Original post)
Thu Apr 30, 2020, 11:52 PM
RestoreAmerica2020 (2,089 posts)
2. Cuando alguien muere se apaga una luz, Chavez fue un
..gran luz.

Thank you for post, link, and videos. Paz
.


---
Response to RestoreAmerica2020 (Reply #2)
Fri May 1, 2020, 12:26 AM
Judi Lynn (141,089 posts)
7. You're so right. So many U.S. Americans never realized there was anything to protest in Mexico.
What a shame our corporate media and carbon copy "educations" seemed to ignore every country outside the U.S., other than Western Europe!
That means we have a lot to discover once we realize how little we know! It's so different from the stories I've heard about general knowledge, awareness, education everywhere else.
Thank you, RestoreAmerica2020.
---
Response to Judi Lynn (Original post)
Thu Apr 30, 2020, 11:56 PM
Skittles (129,778 posts)
3. please correct his name
---
Response to Skittles (Reply #3)
Fri May 1, 2020, 12:17 AM
Judi Lynn (141,089 posts)
5. Were you aware that when you post any name with an accent mark in the title, that letter disappears?
Oscar Chávez, if you try it yourself by copying and posting it as Oscar Chávez, will drop the accented "a".

It becomes, say it with me, "Chvez."

This phenomenon only happens in the title line.
---
Response to Judi Lynn (Reply #5)
Fri May 1, 2020, 12:19 AM
Skittles (129,778 posts)
6. yes
which is why I type letters if that happens
---
Response to Skittles (Reply #6)
Fri May 1, 2020, 12:27 AM
Judi Lynn (141,089 posts)
8. But ya doesn't get ta keep the accent mark.
As you plunge deeper into the body of the manuscript you are able to divine what must have happened.