Sun May 3, 2020, 01:07 PM
Judi Lynn (140,884 posts)
Venezuela says it foiled attack by boat on main port city
Updated 11:27 am CDT, Sunday, May 3, 2020
Photo: Matias Delacroix, AP
Security forces patrol in the port city of La Guaira, Venezuela, Sunday, May 3, 2020. Interior Nestor Reverol said on state television that security forces overcame before dawn Sunday an armed maritime incursion with speedboats from neighboring Colombia in which several attackers were killed and others detained.
CARACAS, Venezuela (AP) — Venezuelan officials said they foiled an early morning attempt by a group of armed men to invade the country by boat on Sunday, killing eight attackers and arresting two more.
Socialist party chief Diosdado Cabello said that two of the attackers were being interrogated by authorities. Cabello said it was carried out by neighboring Colombia with United States backing in a plot to overthrow President Nicolás Maduro. Both countries have repeatedly denied earlier Venezuelan allegations of backing for military plots against the socialist government.
"Those who assume they can attack the institutional framework in Venezuela will have to assume the consequences of their action," said Cabello, adding that one of the detained claimed to be an agent of the U.S. Drug Enforcement Administration.
Authorities said they found Peruvian documents, high-caliber weapons, satellite phones, uniforms and helmets adorned with the U.S. flag.
More:
https://www.chron.com/news/article/Venezuela-says-it-foiled-attack-by-boat-from-15243261.php
Also posted in LBN:
https://www.democraticunderground.com/10142485582
8 replies, 326 views
Replies to this discussion thread
| | | | |
| --- | --- | --- | --- |
| 8 replies | Author | Time | Post |
| Venezuela says it foiled attack by boat on main port city (Original post) | Judi Lynn | May 3 | OP |
| | Judi Lynn | May 3 | #1 |
| | Judi Lynn | May 3 | #2 |
| | Judi Lynn | May 3 | #3 |
| | LessAspin | May 3 | #4 |
| | Judi Lynn | May 3 | #5 |
| | LessAspin | May 10 | #7 |
| | Judi Lynn | May 10 | #8 |
| | Eugene | May 4 | #6 |
---
Response to Judi Lynn (Original post)
Sun May 3, 2020, 01:22 PM
Judi Lynn (140,884 posts)
1. Venezuela government says eight killed in foiled mercenary 'incursion'
---
Response to Judi Lynn (Original post)
Sun May 3, 2020, 02:03 PM
Judi Lynn (140,884 posts)
2. People who were aware of Venezuela in 2004 will remember over 100 Colombian paramilitaries
were found living in quarters constructed on the ranch of a man, Roberto Alonso, a Cuban "exile" (who ran after this discovery to Miami where he lives now), in a plot to overthrow Hugo Chavez after taking a National Guard armory and stealing the weapons first. The government was tipped off after they were seen training on the ranch, and living there:
Colombian paramilitaries arrested in Venezuela
Jeremy Lennard and agencies
Mon 10 May 2004 07.20 EDT
Venezuelan police have arrested more than 70 Colombian paramilitary fighters who were allegedly plotting to strike against the government in Caracas, according to the country's president, Hugo Chávez.
Opposition leaders, however, were quick to dismiss the president's claim, calling the raids on a farm less than 10 miles from the capital a ruse to divert attention from their efforts to oust Mr Chávez in a recall vote.
During his weekly radio and TV broadcast, Hello Mr President, Mr Chávez said that 53 paramilitary fighters were arrested at the farm early on Sunday and another 24 were picked up after fleeing into the countryside.
The country's security forces were uncovering additional clues and searching for more suspects, he said, adding that the arrests were proof of a conspiracy against his government involving Cuban and Venezuelan exiles in Florida and neighbouring Colombia.
Mr Chávez also claimed the plot was backed by Venezuela's mostly pro-opposition news media and said that the raids had "eliminated the seed of a terrorist group".
"Now they are importing terrorists," Mr Chávez said of his opponents, adding that the farm - in the municipality of El Hatillo - was owned by Roberto Alonso, a Cuban exile with links to Venezuelan and Cuban exiles.
"There are people in the United States who keep thinking how to start a war in Venezuela so that they can justify an invasion," he said.
More:
https://www.theguardian.com/world/2004/may/10/venezuela.jeremylennard
~ ~ ~
Colombian paramilitaries being rounded up at the ranch outside Caracas, owned by current Miami resident, Roberto Alonso, (brother of Hollywood "actress" María Conchita Alonso ) :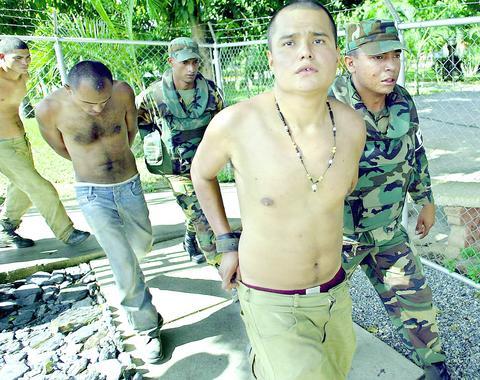 ~ ~ ~
Colombian militia camp found inside Venezuela
April 30, 2008
By IANS,
Caracas : Venezuela's armed forces have discovered a camp set up by a Colombian militia group inside the country and arrested four of its members, Spain's EFE news agency reported Wednesday quoting a top military official.
The secret camp of the outlawed United Self-Defence Forces of Colombia, or AUC, was found last Thursday in the western state of Zulia near the Colombian borders, General Jesus Gonzalez said, adding that the camp was set up to train the right-wing paramilitaries.
He also said that several documents, 19 uniforms with AUC insignia, weapons, munitions, explosives and 80 kgs of cocaine were found from the site.
Venezuelan President Hugo Chavez had earlier warned about the infiltration of Colombian paramilitaries in his country, as part of a plan to destabilise his leftist government.
The AUC, blamed by the UN for 80 percent of the war crimes in Colombia's internal conflict, demobilized more than 31,000 of its fighters between 2003 and 2006 amid negotiations with the administration of Colombian President Alvaro Uribe.
Made up of rural defence cooperatives formed more than 20 years ago to battle leftist rebels, most of the AUC militias degenerated into death squads, carrying out massacres of peasants, journalists and trade unionists suspected of having sympathy for the leftists.
http://twocircles.net/2008apr30/colombian_militia_camp_found_inside_venezuela.html#.VzONyOT2bmQ
(Short article, no more at link.)
~ ~ ~
A few years later:
Venezuelan Government Foils Destabilisation Plans
By Ryan Mallett-Outtrim
Military and government officials have stated that Colombian paramilitaries procured Venezuelan military uniforms, C4 explosives and 50 high capacity magazines for use in an attack on Venezuelan soil (YVKE).
Merida, April 12th 2013 (Venezuelanalysis.com) – Venezuelan security forces have foiled a plot to violently destabilise the country, Vice-president Jorge Arreaza announced this afternoon.
"The Bolivarian National Armed Forces and state security agencies have dismantled a plan that would affect the election or post-election," Arreaza told Venezuelan media.
He further stated that the plot involved Salvadorian mercenaries who "wanted, but could not, intervene to disrupt the peace of the republic at the last minute".
The government first announced the presence of two groups of Salvadorian mercenaries operating in Venezuela on April 6.
Internal Affairs and Justice Minister Nestor Reverol warned that the groups were funded by drug trafficking, and have links to far right terrorists including Luis Posada Carriles. Currently living in Miami, Carriles has been convicted in Panama of a number of terrorist attacks, including the 1976 bombing of a Cuban airline that claimed 73 lives.
More:
https://www.democraticunderground.com/110812938
---
Response to Judi Lynn (Original post)
Sun May 3, 2020, 02:19 PM
Judi Lynn (140,884 posts)
3. Host & caretaker of the Colombian paramilitaries in plot on Chavez assassination 2004:
---
Response to Judi Lynn (Original post)
Sun May 3, 2020, 08:03 PM
LessAspin (388 posts)
4. UPI
Venezuela says eight killed in alleged invasion

May 3 (UPI) -- Venezuelan officials said eight people were killed and two were arrested by security forces that thwarted an alleged invasion on Sunday, prompting skepticism from opposition leaders and the United States.

Nestor Reverol, Venezuela's interior minister, said boats arrived from Colombia with the intent of assassinating leaders in the Venezuelan government to spur chaos.

"The plan was to commit terrorist acts in the country, assassinate leaders of the revolutionary government and add to the spiral of violence while generating chaos and confusion in the population and attempt a new coup d'etat," said Reverol.

Diosdado Cabello, president of the Constituent Assembly said that a large cache of weapons and some vehicles were also seized by security forces.

"Behind all of this is the United States, the Colombian oligarchy and narcotrafficking," ...
Link to tweet
Just the latest in a prolonged and ongoing op...
Link to tweet
---
Response to LessAspin (Reply #4)
Sun May 3, 2020, 11:48 PM
Judi Lynn (140,884 posts)
5. LessAspin, your information falls like water to parched travelers in a hot desert!
So much essential information has been delivered in the link posted in the second tweet! I have heard of Empresas Polar, at least 20 years ago. Good grief! Had no idea how powerful that vast corporation really IS! The names discussed are so significant, so important to people wanting to know, but being misinformed by corporate media!
One named popped up I scanned in a search, and discovered he has written something shared with CNN message board readers 19 or 20 years ago in a now inactive message board system by a poster who had also been a UPI journalist in South America for many years,
before
it was sucked up by ultra-right-wing Bush family friend, Rev. Sung Myung Moon. Here is the very same description shared by a different authority explaining how it is we get so much twisted news about the Americas:
Book Description
Since the election of President Hugo Chavez in 1998, Venezuela has become an important news item. Western coverage is shaped by the cultural milieu of its journalists, with news written from New York or London by non-specialists or by those staying inside wealthy guarded enclaves in an intensely segregated Caracas. Journalists mainly work with English-speaking elites and have little contact with the poor majority. Therefore, they reproduce ideas largely attuned to a Western, neoliberal understanding of Venezuela.

https://www.routledge.com/Bad-News-from-Venezuela-Twenty-years-of-fake-news-and-misreporting/Macleod/p/book/9781138489233?fbclid=IwAR2jqjg084vd-An2ZIPV-aFclEUYAZIXPlgsAU_o4jgXHfr0OhQpoJ0RMZg
Thanks so much for providing such important food for thought!
---
Response to Judi Lynn (Reply #5)
Sun May 10, 2020, 11:40 AM
LessAspin (388 posts)
7. AP
Not to be outdone by UPI...
Link to tweet
It's actually an accomplishment that Venezuela can function at all.
Given the constant propaganda...
Economic sanctions..
Covert Ops.
Link to tweet
Where is
Jack Ryan
when you need him?
---
Response to LessAspin (Reply #7)
Sun May 10, 2020, 12:59 PM
Judi Lynn (140,884 posts)
8. Oh, jeez! Yep, A.P. can really sling the gov't approved perception molding any old day.
Love the photo of Barbara Bush yukking it up. Her husband was totally immersed in his life's pursuit trying to make sure the puppets owned by the US retained control of the "peasants" and kept them desperately poor and powerless. His crime against the human race lasted for decades. He didn't want ANY of us worrying any of our underfed brains with the truth about US policy toward other countries.

The more you hear, the sicker you get!

Very glad to see Matt Taibbi has voiced his opinion. Good for him.

Thanks, a lot!

---
Response to Judi Lynn (Original post)
Mon May 4, 2020, 06:26 PM
Eugene (48,696 posts)
6. Venezuela: anti-Maduro battle isn't over as ex-US soldier says he launched raid
Source:
The Guardian
Venezuela: anti-Maduro battle isn't over as ex-US soldier says he launched raid
Jordan Goudreau, who was linked to plot to topple Maduro, said his troops are still in action as government said it foiled 'invasion'
Tom Phillips Latin America correspondent
Mon 4 May 2020 15.19 BST
Last modified on Mon 4 May 2020 20.58 BST
A former US special forces soldier linked to a murky and apparently bungled attempt to topple Venezuela's leader, Nicolás Maduro, has insisted his troops are still in action after launching "a daring amphibious raid" into the country.
In a video released late on Sunday – hours after Maduro's government claimed it had foiled a United States-backed sea "invasion" near Venezuela's main international airport – Jordan Goudreau claimed the battle was not over.
"Our men are continuing to fight right now," claimed the 43-year-old American citizen, who was last week linked to what was described as an audacious but half-baked plot to invade Venezuela and remove its leader. "Our units have been activated in the south, west and east of Venezuela."
The former US special forces medic, who served in Iraq and Afghanistan, offered no evidence for those claims and it was unclear where the video had been recorded. There were no reports of fighting in the capital, Caracas.
But earlier on Sunday Venezuela's leaders claimed they had frustrated what they called a US-backed assault near the port city of La Guaira, 20 miles north of Caracas, killing eight alleged assailants.
-snip-
Read more:
https://www.theguardian.com/world/2020/may/04/venezuela-jordan-goudreau-raid-maduro