Tue Jun 30, 2020, 05:40 PM
sandensea (14,488 posts)
Argentina's Spygate: Macri aide Susana Martinengo, 21 others arrested
Argentine Federal Judge Federico Villena ordered the arrest of 22 intelligence agents and former public officials a part of an ongoing investigation into a massive surveillance scheme carried out under former Argentine President Mauricio Macri.
The scheme, carried out between 2016 and 2019, involved over 500 targets of warrantless surveillance and over $80 million in undeclared expenses by a Federal Intelligence Agency (AFI) team known as the "
Super Mario Bros
."
Judge Villena described them as "a criminal organization with insertion in national, provincial and local governments."
The targets known thus far include at least 403 journalists, 58 businesspeople, 28 academics, 20 federal lawmakers, and numerous prominent lawyers and other influencers.
Among those also under surveillance were two former presidents - Cristina Kirchner (now vice president), and Eduardo Duhalde -
as well as Macri's younger sister
Florencia and her boyfriend, Salvatore Pica.
The most prominent officials arrested today include former AFI counterintelligence head
Diego Dalmau Pereyra
; and longtime Macri aide
Susana Martinengo
, who collected surveillance reports for the president.
Martinengo, 68, headed the Presidential Documents Office under Macri - who claimed he "
didn't know
" Martinengo, despite her being his office manager during his 2007-15 tenure as mayor.
She later worked at the Casa Rosada presidential offices, and in a 2019 interview Martinengo emphasized not only the importance of her job - but that "
like a statesman, he controls you. I have to file monthly reports to him
."
Macri, 61, who was defeated for re-election last October amid the worst recession in two decades, has been the focus of numerous scandals
involving alleged warrantless wiretapping
of both public figures and relatives since 2009 -
including his sister
, the late Sandra Macri.
Former Federal Judge Carlos Rozanski called on the judiciary to
bar Macri's exit from the country
; the former president is reportedly seeking a post at the International Football Federation (FIFA)'s Zürich headquarters.
At:
https://translate.google.com/translate?hl=en&tab=wT&sl=auto&tl=en&u=https%3A%2F%2Fwww.pagina12.com.ar%2F275587-espionaje-ilegal-por-que-el-juez-federico-villena-ordeno-det


Former Argentine President Mauricio Macri and his longtime secretary, Susana Martinengo, during Macri's 2015 campaign.

Martinengo, a onetime city council candidate on the far-right MODIN ticket, collected warrantless surveillance reports for the president from 2016 to 2019.

She was among 22 former public officials and intelligence agents arrested today as part of an investigation into a wide-reaching surveillance scheme against 500 - perhaps 1,500 - journalists, politicians, and other influencers.
2 replies, 502 views
Replies to this discussion thread
| | | | |
| --- | --- | --- | --- |
| 2 replies | Author | Time | Post |
| Argentina's Spygate: Macri aide Susana Martinengo, 21 others arrested (Original post) | sandensea | Jun 2020 | OP |
| | Judi Lynn | Jul 2020 | #1 |
| | Judi Lynn | Jul 2020 | #2 |
---
Response to sandensea (Original post)
Wed Jul 1, 2020, 03:31 AM
Judi Lynn (147,946 posts)
1. Macri and company had a vast group of targets, it's shocking how many he had.
Clearly they intended to suck up a lot of power, and create an intensely rigid government. Spying on so many!
Sounds like Nixon, doesn't it? Maybe worse, even.
Found this article in google images, scanned the English google translation, saw that the mass arrest would inhibit the dirtbags from destroying evidence, and applying pressure to witnesses themselves, or through 3rd parties, etc. Here's the article:
22 arrests in the cause of illegal espionage: a former Cambiemos official was arrested and spies
This is Susana Mabel Martinengo, who served as coordinator of Presidential Documentation during the administration of Mauricio Macri. It was ordered by the federal judge Federico Villena, who has the file investigating the follow-ups of Cristina Kirchner, Rodríguez Larreta, Diego Santilli, Nicolás Massot and Emilio Monzó. Today 21 new victims were known.
More:
https://www.infobae.com/politica/2020/06/30/ordenaron-mas-de-diez-detenciones-en-la-causa-de-espionaje-ilegal-arrestaron-a-una-ex-funcionaria-de-cambiemos-y-otros-13-espias/
https://zapala8340.com.ar/index.php/2020/06/30/22-detenciones-en-la-causa-de-espionaje-ilegal-arrestaron-a-una-ex-funcionaria-de-cambiemos-y-espias/
I noticed that everyone in photos of the round-up of spies was wearing face-masks, and it seemed really cool that so many people had decided to at least be safe, and to protect others by wearing facemasks, even while being spies!
What a day for high-level arrests in Argentina. Thanks for the information.
---
Response to sandensea (Original post)
Thu Jul 2, 2020, 05:48 AM
Judi Lynn (147,946 posts)
2. 22 arrests in illegal espionage probe, including ex-Macri official
ARGENTINA | TODAY 02:47
Susana Martinengo, co-ordinator of presidential documentation during the 2015-2019 Macri presidency, and 21 others detained on charges of illegal espionage against various political leaders.
Lomas de Zamora federal judge Federico Villena on Tuesday ordered the arrest of 22 people, including Susana Martinengo, the co-ordinator of presidential documentation during the 2015-2019 Mauricio Macri presidency, on charges of illegal espionage during that administration against various political leaders, including Vice-President Cristina Fernández de Kirchner.
Apart from Martinengo, other important arrests were Jorge "Turco" Sáez, policeman Leandro Araque and the lawyer Facundo Melo, all formerly employed by AFI Federal Intelligence Agency.
According to the testimony given by Melo and Araque to the Congress investigative commission, they reported to Martinengo inside the Casa Rosada in the course of over a dozen meetings as from mid-2018.
Apart from the above quartet, Villena also ordered arrest warrants for the brothers Emiliano and Guillermo Matta, Mercedes Funes, Maria Fermani, Daiana Baldasarre, Denise Tenorio, María Sáez, Jorge Ochoa, Andrés Rodríguez, Gustavo Ciccarelli, Diego Dalmau Pereyra, Javier Bustos, Jonathan Nievas, Martin Terra, Dominique Lasaigues and Mariano Flores.
More:
https://www.batimes.com.ar/news/argentina/22-arrests-in-illegal-espionage-probe-including-ex-macri-official.phtml
~ ~ ~
JUDICIAL
Illegal espionage: former AFI agent Guillermo Matta arrested
He is one of the 22 accused by Judge Villena. Meanwhile, the apprehensions of four others involved remain.
https://red92.com/noticias/espionaje-ilegal-detuvieron-al-ex-agente-de-la-afi-guillermo-matta-10476
~ ~ ~
Google translation:
THE COUNTRY
ILLEGAL ESPIONAGE AFI GUSTAVO ARRIBAS MAURICIO MACRI
July 01, 2020
The advance of the cause and the arrests of spies and former officials of Macrismo
Illegal espionage: Game over for the Super Mario Bros gang
Judge Villena ordered 22 arrests, including that of Susana Martinengo, former secretary of Macri, and Diego Dalmau Pereyra, former head of Counterintelligence, considering that the accused comprised "a criminal organization with insertion in the National, Provincial and Local State" .
By Irina Hauser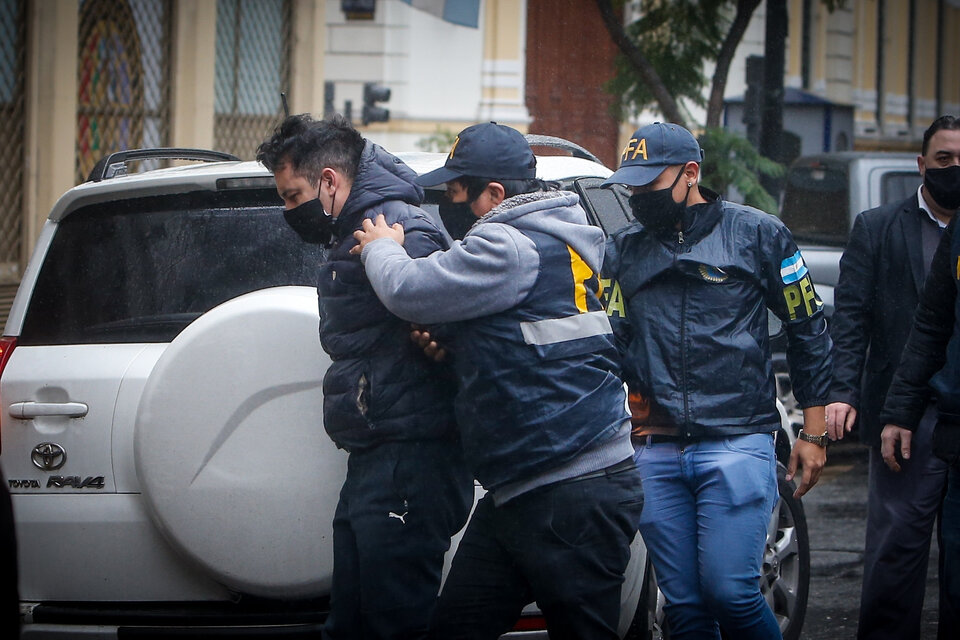 The moment when the policemen were detaining the spy Facundo Melo, one of the agents who reported in Casa Rosada.
Image: EFE
The wife of the ex-spy Leandro Araque opened the door of his house with a thermos and two cups, and approached the car located opposite. "I took out the plan (the patent), and I know that you are from the Federal Police. I brought you coffee, "said the woman, who had been a police officer until she had a judicial problem due to the disappearance of money seized in a proceeding. The agents, who were federal and had wandered around while monitoring the area, rejected the coffee. "Retire," they said, they got out of the car and took her husband, who long ago knew that this could happen, in custody.
His cell phone had been one of the largest sources of data on the illegal and systematic espionage carried out by the group of the Federal Intelligence Agency called " Super Mario Bross " and the communicating vessel with dispatches from the Casa Rosada itself during the presidency of Mauritius. Macri. The federal judge of Lomas de Zamora, Federico Villena, ordered a total of 22 arrests. Among them, that of Susana Martinengo , former Secretary of Documentation of the Presidency, who received the intelligence reports. He also ordered the arrest of a former head of counterintelligence, Diego Dalmau Pereyra, and of two agents who had leading roles in the plot: Jorge "el Turco" Sáez and Facundo Melo. The list includes Martín Terra, ex-husband of model Analía Maiorana, current partner of Darío Santilli, one of the spies, and a close friend of former head of intelligence center Gustavo Arribas. Terra was not arrested, because they still could not find him.
On Monday, the judge ate breakfast with the news that Macri's private secretary, Darío Nieto, had erased part of the contents of his cell phone, hijacked by the Federal Police last week. The technicians who help him began to rescue the information. But that episode, a candidate to complicate the situation of the young Cambodian - known as "the shadow" of the former president - was one of the many reasons that sparked the string of arrests. So far there has been no action on Nieto beyond the raid, but his alleged role as someone receiving intelligence reports appeared in Martinengo's mouth, in dialogues that make up the file. Prosecutor Cecilia Incardona rejected her request to be released from prison. Villena was on the same path.
Another factor that seemed to accelerate the arrests is that from Comodoro Py the federal prosecutor Guillermo Marijuán disputes the case with the judge of Lomas de Zamora, arguing that one of the facts that gave rise to it - the attempted attack on the former official of Defense José Luis Vila - occurred in the City of Buenos Aires. At the same time, in the Chamber of La Plata they are processing challenges against Villena that have not yet been resolved. The spies are fighting for him to go to at least the other federal court in Lomas, in charge of Juan Pablo Augé, in charge of the cause for spying on the Patria Institute and Cristina Fernández de Kirchner's house.
What is investigated in the file by Villena are illegal espionage maneuvers that included follow-ups, photos, videos, and intelligence reports on pro-government and opposition political leaders, journalists, trade unionists, members of the Catholic Church, leaders of social organizations and former detained officials and businessmen. All this activity took place at least between 2017 and 2019 in most cases. Some of the intelligence parts had some of the most elemental content, such as describing whether "the target" had left or entered his home. Still, everything indicates that there was constant espionage, which combined political and economic objectives, as well as the search to "break" detainees so that they would compromise others.
"A criminal organization"
In the arrest warrants, the judge wrote that he is investigating "a criminal organization with insertion in the National, Provincial and Local State, whose members fulfilling different strategic roles and making use of their quality as civil servants and / or public employees and agents and / or dependents of the security and / or AFI forces "formed an illicit association and carried out maneuvers in violation of national intelligence law, in" different periods and different jurisdictions. "This rule prohibits" obtaining information, producing intelligence and storing data about people by the fact of their race, religious faith, private actions, political opinion or adhesion or membership in party, social, union, community, cooperative, welfare organizations,cultural or labor ... "or for any lawful activity carried out by the victims, with the aim of" influencing the institutional, political, social, economic situation, or the internal life of political parties, influencing public opinion, people, in the media or legally constituted associations or groups ".
That is the central hypothesis that is handled in the case and the determination to carry out the arrests was mainly justified in that due to the role that "those who would have participated in the acts have the means and / or links to avoid the application of the criminal law " "Given their expertise, they could hinder the development of the process by altering evidence or using their influences to remove themselves from their obligations, such as absenting themselves from attending to provide an investigative statement," said Villena. According to the elements collected, he said he presumed that "the defendants would maintain links with personnel from different security forces and individuals not yet individualized" with which they could "frustrate the investigation." The investigations are scheduled for Tuesday and Wednesday.
More:
https://www.pagina12.com.ar/275722-espionaje-ilegal-game-over-para-la-banda-de-super-mario-bros