Wed Jul 8, 2020, 11:09 PM
sandensea (11,739 posts)
Mohamed El-Erian: Argentina's debt proposal deserves support
After months of often difficult negotiations, Argentina made a new offer to creditors Sunday that stands a solid chance of anchoring one of the largest sovereign debt restructurings in the history of emerging markets.
Inheriting a troublesome situation in December, the newly elected government of President Alberto Fernández embarked on negotiations with creditors.
Argentina is seeking to restructure $66 billion of $250 billion in foreign currency-denominated public debt.
By potentially lifting a big cloud hanging over the country's ability to grow solidly and inclusively —
directly for the government's finances and indirectly by improving prospects for private sector activity
— such an orderly and collaborative resolution could help overcome long-standing economic challenges that have recently been worsened by Covid-19.
Indeed, creditors need only compare the potential net present value of the Argentine offer (around
53.5 cents on the dollar
at a 10% exit yield) to the outcome of the messy 2005 restructuring.
According to calculations by Gramercy Fund Management LLC, Argentina would secure
around $40 billion of cash flow relief over the first 10 years
, equivalent to some 9% of gross domestic product.
At:
https://www.bloomberg.com/opinion/articles/2020-07-06/argentina-debt-offer-could-mean-breakthrough-with-creditors-imf


Mohamed El-Erian, chief economic adviser at Allianz and former chair of President Obama's Global Development Council (2012–17).

El-Erian notes in regards to Argentina's effort to restructure $66 billion of its foreign debt that "it would be in neither side's long-term interest to allow the theoretical best to be the enemy of the attainable good – what is now on the table warrants support by both Argentina and its creditors."
1 replies, 217 views
Replies to this discussion thread
| | | | |
| --- | --- | --- | --- |
| 1 replies | Author | Time | Post |
| Mohamed El-Erian: Argentina's debt proposal deserves support (Original post) | sandensea | Jul 8 | OP |
| | Judi Lynn | Jul 9 | #1 |
---
Response to sandensea (Original post)
Thu Jul 9, 2020, 04:21 AM
Judi Lynn (142,485 posts)
1. Interesting learning they have what seems to be a good plan for dealing with the debt.
The author made repeated snide reference to the debt solution chosen in 2008. I don't grasp enough of what was involved, other than Argentina had been left in a horrendous predicament by who was it, Menem? Can't remember, and they were trying to pull the country out of a very deep ditch because of that.
The problem wasn't created by Kirchner. It was so spectacularly awful before Kirchner, it was even the subject of an intense documentary which ran on PBS here, which showed what happened to the population! So many people were wiped out altogether.
I also noticed the sign at an outdoor location, showing the very familiar vulture, with the message, "no debt repayment,
break with the imf." I wondered if that is a popular sentiment in the country, because I really remember it was wide-spread before Macri came in and laid waste to the economy.
The signs were everywhere, expressing disgust, contempt, hatred for hedge fund monster Paul Singer, portraying his creepy face on the body of a vulture repeatedly.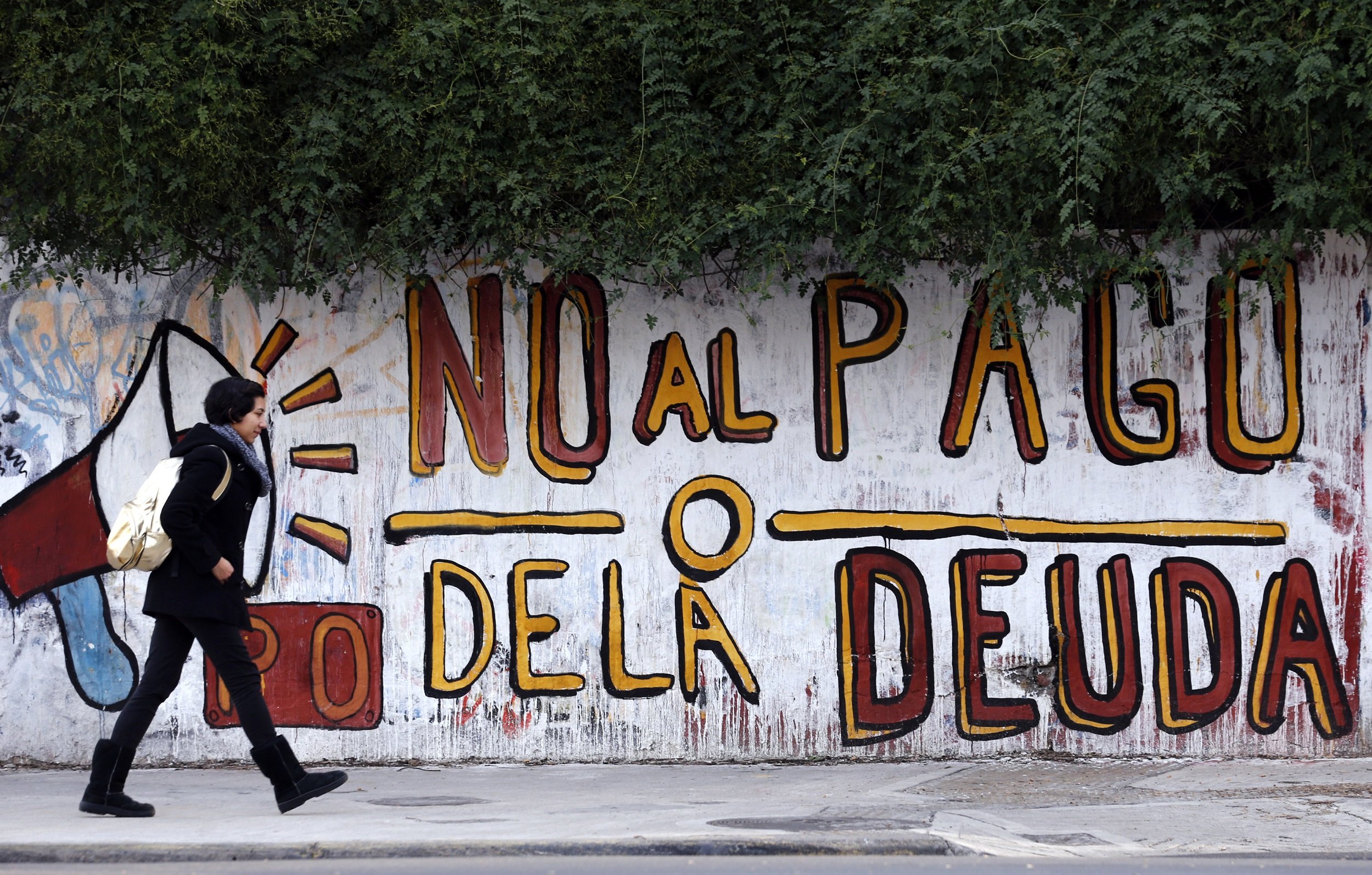 The author definitely seems to see this plan as totally workable, benefiting Argentina, the citizens, and the creditors, but he is involved personally, he mentioned, in two ways, one of them the IMF.
I realized how very little I know reading the article, as I am desperately out of my league with all the terms, but there was enough help in it to think it sounds good to someone who knows nothing! He seemed to indicate it would allow for help for social, health needs for the poorest, but also has value for creditors.