Fri Sep 2, 2022, 12:40 AM
peppertree (18,284 posts)
Man detained after pointing handgun at Argentine Vice-President Cristina Fernandez de Kirchner
A man has been detained by police after he aimed a handgun at Cristina Fernández de Kirchner at point-blank range as the Argentine vice-president returned to her apartment in Recoleta, Buenos Aires.
Fernández de Kirchner, 69, was not injured in the suspected assassination attempt Thursday night, said government officials. The perpetrator was quickly detained by the federal police and the former president's bodyguards.
A 35-year-old Brazilian national,
Fernando Sabag Montiel
, pointed the gun at the vice-president's head at 9 p.m. as she got out of a car that was driving her from Congress to her residence.
The suspected attacker reportedly approached Mrs. Kirchner from a waiting crowd of supporters that have been holding a vigil outside her apartment block, before asking for an autograph for a copy of her best-selling 2019 autobiography,
Sinceramente
.
As the vice-president greeted supporters, he pulled the weapon -
though the gun did not fire
. A melée ensued and the vice-president was removed from the area, although she continued to speak with others who were present.
At:
https://www.batimes.com.ar/news/argentina/man-arrested-for-attempting-to-assassinate-vice-president-cristina-fernandez-de-kirchner.phtml
Link to tweet



News camera footage showing Argentine Vice-President Cristina Fernández de Kirchner greeting supporters outside her Buenos Aires apartment at 9:00 p.m. tonight, during which an assailant can be seen pointing and firing a .38 caliber handgun at her.

The weapon did not discharge.

Mrs. Kirchner, who was unharmed, is facing charges of self-dealing related to highway contracts signed during her 2007-15 administration - a trial which has further divided the country's already polarized politics.

While the assailant's motives have yet to be determined, he reportedly had a black sun tattoo - commonly associated with neo-Nazis. A right-wing sympathizer had been arrested on August 5th after screaming death threats at her though a megaphone at the same site.

President Alberto Fernández called it "the gravest incident since we regained our democracy (in 1983)," and declared a federal holiday for Friday.
6 replies, 719 views
Replies to this discussion thread
| | | | |
| --- | --- | --- | --- |
| 6 replies | Author | Time | Post |
| Man detained after pointing handgun at Argentine Vice-President Cristina Fernandez de Kirchner (Original post) | peppertree | Sep 2022 | OP |
| | Judi Lynn | Sep 2022 | #1 |
| | peppertree | Sep 2022 | #3 |
| | Judi Lynn | Sep 2022 | #2 |
| | Judi Lynn | Sep 2022 | #4 |
| | Judi Lynn | Sep 2022 | #5 |
| | Judi Lynn | Sep 2022 | #6 |
---
Response to peppertree (Original post)
Fri Sep 2, 2022, 03:15 AM
Judi Lynn (155,202 posts)
1. Monstrous! They are determined to keep her from running in the next election, aren't they?
Thank goodness there was a problem with the gun when the fascist tried to kill her. It's also good to know her instincts are keen enough that she ducked when the gun was misfired at her. That could have saved her if it had gone as planned, one surely hopes.

I hope this will only serve to enrage her many supporters who have seen the opposition attempt to destroy her from the very first of Macri's loathesome one term in office.

You had to be shocked when you saw this news, pappertree.

They clearly are worried they won't win the nest election, even after trying to ruin her again with the bogus absurd charges.

Horrible. It's a miracle it didn't work this time. The would-be assassin certainly got close enough. A neo-Nazi. Surprise, surprise.

Thank you.
---
Response to Judi Lynn (Reply #1)
Fri Sep 2, 2022, 10:52 AM
peppertree (18,284 posts)
3. Thank goodness no one was hurt - this time.
Suffice it to say, Argentine right-wingers have been busy flooding the zone with insinuations that "the incident was staged!"
The Twitterverse is full of
"how could that gun not fire?" "she staged it for sympathy!"
etc.
Well, you don't need to know much about ballistics to realize that, occasionally, misfires do (of course) happen. This one seemed to be a dud, probably on account of the rounds being expired.
Reportedly, though the pistol had five bullets in the magazine - not one made it into into the barrel.
In any case, this incident underscores how polarized and vitriolic Argentine politics has become - particularly on the right.
And like in the U.S., a lot of it is the product of years of relentless right-wing media smears - many of them with racist undertones (
"she lets in all these indians so they'll vote for her!" "the great replacement"
etc.).
The closest parallel here in the U.S. has to be Hillary Clinton - against whom many of the very same smears, and so much of the same kind of hatred, has been aimed for so many years now as you know.
Because as always - when you have nothing to show for yourself, your only bet is name-calling. Like children, really.
That said, have a great and restful Labor Day weekend Judi. All the Best.
---
Response to peppertree (Original post)
Fri Sep 2, 2022, 04:14 AM
Judi Lynn (155,202 posts)
2. Man arrested after attempted shooting of Argentina Vice President Cristina Fernndez
AP
By Debora Rey and Almudena Calatrava
2 Sep, 2022 01:15 AM
5 mins to read
A man tried to kill Argentina's politically powerful Vice President Cristina Fernández outside her home, but the handgun misfired, the country's president said.
The man was quickly overpowered by her security officers in the incident, officials said.
President Alberto Fernández - who is not related to the vice president, a former president herself - said the pistol did not discharge when the man tried to fire it.
"A man pointed a firearm at her head and pulled the trigger," the president said in a national broadcast following the incident. He said the firearm was loaded with five bullets but "didn't fire even though the trigger was pulled."
. . .
Video broadcast on local television channels showed Fernández exiting her vehicle surrounded by supporters when a man is seen extending his hand with what looks like a pistol. The vice president ducks as people around the apparent gunman appear shocked at what is happening.
More:
https://www.nzherald.co.nz/world/man-arrested-after-attempted-shooting-of-argentina-vice-president-cristina-fernandez/BGLZJ7R7TN344EM2FW2MKKB3IA/
---
Response to peppertree (Original post)
Sat Sep 3, 2022, 04:12 AM
Judi Lynn (155,202 posts)
4. Thousands rally in solidarity after assassination attempt on Argentinian vice president
Date 03.09.2022
Thousands of supporters of Argentinian Vice President Cristina Fernandez de Kirchner took to the streets to protest against the attempted attack on her. Messages of support poured in from international leaders.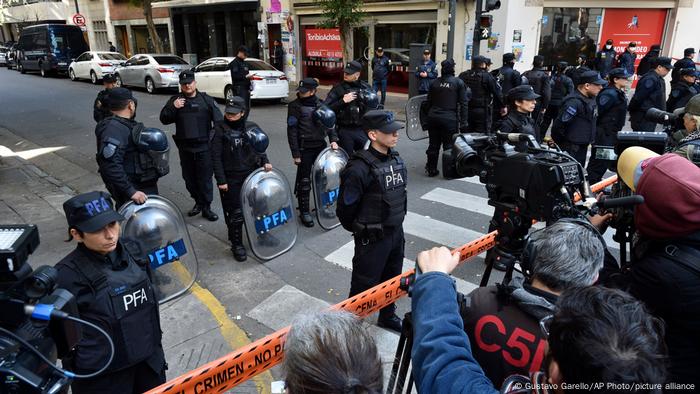 Friday was declared as a public holiday in Argentina after the attempted attack
Messages of solidarity came from across the world and thousands showed up in solidarity in Buenos Aires after a man tried to shoot Argentinian Vice President Cristina Fernandez de Kirchner.
President Alberto Fernandez declared a public holiday on Friday and said the attack was the worst since the country returned to democracy.
"Cristina remains alive because, for a reason that has not yet been technically confirmed, the gun which contained five bullets did not fire despite the trigger having been pulled," the president said.
. . .
International support pours in
"For us, the possibility that something like that could happen to Cristina is unthinkable. We were saved last night from something terrible that we can't even comprehend," a civilian named Claudia told AFP.
More:
https://www.dw.com/en/thousands-rally-in-solidarity-after-assassination-attempt-on-argentinian-vice-president/a-63008194
---
Response to peppertree (Original post)
Mon Sep 5, 2022, 09:53 PM
Judi Lynn (155,202 posts)
5. Police Detain Partner of Suspect in Assassination Attempt of Argentina's Vice President
The apparent assassination attempt has shaken a nation where Fernández has been a central political figure for decades, serving as president from 2007 to 2015 following the term of her late husband, Nestor Kirchner
By Almudena Calatrava • Published 2 hours ago • Updated 2 hours ago
The partner of a man suspected of trying to assassinate Argentine Vice President Cristina Fernández de Kirchner has been arrested by police as investigators tried Monday to determine if the attacker was part of a wider plot.
Brenda Uliarte, the 23-year-old partner of Brazilian suspect Fernando André Sabag Montiel, was arrested Sunday night by Federal Police at a train station in the capital, Buenos Aires, according to images circulated by authorities.
She has not been charged, but officials were trying to determine if she had any role in the Sept. 1 incident in which a man pointed a Bersa 380 pistol at Fernández and pulled the trigger — though the loaded gun did not fire.
Officials also were trying to determine how and why data apparently had been wiped from a cellphone seized from Sabag Montiel when he was caught at the scene.
More:
https://www.nbcconnecticut.com/news/national-international/police-detain-partner-of-suspect-in-assassination-attempt-of-argentinas-vice-president/2865685/
---
Response to peppertree (Original post)
Thu Sep 8, 2022, 01:47 AM
Judi Lynn (155,202 posts)
6. Attacker and his girlfriend 'planned' attempted hit on Argentina VP
Published: 08 September ,2022: 08:12 AM GST
Updated: 08 September ,2022: 08:18 AM GST
The man accused of trying to shoot Argentine Vice President Cristina Kirchner last week planned the attack with his girlfriend, according to preliminary charges filed by a judge, local media reported Wednesday.
The alleged shooter in the attack at point blank range, Fernando Sabag Montiel, and his girlfriend, Brenda Uliarte, both in custody, are accused of trying to assassinate Kirchner "with planning and prior agreement," Judge Maria Eugenia Capuchetti said in an indictment of the two, according to the Telam news agency.
Scandal-tainted Kirchner, 69, survived the assassination attempt as she mingled with supporters outside her home last Thursday night, when a gun brandished by Sabag Montiel failed to fire. The 35-year-old was taken into custody on the spot.
Video footage showed his 23-year-old partner in the company of Sabag Montiel on the day of the attack, local media have said, citing sources close to the investigation.
More:
https://english.alarabiya.net/News/world/2022/09/08/Attacker-and-his-girlfriend-planned-attempted-hit-on-Argentina-VP