Mon Sep 26, 2022, 11:35 PM
peppertree (18,293 posts)
Inter-American Development Bank President Claver-Carone ousted after ethics probe
Mauricio Claver-Carone has been terminated as president of the Inter-American Development Bank (IADB), its board of governors announced Monday.
His departure will set off a formal process to find a replacement for the bank to help counter China's influence in Latin America.
The termination comes after a report revealed that he allegedly threatened to "burn" or "bring" the bank down over an investigation into claims that he had an affair with a staffer, which he denies.
Claver-Carone, 47,
who was nominated by former President Trump
, was the first American to hold the position. His exit will set off a scramble among member countries on who should head the bank.
He told Reuters on Monday that he plans to pursue legal action.
It also demonstrates that the Biden administration - whose representative voted to expel the Cuban-American hard-liner - is willing to cut loose Trump appointees, which could spell trouble for David Malpass at the World Bank.
At:
https://www.axios.com/2022/09/27/inter-american-development-bank-president


Outgoing IDB President Mauricio Claver-Carone in happier days, after former President Trump nominated him to the powerful post in 2020 - which since the IDB's establishment in 1959 had been held by a Latin American official instead.

Claver-Carone was forced out following revelations he had installed his underqualified lover into a high-level, $400,000-a-year post with an office adjacent to his.

The hard-line Cuban-American had previously been installed by Trump into the IMF board of directors - during which he earned notoriety for forcing through a record, $57 billion bailout for former Argentine President Mauricio Macri, a longtime Trump friend who faced an ill-fated re-election fight in 2019.

Claver-Carone had recently blocked $1.2 billion in loans to cash-strapped Argentina already approved by the bank's board of directors - though a meeting with Economy Minister Sergio Massa resolved the delay.
1 replies, 371 views
Replies to this discussion thread
| | | | |
| --- | --- | --- | --- |
| 1 replies | Author | Time | Post |
| Inter-American Development Bank President Claver-Carone ousted after ethics probe (Original post) | peppertree | Sep 2022 | OP |
| | Judi Lynn | Sep 2022 | #1 |
---
Response to peppertree (Original post)
Tue Sep 27, 2022, 01:35 AM
Judi Lynn (155,218 posts)
1. Amazing! I've disliked this man for years and years! Good grief!
This article should help anyone who doesn't know who he is to have a clearer picture:
If You Grew Up With the U.S. Blockade as a Cuban, You Might Understand the Recent Protests Differently
23.07.21 - US, United States - Independent Media Institute
. . .
The Miami Mafia
Tablada keeps a close eye on the Cuban policy being shaped by Washington, D.C., and Miami, where right-wing Cuban exiles effectively drive the agenda. She does this in her role as the deputy director-general in the Cuban Foreign Ministry in charge of U.S. affairs. There is a cast of characters in this story that is little known outside the world of U.S. right-wing politics and the Cuban exile community. Of course, four well-known elected officials lead the attempt to overthrow the government in Cuba: Republican Senators Marco Rubio and Rick Scott of Florida, as well as Democratic Senator Bob Menendez of New Jersey and Republican Representative María Elvira Salazar of Florida. Beside them are other politicians such as Miami Mayor Francis X. Suarez and a range of Cuban American businessmen and professionals such as Emilio Braun of the Vulcan Funds and the lawyer Marcell Felipe.
These men are at the core of a set of organizations that lobby U.S. politicians to harden the U.S. blockade on Cuba. Felipe runs the Inspire America Foundation, which Tablada describes as the "heir to the most anti-Cuban, reactionary, and pro-[former military dictator of Cuba Fulgencio] Batista traditions from South Florida." This foundation works with the Assembly of the Cuban Resistance—a coalition of anti-communist groups that calls for a U.S. invasion of Cuba.
At the center of these men is Mauricio Claver-Carone, a former head of the Cuba Democracy Advocates, who was Trump's main adviser on Cuba and is now president of the Inter-American Development Bank based in Washington, D.C. Claver-Carone, Tablada tells us, "has been nothing short of the leading lobbyist of the groups acting politically against Cuba in the United States, in the U.S. Congress, representing those entities who benefit from this policy of hatred and aggression against my country."
"If you ever mentioned [Fidel] Castro, he'd go berserk," recalled Claver-Carone's friend about his attitude in the 1990s.
"The main goal of these people," Tablada said, "is to overthrow the Cuban Revolution." Their plan for Cuba, it seems, is to revert it to the days of Batista when U.S. corporations and gangsters ran riot on the island.
Lester Mallory's Memorandum
In 1960, the U.S. State Department's Lester Mallory wrote a memorandum on Cuba. Mallory said that most "Cubans support Castro" and there is "no effective political opposition." Mallory said that there was only one way to go: "The only foreseeable means of alienating internal support is through disenchantment and disaffection based on economic dissatisfaction and hardship." There has been no change in policy. The entire embargo is based on Mallory's memorandum.
More:
https://www.pressenza.com/2021/07/if-you-grew-up-with-the-u-s-blockade-as-a-cuban-you-might-understand-the-recent-protests-differently/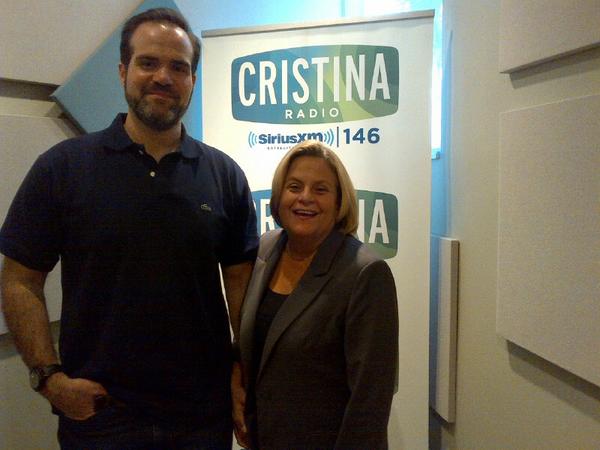 Mauricio Claver-Carone with former Miami "exile" Rep. Ileana Ros-Lehtinen,
who was one of the first US Republican Congress critters to catapult herself
to Honduras on the next flight as soon as the right-wing oligarchy and its
puppet military kidnapped President Manuel Zelaya and replaced him with a
wildly corrupt, brutal interim President, then an "elected" narcotrafficking
thoroughly trashy President and his drug-dealing son and brother, to continue
oligarchy business as usual.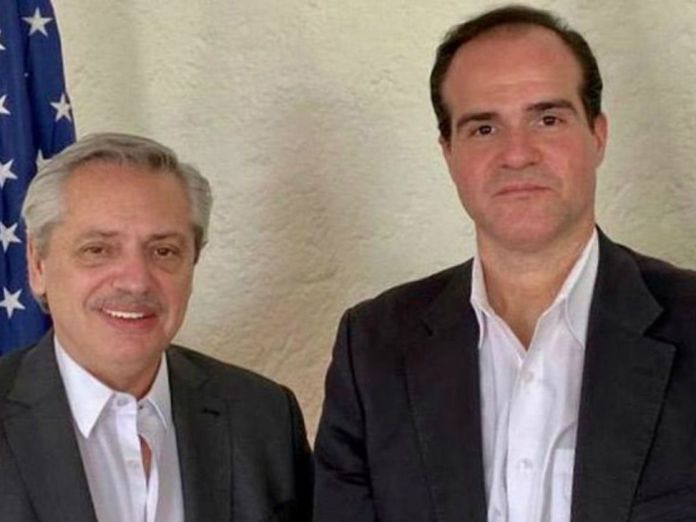 Mauricio Claver-Carone and Argentina's progressive President Alberto Fernández,
whom he claims attempted to "obstruct" the vote to assure him his new position,
"accusing it of trying to delay the vote until next year due to concerns over the
coronavirus pandemic."
https://www.batimes.com.ar/news/latin-america/trumps-pick-for-inter-american-development-bank-slams-argentina-for-obstruction.phtml
~ ~ ~
Peppertree, you have posted an exceptional news event. It's simply
wonderful.
It's hard to find truly great news currently, and this development is praise-worthy. Of course there will be raging in Miami against our good, honest President, for his righteous decision, but they have hated progressives forever, anyway, so screw-em!
Thank you, so much.