Thu May 25, 2023, 06:45 PM
Judi Lynn (158,813 posts)
'Slavery Simulator' Game Removed From Google Play After Backlash
The MagnusGames app is being investigated by federal prosecutors in Brazil
Robert Carnevale | May 25, 2023 @ 3:32 PM
The mobile developer MagnusGames released a game on the Google Play Store entitled "Slavery Simulator." As one might expect, it has caused a stir. Chiefly, the Federal Public Prosecutor's Office in Rio Grande do Sul, Brazil, is now investigating the app and has asked Google for the developer's email
Though Google has since removed the game from the store, it was downloaded over one thousand times before being taken down, and its store page was accompanied by "hate speech" in the comments area.
"It is a game in which the user plays the role of slave owner and can choose between the possibility of making a profit and preventing escapes and rebellions or fighting for freedom and achieving abolition, the Brazil prosecutors office said.
For wider context, slavery is not verboten in modern games. It's present in many titles, including history-focused grand strategy games such as "Europa Universalis IV" and overtly lurid games like "Slaves of Rome," wherein you buy sex slaves in ancient Rome.
More:
https://www.thewrap.com/slavery-simulator-removed-from-google-play-store/
4 replies, 417 views
Replies to this discussion thread
| | | | |
| --- | --- | --- | --- |
| 4 replies | Author | Time | Post |
| 'Slavery Simulator' Game Removed From Google Play After Backlash (Original post) | Judi Lynn | May 2023 | OP |
| | Judi Lynn | May 2023 | #1 |
| | whathehell | May 2023 | #2 |
| | Judi Lynn | May 2023 | #3 |
| | Judi Lynn | May 2023 | #4 |
---
Response to Judi Lynn (Original post)
Thu May 25, 2023, 06:50 PM
Judi Lynn (158,813 posts)
1. Translation from Agencia Brasil: "MPF and MPSP will investigate slavery simulator application"
Electronic game was available on Google's virtual store
Published on 05/24/2023 - 20:57 By Bruno Bocchini- Reporter from Agência Brasil - São Paulo
The Federal Public Prosecutor's Office in Rio Grande do Sul (MPF-RS) instituted this Wednesday (24) a procedure to investigate a slavery simulator application available on the Play Store, Google's virtual store. The electronic game was available on the platform until early afternoon today, when it was taken down.
However, according to the MPF-RS, the application, from the developer MagnusGames, had already been downloaded by several users. According to the platform, the game has been downloaded at least a thousand times. Many racist comments were recorded. "In light of this, an official letter was issued for the company Google to provide specific information about the game", said the MPF in a note.
"It is a game in which the user plays the role of slave owner and can choose between the possibility of making a profit and preventing escapes and rebellions or fighting for freedom and achieving abolition", added the MPF.
In São Paulo, the Special Group to Combat Racial and Intolerance Crimes (Gecradi), from the state Public Prosecutor's Office, created a News of Fact about the application. In the document, the MP points out the existence of more than a thousand downloads already made in a short period of time, as well as hate speech in the comments on the Google platform.
"The company must inform, within three days, the date, time and platform(s) of the game's availability, sending a full copy of all documents and the internal administrative procedure for requesting approval made by the developer", says the text of the Notícia de Fact.
The MP also wants access to the email that was registered by the person responsible for the game and to information about the authorization policy for publishing applications available on Google Play.
parliamentarians
Federal deputy Ivan Valente (PSOL-SP) represented the MPF of the Federal District to investigate the case. The parliamentarian points out that the game praises slavery. "It remains crystal clear that Google Brazil Internet, maintains in its application download store a game that praises slavery, an illegal, perverse and cruel regime, where human beings have their freedoms curtailed and are considered properties, which can be commercialized", says the text of the representation.
Rio de Janeiro municipal councilor Thais Ferreira (PSOL) also presented a representation to the state prosecutor against the racist app. The parliamentarian points out that the game presents highly offensive and disrespectful content by simulating slavery, "promoting symbolic violence, racial discrimination and affronting human rights. The availability and commercialization of this game on the Google Play platform allows access by children, adolescents and adults, contributing to the dissemination of negative stereotypes and violating human dignity and racial equality", says part of the legal piece.
In a statement, Google said it had removed the game from its app store and was taking steps to curb incitement to hatred and violence. "We have a robust set of policies that are designed to keep users safe and that all developers must follow. We do not allow apps that promote violence or incite hatred against individuals or groups based on race or ethnic origin, or that portray or promote gratuitous violence or other dangerous activities.
Brazilian government
To avoid new episodes like the one in this game, the Ministry of Racial Equality (MIR) contacted Google to jointly develop a filter that does not allow the dissemination of hate speech, intolerance and racism.
Editing: Aline Leal
https://agenciabrasil.ebc.com.br/direitos-humanos/noticia/2023-05/mpf-e-mpsp-vao-investigar-aplicativo-simulador-de-escravidao
---
Response to Judi Lynn (Reply #1)
Thu May 25, 2023, 07:00 PM
whathehell (28,599 posts)
2. Good! n/t
---
Response to Judi Lynn (Original post)
Thu May 25, 2023, 10:57 PM
Judi Lynn (158,813 posts)
3. Google removes slavery game after a wave of anger in Brazil
---
Response to Judi Lynn (Original post)
Fri May 26, 2023, 12:18 AM
Judi Lynn (158,813 posts)
4. Google removes 'Slavery Simulator' game amid outrage in Brazil
Published
6 hours ago
By Matt Murphy
BBC News
Google has removed a highly controversial game called Slavery Simulator from its app store, after it caused outrage in Brazil. The app, which allowed players to "buy and sell" black characters, was launched by Magnus Games on 20 April. The game was downloaded more than 1,000 times before it was removed on Wednesday, local media reported.
Brazil is a country still coming to terms with its legacy of slavery, which was only abolished in 1888.
In a description of the game, the developer boasted that users could "exchange, buy and sell slaves". It also allowed players to inflict various forms of torture on black characters. According to images of the game, users were offered a choice to either liberate the enslaved characters or "use slaves for your own enrichment. Prevent the abolition of slavery and accumulate wealth".
At the time of its removal, the game had a rating of four out of five stars, with one review reading: "Great game to pass the time. But I think it lacked more torture options."
More:
https://www.bbc.com/news/world-latin-america-65714083
Speaking of torture, this is a photo of a sculpture displayed prominently in Brazil revealing a standard torture device used by Brazilian slave-owners in torturing and terrorizing people they wanted to harm but not kill, since killing the person wouldn't allow him/her to continue making the "owner" rich. They euphemistically, nastily and oddly named it "The Parrot's Perch,"
(Pau de Arara) AKA "Nunca Mais" or "Never again."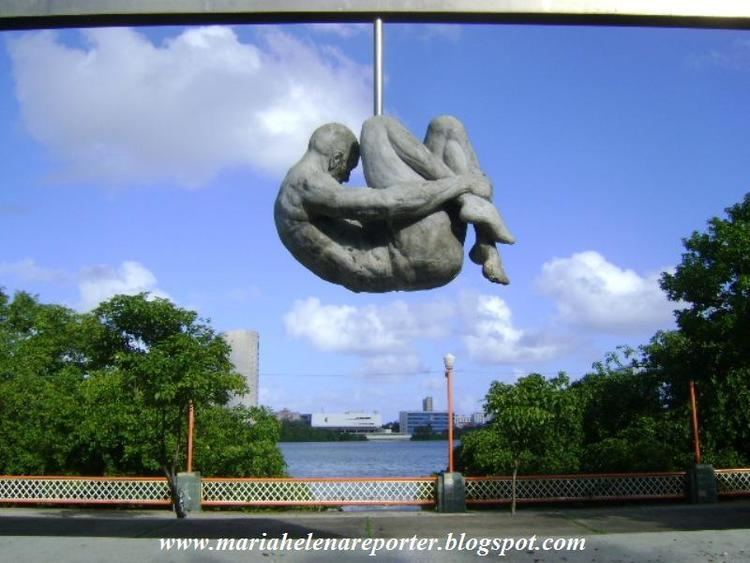 "Among the ways of evaluating a person's character, virtues, moral behavior and human sensitivity towards others/the weakest and poorest, one invariably finds indignation, the revolt that he demonstrates and acts against the evil, injustices, aggressions imposed on the dignity of any human being. If this is true for people, all the more so for states."