Fri May 26, 2023, 01:06 AM
Judi Lynn (158,811 posts)
Operation Condor: The Cold War US Conspiracy That Terrorized South America
(Just discovered this article, believe it's totally worthwhile to people unacquainted with this phase of US history: )
Operation Condor: The Cold War US Conspiracy That Terrorized South America
LATIN AMERICA AND THE CARIBBEAN, 7 Sep 2020
Giles Tremlett | The Guardian - TRANSCEND Media Service
During the 1970s and 80s, eight US (Henry Kissinger)-backed right wing military dictatorships jointly plotted the cross-border kidnap, torture, rape and murder of hundreds of their left wing political opponents. Now some of the perpetrators are finally facing justice.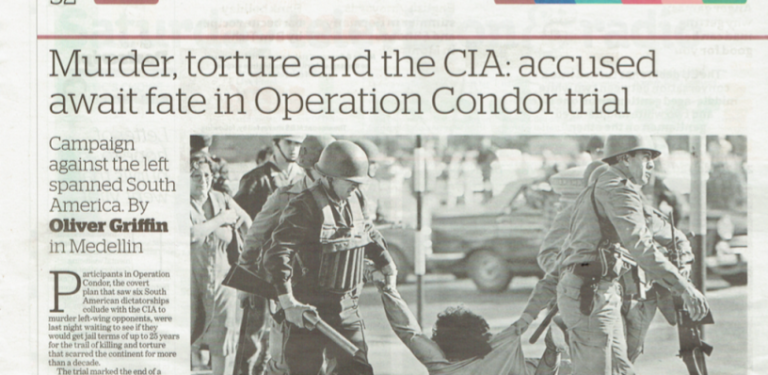 3 Sep 2020
– The last time Anatole Larrabeiti saw his parents, he was four years old. It was 26 September 1976, the day after his birthday. He remembers the shootout, the bright flashes of gunfire and the sight of his father lying on the ground, mortally wounded, outside their home in a suburb of Buenos Aires, Argentina, with his mother lying beside him. Then Larrabeiti remembers being taken away by armed police, along with his 18-month-old sister, Victoria Eva.
The two children became prisoners. At first, they were held in a grimy car repair garage that had been turned into a clandestine torture centre. That was in another part of Buenos Aires, the city that their parents had moved to in June 1973, joining thousands of leftwing militants and former guerrillas fleeing a military coup in their native Uruguay. The following month, in October 1976, Anatole and Victoria Eva were taken to Montevideo, the capital of Uruguay, and held at the military intelligence headquarters. A few days before Christmas, they were flown to a third country, Chile, in a small aircraft that climbed high above the Andes. Larrabeiti remembers looking down on snowy peaks from the plane.
Young children do not usually make epic journeys through three countries in as many months without parents or relatives. The closest thing they had to family was a jailer known as Aunt Mónica. It was probably Aunt Mónica who abandoned them in a large square, the Plaza O'Higgins, in the Chilean port city of Valparaíso, on 22 December 1976. Witnesses recall two young, well-dressed children stepping out of a black car with tinted windows. Larrabeiti wandered around the square, hand-in-hand with his sister, until the owner of a merry-go-round ride spotted them. He invited them to sit on the ride, expecting some panicked parents to appear, looking for their lost children. But nobody came, so he called the local police.
No one could understand how the two children, whose accents marked them as foreign, had got here. It was as if they had dropped from the sky. Anatole was too young to make sense of what had happened. How does a four-year-old who finds himself in Chile explain that he does not know where he is, that he lives in Argentina, but is really Uruguayan? All he knew was that he was in a strange place, where people spoke his language in a different way.
The next day, the children were taken to an orphanage, and from there they were sent on to separate foster homes. After a few months, they had a stroke of luck. A dental surgeon and his wife wanted to adopt, and when the magistrate in charge of the children asked the surgeon which sibling he wanted, he said both. "He said that we had to come together, because we were brother and sister," Larrabeiti told me when we met earlier this year in Chile's capital, Santiago.
Today, he is a trim, smartly suited 47-year-old public prosecutor with hazel eyes and a shaven head. "I have decided to live without hate," he said. "But I want people to know."
What Larrabeiti wants people to know is that his family were victims of one of the 20th century's most sinister international state terror networks. It was called Operation Condor, after the broad-winged vulture that soars above the Andes, and it joined eight South American military dictatorships – Argentina, Chile, Uruguay, Bolivia, Paraguay, Brazil, Peru and Ecuador – into a single network that covered four-fifths of the continent.
More:
https://www.transcend.org/tms/2020/09/operation-condor-the-cold-war-us-conspiracy-that-terrorized-south-america/
3 replies, 373 views
Replies to this discussion thread
| | | | |
| --- | --- | --- | --- |
| 3 replies | Author | Time | Post |
| Operation Condor: The Cold War US Conspiracy That Terrorized South America (Original post) | Judi Lynn | May 2023 | OP |
| | OhNo-Really | May 2023 | #1 |
| | Judi Lynn | May 2023 | #2 |
| | GreenWave | May 2023 | #3 |
---
Response to Judi Lynn (Original post)
Fri May 26, 2023, 01:15 AM
OhNo-Really (3,972 posts)
1. Read Confessions of an Economic Hit man
Confessions of an Economic Hit Man should be required high school reading.

It would make some uncomfortable.

However, a lot of Operation Condor was fueled by Greed under the guise of fighting The Res Scare

Here's a presentation by the author




---
Response to OhNo-Really (Reply #1)
Fri May 26, 2023, 03:52 AM
Judi Lynn (158,811 posts)
2. Tremendous! I didn't know he had a new one out. OMG. Loved his one on the subject.
As it's late, I'll be listening to your link during the day, later.
I have heard him on C-Span discussing the first
Hitman.
In response to questioning from the audience, he finally revealed he employs bodyguards, now, and anyone who has read his work can see a reason for that!
Looking forward to hearing the video you've shared, and will be wanting to read the book.
Thank you for this excellent surprise!
---
Response to Judi Lynn (Original post)
Fri May 26, 2023, 07:29 AM
GreenWave (4,816 posts)
3. This is how the US reinforces its status as an economic empire
hell bent on resource abdication.

Chile has so much lithium. How long before a puppet gets installed?