Sun May 28, 2023, 03:50 PM
Judi Lynn (158,811 posts)
Right-wing populist Javier Milei gains support in Argentina by blasting 'political caste'
The Associated Press
Story by By DANIEL POLITI, Associated Press • 3h ago
BUENOS AIRES, Argentina (AP) — He believes selling human organs should be legal, climate change is a "socialist lie," sex education is a ploy to destroy the family and that the Central Bank should be abolished. He also could be Argentina's next president.
Javier Milei, an admirer of former U.S. President Donald Trump, is the latest example of how right-wing populists are making inroads in Latin America, appealing to a citizenry angry with politics as usual and eager for outsiders to shake up the system.
A libertarian economist and self-described "anarcho capitalist," Milei made a name for himself by shouting against the "political caste" on television. His presidential candidacy looked like a sideshow until recently. Polls show his popularity rising, and his proposals dominate discussions ahead of October elections.
Argentine presidential candidate Javier Milei arrives to present his book "The End of Inflation" at the Buenos Aires book fair in Buenos Aires, Argentina, Sunday, May 14, 2023. (AP Photo/Natacha Pisarenko)
© Provided by The Associated Press
"Today no one can say that Milei isn't someone who could get to the presidency," said Luis Tonelli, a political scientist at University of Buenos Aires.
Milei jumped from talking head to politician in 2021 when he won a seat in Argentina's lower house of Congress. Since then, he's had little legislative activity, but 2.7 million people have signed up for his monthly raffle to give away his salary.
More:
https://www.msn.com/en-us/news/world/right-wing-populist-javier-milei-gains-support-in-argentina-by-blasting-political-caste/ar-AA1bNWjM?li=BBnb7Kz
Argentina's Javier Milei, left, Brazil's Eduardo Bolsonaro and Chile's José Antonio Kast, right, at CPAC Brazil in June.
Twitter (@BolsonaroSP)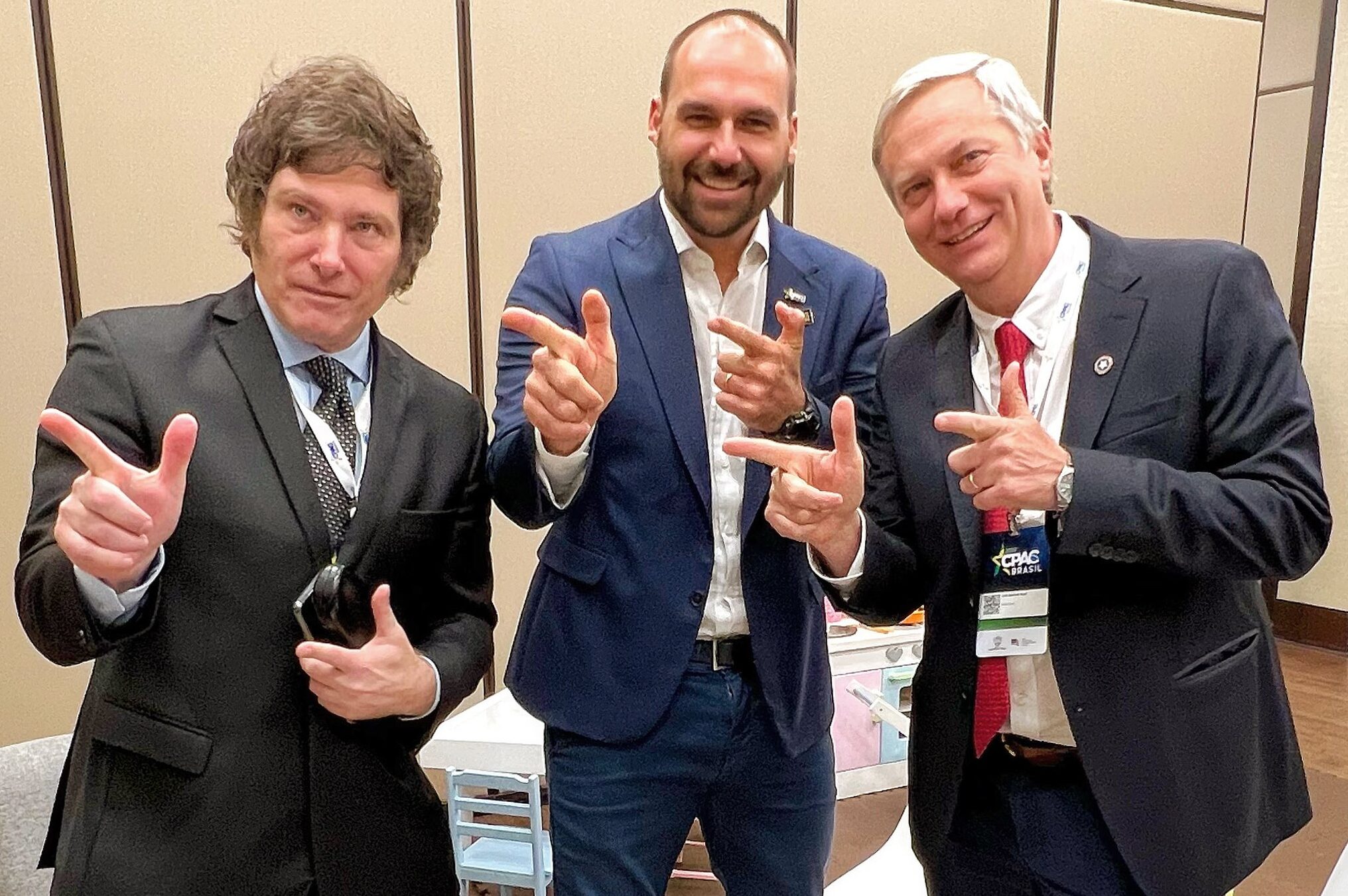 "Through social networks, the former presidential candidate of the Chilean right, José Antonio Kast, has given an account of his time at the third Conservative Political Action Conference (CPAC) that took place in Sao Paulo, Brazil, and that it is organized by the Conservative-Liberal Institute led by the son of the President of that nation, Jair Bolsonaro."
~ ~ ~
The loons are already putting Milei in pictures with Trump:
3 replies, 591 views
Replies to this discussion thread
| | | | |
| --- | --- | --- | --- |
| 3 replies | Author | Time | Post |
| Right-wing populist Javier Milei gains support in Argentina by blasting 'political caste' (Original post) | Judi Lynn | May 2023 | OP |
| | lapfog_1 | May 2023 | #1 |
| | Judi Lynn | May 2023 | #3 |
| | Judi Lynn | May 2023 | #2 |
---
Response to Judi Lynn (Original post)
Sun May 28, 2023, 04:24 PM
lapfog_1 (28,238 posts)
1. he actually looks like a lunatic
did someone close the mental hospitals in Argentina?
---
Response to lapfog_1 (Reply #1)
Mon May 29, 2023, 03:59 PM
Judi Lynn (158,811 posts)
3. He surely does! Mad as a hatter. He looks like a danger to everyone.
---
Response to Judi Lynn (Original post)
Mon May 29, 2023, 03:57 PM
Judi Lynn (158,811 posts)
2. Javier Milei confident he'll win Argentina's election in run-off
Libertarian presidential hopeful confident that he will win Argentina's Presidency in a second-round run-off, forecasting a triumph over Juntos por el Cambio or Frente de Todos, no matter who the candidate.
TODAY 15:32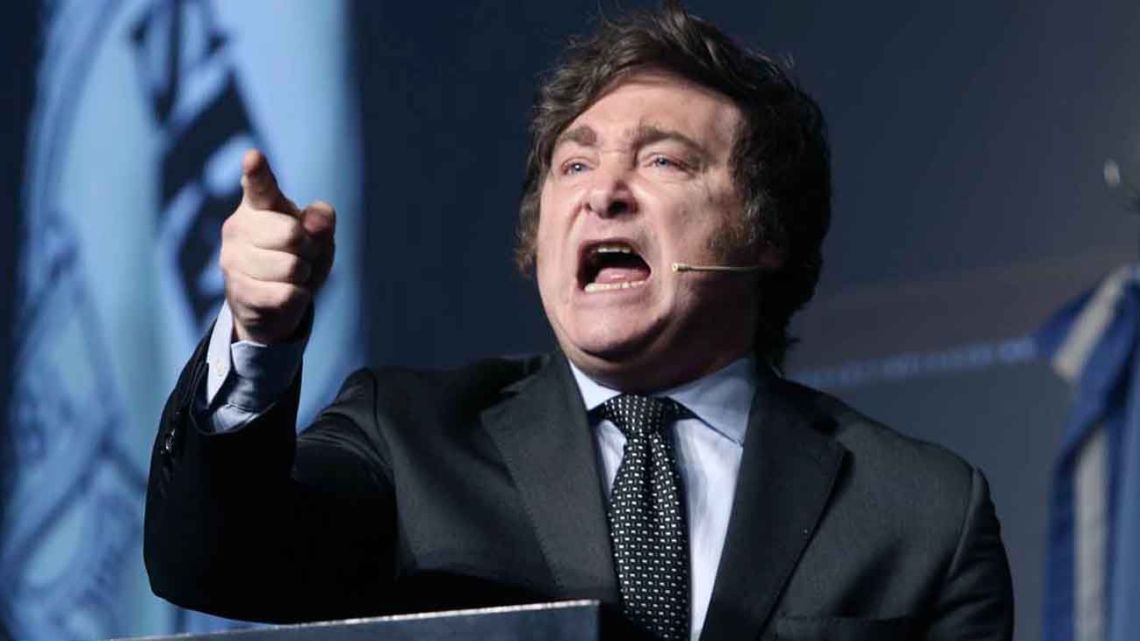 Javier Milei.
JAVIER MILEI. | CEDOC/PERFIL
Libertarian lawmaker Javier Milei is confident that he will be elected Argentina's next president and says he will would a run-off vote, regardless of his rival's identity.
The La Libertad Avanza presidential hopeful said in an interview on Monday that he doesn't care who his opponent is in a second round because his ticket "beats them all."
With analysts forecasting that no presidential candidate will win October's election outright in the first round, Milei argued that polling backed him to qualify for the run-off in one of the top two spots. The 52-year-old deputy also believes he will win the run-off, whether his opponent is from the government or the opposition.
"Different studies today show that we are in the second round. Some show us fighting for first place with Juntos por el Cambio and others with Frente de Todos. The interesting thing is that no matter who we go to the second round with, we beat them all," said Milei in an interview with Radio Rivadavia.
More:
https://www.batimes.com.ar/news/economy/javier-milei-confident-hell-win-argentinas-election-in-run-off.phtml