Mon Jun 25, 2018, 09:54 AM
Exotica (1,461 posts)
Overcoming Euro Area Fragility (Free download from The Macroeconomic Policy Institute 'IMK')
https://www.boeckler.de/pdf/p_imk_report_139_2018.pdf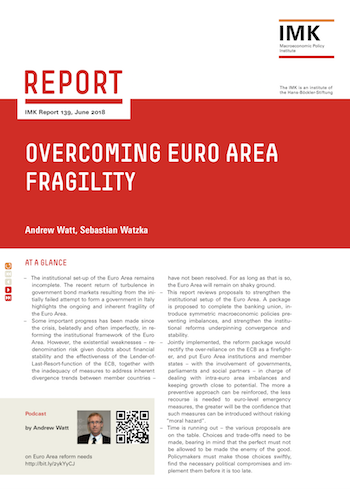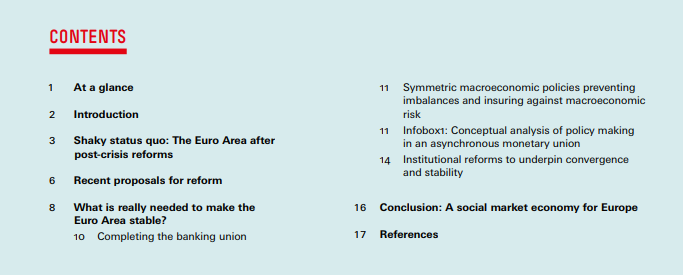 Some important progress has been made since the crisis, belatedly and often imperfectly, in reforming the institutional framework of the Euro Area. However, the existential weaknesses – redenomination risk given doubts about the effectiveness of the Lender-of-Last-Resort function and the inadequacy of measures to address inherent divergence trends between member countries – have not been resolved. For as long as that is so, the euro area will remain on shaky ground. This report reviews proposals to strengthen the institutional setup of the euro area. A package is proposed that would rectify the over-reliance on the ECB as a firefighter, and put euro area institutions and member states – with the involvement of governments, parliaments and social partners – in charge of dealing with intra-euro area imbalances and keeping growth close to potential.The more a preventive approach can be reinforced, the less recourse is needed to euro-level emergency measures, the greater will be the confidence that such measures can be introduced without risking "moral hazard".
THE MACROECONOMIC POLICY INSTITUTE (IMK)

The Macroeconomic Policy Institute (IMK) is an independent academic institute within the Hans-Böckler-Foundation, a non-profit organisation fostering co-determination and promoting research and academic study. The Foundation is linked to the German Confederation of Trade Unions (DGB).

The IMK was founded in 2005 to strengthen the macroeconomic perspective both in economic research and in the economic policy debate. The IMK analyses business cycle developments and conducts economic policy research, notably on fiscal and monetary policy, labour markets, income distribution and financial markets. The Institute seeks to address the challenges facing macroeconomics and economic policy in the wake of the global financial crisis.

0 replies, 1060 views