Wed Jun 12, 2019, 12:36 PM
left-of-center2012 (16,549 posts)
Places Where People Are Most Likely to Have 5-Figure Credit Card Balances
About 1 in 6 credit cardholders in America's biggest cities carry a balance of $10,000 or more, according to a new report from CompareCards, and none of those cities has a higher percentage of these cardholders than Bridgeport, Conn.
CompareCards analyzed a representative sample of Americans to see which of the 100 largest metropolitan statistical areas have credit cardholders with five-figure credit card balances.
What we found is that most of the cities with the biggest percentages of people with five-figure credit card debt are clustered along the East Coast and West Coast. Often, it is the wealthiest cities — not the less affluent ones as one might expect — that carry the biggest credit card balances.
The five-figure credit debt capital of the U.S.:
Nearly 23% of credit cardholders in the Bridgeport metropolitan area owe more than $10,000 on their cards. Almost 2% of cardholders in Bridgeport owe more than $50,000, which is also the highest among the nation's 100 biggest metros. Virginia Beach, Washington, D.C., and New York rounded out the top four, where 20.5%, 19.9% and 19% — respectively — of users have five-figure balances.
The five-figure credit card debt state:
Among the top 10 cities with the highest percentages of cardholders with five-figure card debt, three were in California. Los Angeles ranked fifth at 18.6%, San Diego placed seventh at 18.5% and Oxnard came in at ninth at 18.1%. Connecticut was a close runner-up in the state contest, with Bridgeport, Hartford and New Haven all ranking in the top 14.
Five-figure card debts rarer in the South:
Five of the seven cities among the 100 metros with the lowest percentage of cardholders with five-figure card debt were in the South. Only 12.4% of cardholders in Winston-Salem, N.C., and Indianapolis had more than $10,000 in card balances. Greensboro, N.C., Chattanooga and Knoxville, Tenn., and Jackson, Miss., were among the other cities near the bottom of the list, all having less than 13% of cardholders with five-figure card debts.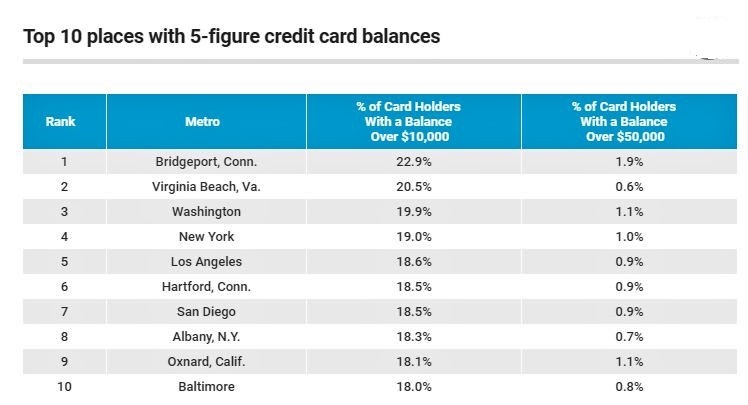 https://www.comparecards.com/blog/places-people-5-figure-credit-card-balances/
1 replies, 503 views
Replies to this discussion thread
| | | | |
| --- | --- | --- | --- |
| 1 replies | Author | Time | Post |
| Places Where People Are Most Likely to Have 5-Figure Credit Card Balances (Original post) | left-of-center2012 | Wednesday | OP |
| | Farmer-Rick | Thursday | #1 |
---
Response to left-of-center2012 (Original post)
Thu Jun 13, 2019, 08:26 AM
Farmer-Rick (2,449 posts)
1. Well, if they pay it off regularly it costs them very little.
I once had a five figure balance for about 27 days. I knew some money was coming in for an unexpected expense. I paid it off before interest was charged. I think it's more an indication of where the wealthy are. You know the criminals in the white house carry large balances.