Wed Apr 15, 2015, 08:30 PM
madfloridian (88,114 posts)
DeBlasio said they must stop enabling Moskowitz. But Cuomo to hold huge fundraiser for her.
I must give credit to Mayor DeBlasio. Here are his words during the campaign. I found them in a long video interview of Eva Moskowitz by
Reason TV.
It's about 4 minutes in.
DeBlasio: Time for Eva Moskowitz to stop having the run of the place. She has to stop being tolerated,enabled, and supported.
I don't want to post the totally one-sided video interview. It's sickening. But you can find it at the bottom of Mercedes' blog at the link above.
However look what he is up against. Eva and her Success Academy Charters have found their really
Big Time Friend.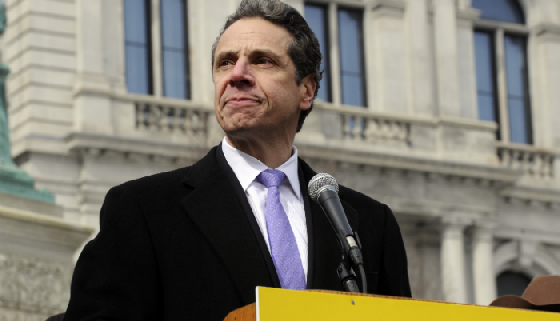 Andrew Cuomo at the charter school rally in Albany. (AP Photo/Tim Roske)
ALBANY—Eva Moskowitz said she would go to the president of the United States to help her students if she had to. For now, she's stopping at Andrew Cuomo.

Moskowitz, C.E.O. of Success Academy charter schools in New York City, helped organize a massive rally outside the state Capitol on Tuesday, where she said she was "delighted" to have the governor's support.

Cuomo spoke at the event, pledging his commitment to getting charter schools the money and facilities they need to "thrive," while down the street New York City mayor Bill de Blasio fought what is shaping up to be a losing battle for his tax-the-rich pre-kindergarten plan.

"It's just nice to have friends and supporters," Moskowitz said, when asked about Cuomo. "We have felt kind of alone in this fight."
Yes, she really does have a powerful friend in her fight against public schools.
Governor Cuomo is partnering with Campbell Brown on April 20 to hold
a huge fundraiser for the Success Academies.
Cuomo has been a huge supporter of Eva Moskowitz and her charter schools.
Of course her academies can not exist on just what they get from the New York taxpayers as the money is taken from public schools...and given to her school even though they don't keep low-performing students.
They need millions more from private sources.
Not long ago the school had a
7.75 million fundraiser with Erik Prince, Campbell Brown, Jeb Bush.
Members of the mega rich and politically powerful gathered together last night at Cipriani to distort the truth, bash unions, shower each other with praise and raise $ 7.75 million for education entrepreneur Eva Moskowitz and her ever expanding Success Academy empire. Indeed, Moskowitz who for weeks busied herself acting the helpless victim of evil Bill de Blasio ( while at the same time benefiting from a five million dollar anti de Blasio PR blitzkrieg ) announced that she intends to extend her empire in several ways. " As of August, Success will have 32 schools and 9,000 students. Four years from now, Success plans to have 55 schools with 21,400 students, which, Moskowitz said, would make it the equivalent of the fifth largest district in New York State and half the size of the Washington, D.C. school system. "

.....Displaying their limitless love for the children of the urban poor were many leading representatives of the occupation that was instrumental in bringing the world to the brink of economic collapse: hedge funders. Indeed, Dan Loeb, of the hedge fund group, Third Point LLC, who is also chairman of the Success Academy board, hosted the event. Jimmy Lee, vice chairman of JPMorgan Chase & Co.has this to say of Loeb: "Away from all the business press he gets, I think being chairman of his board and giving his time, not just his money, makes him a role model. You can tell he cares." According to the report in Bloomberg, " The event was filled with men and women in the hedge-fund industry, including Kyle Bass of Hayman Capital Management, Joel Greenblatt of Gotham Asset Management, Boaz Weinstein of Saba Capital and John Paulson of Paulson & Co. "
She still needs more millions. So now on April 20 Cuomo and Campbell combine to get those millions for her.
Save The Date: Andrew Cuomo, Campbell Brown To Raise Money For Success Academies at Cipriani on Monday April 20, 2015
In case you haven't gotten your tickets already:

Monday, April 20, 2015 Success Academy Charter Schools
Third Annual Spring Benefit. 6:30 pm. Cocktails and dinner. Business attire. Honoring Eli Broad. Chaired by Campbell Brown, Joel Greenblatt, Daniel S. Loeb, John Scully, Regina Scully. Tickets from $1,250.00. Tables from $15,000.00. Cipriani 42nd Street. New York. Contact: Julianna Harder. (212) 245-6570. Event address: 110 East 42nd Street, New York. Event web address: www.successacademies.org.

More incentive to attend:

CUOMO TO HEADLINE SUCCESS ACADEMY BENEFIT—Capital's Eliza Shapiro: Governor Andrew Cuomo will be the keynote speaker at Success Academy's annual spring benefit this April, according to an invite sent to Success employees this weekend. Cuomo and Success C.E.O. Eva Moskowitz officially became allies last winter, when Cuomo stepped into a battle between Moskowitz and Mayor Bill de Blasio, declaring he would 'save charter schools' at a massive Albany rally partially organized by Success. The event will be held April 20 at Cipriani 42nd Street in Manhattan, and will be co-chaired by Success board members Campbell Brown, Daniel Loeb, Joel Greenblatt, and Regina and John Scully. http://bit.ly/1tT6Edx


NY Teacher has a suggestion:


Don't forget, Cuomo was scheduled to speak at the Success Academy Charter Schools Spring Benefit on April 20th; 6:30 pm at Cipriani (42nd St). If he does attend it would be a great place to demo/rally/press.


So does Norm Scott:

A massive protest in front of Ciprianis would be an appropriate response.
Moskowitz goes against
accepted and traditional ways of treating children with the proper respect.
She and her teachers have set up an atmosphere in which children would rather have an accident rather than ask to go to the restroom during test prep and testing.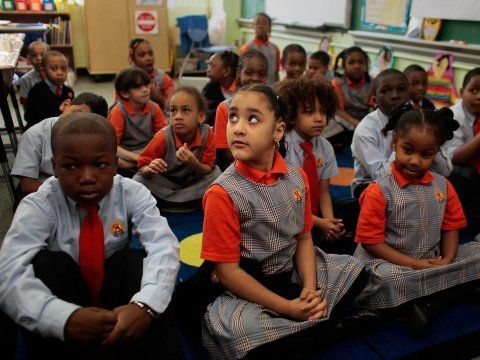 In spring 2013, a commenter on a website on Success Academy Cobble Hill, who described themselves as a parent of a former first grade student, wrote that their child developed problems with going to the bathroom at the charter school:



We were hoping for academic rigor. Instead we found a school that was overly strict, cold, and insensitive to the overall needs of the young children entrusted in their care. My son wet his pants for the first time since he was three years old because the school did not let him go to the bathroom when he asked. The school was incapable of recognizing that he had also developed anxiety around going down the hall to the bathroom.



The explanation of Eva Moskowitz is not very acceptable.



Eva Moskowitz, the founder and CEO of Success Academy Charter Schools, disputed these reports, telling The Times that students are allowed to go to the bathroom during practice tests even though doing so isn't encouraged. These policies are in place, she explained to The Times, "to mimic the environment of the actual test."

"We have plenty of kids who don't always prepare adequately ... very occasionally there are accidents, and we get that it's uncomfortable for the student," Moskowitz told The Times. (my comment...how does one "prepare adequately" for not using the restroom in times of great stress??)

The Success Academy CEO also attributed the "accidents" to "the challenges of sharing space in public school buildings, which meant the restrooms were sometimes several floors away," The Times reports.



That's because the education leaders in New York allowed Moskowitz to move in and take over.




1 replies, 1707 views
Replies to this discussion thread
| | | | |
| --- | --- | --- | --- |
| 1 replies | Author | Time | Post |
| DeBlasio said they must stop enabling Moskowitz. But Cuomo to hold huge fundraiser for her. (Original post) | madfloridian | Apr 2015 | OP |
| | Wilms | Apr 2015 | #1 |
---