Sun Jun 28, 2015, 10:02 PM
madfloridian (88,114 posts)
FL charter principal smokes pot with students, her shirt unbuttoned....secretary fired when she
reports the principal.
This principal's behavior makes two charter school systems in Florida look bad. She had recently left one with a questionable reputation.
Crossposted in
General Discussion
From the Courthouse News Service:
Secretary Says Firing Was Retaliation
Mavericks school is a charter high school which receives public money.
PALM SPRINGS, Fla. (CN) - A Florida high school secretary claims in a lawsuit that she was fired for reporting a principal who was bringing marijuana to school and fraternizing with students.
In a complaint filed in Palm Beach County on June 1, Jackelin Cruz claims she was fired from her job with Mavericks High School in retaliation for telling police about a weed stash that she spotted inside Principal Krista Morton's purse.
Cruz says she found out about Morton's marijuana use after entering a staff bathroom and discovering the principal's purse on the floor. She says she picked it up to return it, and immediately detected a "strong odor of marijuana." Upon further examination, she says, she saw "a bag of marijuana and a thick looking cigarette."
She claims she "went straight to an on-duty Palm Springs police officer," but no charges were filed against Principal Morton.
A few days later, Cruz was called into a meeting, and Morton allegedly asked her to resign. Cruz refused, so Morton fired her on the spot, the complaint says.
The principal, Krista Morton, was arrested in May.
Krista Morton: Controversy prone principal caught in car back seat with student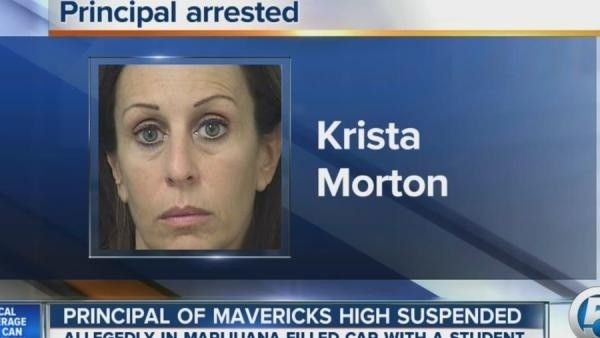 The principal of The Mavericks High of Palm Springs was arrested on Wednesday after police found her in the back seat of a marijuana-filled car with one of the school's students. Krista Eve Morton, 45 of Wellington, was arrested by North Palm Beach
on.aol.com
A Florida charter school principal was caught last week in the back seat of her car with one of her students, according to police, and subsequently arrested. But Krista Morton, 45, was not taken into custody for being with the the student, who was 18, but for possession of marijuana. But these improper acts aren't the principal's first brushes with controversy. That happened at another Florida high school where she was also principal.

Gulf Live reported May 11 that Krista Morton's arrest for marijuana possession, not to mention the impropriety of being caught with a student with an illegal substance and presenting the perception of possible sexual activity, will only add to a resume burdened with controversy. Prior to signing on at Mavericks High School in Palm Springs, she was head administrator for Milburn Academy in Bradenton, Florida. A charter school, it was not provided a renewal of its charter due to several institutional failures.

....According to WFLA, police were called to the scene when someone reported "people in the back seat engaged in some sort of sexual activity or being attacked." North Palm Beach Police said that a sergeant knocked on the car door. He quickly noticed that Morton had wings tattooed on her lower back prior to her opening the door and immediately saying, "We're just friends." The sergeant also noticed Morton's shirt was unbuttoned, leaving her shoulders and part of her chest exposed.

Then she altered her story to say she didn't know her fellow back seat occupier, had been "lonely" and had picked him up just to get to know him. "She continued to tell me that she had just met him, that she was lonely, she had just picked him up down the street and brought him here to get to know him," the police officer said.
Here is more about Milburn Academy and the troubles it has seen.
Florida's failed charter schools: Cracks in the system Part I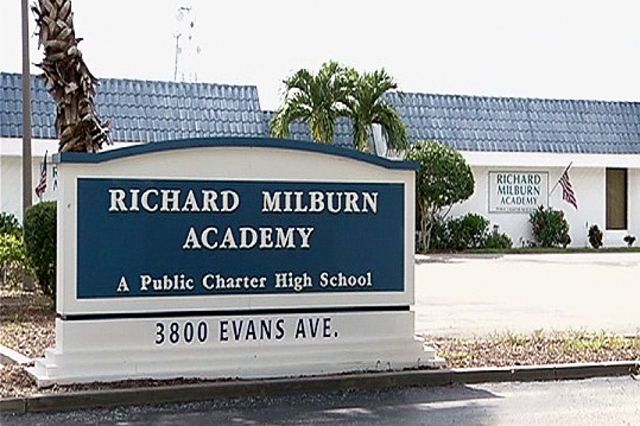 The Richard Milburn Academy is seen at its former location in Fort Myers in August 2012. The charter school closed following an investigation that found students were receiving diplomas they had not earned. (Video frame grab provided by WFTX-TV Fox 4 Fort Myers)
NAPLES, Fla. - Seven times since 2006, Richard Milburn Academy of Florida has failed at running a charter school.

In Lee County, two RMA schools closed after administrators manipulated student grades. In the Tampa Bay-area, two RMA schools shut down due to poor academic performance. In Manatee County, one RMA school was shuttered after half of the graduating class received diplomas without earning enough credits.

Yet, in Florida's charter school system, RMA of Florida is allowed to continue operating and opening new campuses. Many of the same people responsible for the seven failures are now running two charter schools near Daytona Beach, receiving about $2.8 million in taxpayer money last school year.

...That RMA still does business in Florida is but one example of cracks in Florida's charter system, a world in which critics say too many ill-prepared and ill-intentioned operators are failing the state's students and taxpayers.
I have not been able to find anything about Morton being fired. As far as I can tell, both charter schools still do business in Florida.
6 replies, 2192 views
Replies to this discussion thread
| | | | |
| --- | --- | --- | --- |
| 6 replies | Author | Time | Post |
| FL charter principal smokes pot with students, her shirt unbuttoned....secretary fired when she (Original post) | madfloridian | Jun 2015 | OP |
| | teach1st | Jun 2015 | #1 |
| | marble falls | Jun 2015 | #2 |
| | eppur_se_muova | Jun 2015 | #3 |
| | marble falls | Jun 2015 | #4 |
| | AwakeAtLast | Jun 2015 | #5 |
| | kkilicer | Jul 2015 | #6 |
---
Response to madfloridian (Original post)
Sun Jun 28, 2015, 10:31 PM
teach1st (5,292 posts)
1. VP Biden's brother
Mavericks has a very poor track record in Florida. .
Brother of VP Biden promotes charters, invoking family name
Frank Biden said that he is president and chief development officer of Mavericks. "I'm the big cheese," he said. He is listed as a lobbyist for Mavericks on the state Legislature's Web site. His Twitter biography says: "President and founder of Cygnus International LLC, a real estate development and consulting firm; brother of US Vice President, Joe Biden.")

---
Response to madfloridian (Original post)
Sun Jun 28, 2015, 10:35 PM
marble falls (35,874 posts)
2. I don't care so much about her use of pot. I do care about her using pot and .....
"fraternizing " with students.
---
Response to marble falls (Reply #2)
Sun Jun 28, 2015, 10:59 PM
eppur_se_muova (32,409 posts)
3. I care about the retaliation.
Failure to report a crime is an offense in most states. Should the secretary have risked that charge by not turning her boss in ? Even if you don't object to using pot, note that bringing any drugs onto school grounds is a crime in most states.

Hope the sec'y found a job at a better institution.
---
Response to marble falls (Reply #2)
Sun Jun 28, 2015, 11:08 PM
marble falls (35,874 posts)
4. Without saying.
---
Response to madfloridian (Original post)
Mon Jun 29, 2015, 08:16 AM
AwakeAtLast (13,289 posts)
5. Our schools on privatization
No accountability, just the way they like it!
---
Response to madfloridian (Original post)
Sun Jul 5, 2015, 06:36 AM
kkilicer (14 posts)
6. Amazing
How possible these things are happening? I can't just read....