Tue Jul 8, 2014, 03:53 PM
madfloridian (88,114 posts)
Unreal! NYDOE gave principals 24 hour notice to clean, clear space for Success Charter Academies.
Crossposted in GD.
Eva Moskowitz is one very special charter school owner in New York. Public school principals were ordered at the end of June to clear the way for her to move into their schools rent-free.
But of course we already knew she had special contacts in the state of New York.
Harlem charter school head emails show very special access to NY school chancellor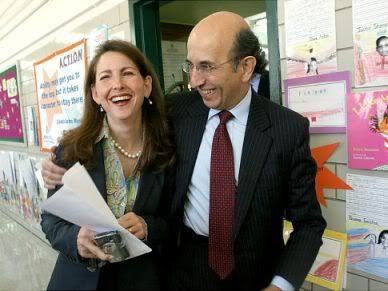 Lombard for News
Success Charter Network founder Eva Moskowitz and NYC Chancellor Joel Klein sharing a laugh during an event.
On Oct. 3, 2008, Eva Moskowitz, a former city councilwoman and head of four charter schools in Harlem, e-mailed schools Chancellor Joel Klein for help. Moskowitz wanted more space to expand her Harlem Success academies and she had two specific public school buildings in mind.

"Those schools are ps194 and ps241," she wrote to Klein. "It would be extremely helpful to move quickly on."

Less than two months later, the Department of Education announced plans to phase out those schools and use the space to expand two Harlem Success academies.
Now to the present time and her growing power over public schools.
NYC: Public School Principals Given 24 Hours to Clear Space for Eva's Charters
Only one charter chain gets special treatment in New York City, and that is Eva Moskowitz's Success Academies.

Principals have beenr told they had 24 hours to clear and clean the space where her schools will co-locate rent-free. The city hired hundreds of workers to get the space in order.

The 1 million children who attend public schools are second-class citizens.

Eva's 7,000-10,000 students are extra-important and privileged. After all, Eva not only gets free public space, she may expand and kick out kids with disabilities if she wishes. Her billionaire friends on Wall Street control the legislature. She can hold a dinner and raise over $7 million on a single night.
More about this from another source:
Principals Given Just 24 Hours to Make Way for New Success Academy Schools
Since Mayor Bill de Blasio took office, the charter chain didn't seem to have an ally in City Hall. During his mayoral campaign, de Blasio criticized co-locations and charter networks receiving free space in city schools, singling out Moskowitz's chain.

In February, as mayor, de Blasio nixed plans for three Success Academy schools to share space at city schools. But when Gov. Andrew Cuomo later backed Moskowitz and charter schools, de Blasio reversed course and found room for the three Success Academy schools in former Catholic schools.

Cuomo and the state Legislature also put provisions in the state budget requiring the city to provide charter networks with rent-free space at public schools or pay most of the cost of space at a private location.
The very nerve and arrogance of these "reformers" (privatizers) whom Arne has enabled with his policies angers me so much. I quit trying to justify these attacks on public schools long ago. Just to think of the powers in DC deliberately undermining our traditional public school system makes me ill.
And to show Arne Duncan's ignorance about unions and their voices...all we need to do is read about his response to the NEA calling for him to resign. He had the nerve to say that he did not involve himself in "local union politics". The NEA is a national teachers' union. Either he knows that and doesn't care.....or he doesn't care enough to find out about it before responding.
5 replies, 1388 views
Replies to this discussion thread
| | | | |
| --- | --- | --- | --- |
| 5 replies | Author | Time | Post |
| Unreal! NYDOE gave principals 24 hour notice to clean, clear space for Success Charter Academies. (Original post) | madfloridian | Jul 2014 | OP |
| | femmocrat | Jul 2014 | #1 |
| | snot | Jul 2014 | #2 |
| | Smarmie Doofus | Jul 2014 | #5 |
| | Doctor_J | Jul 2014 | #3 |
| | Jefferson23 | Jul 2014 | #4 |
---
Response to madfloridian (Original post)
Tue Jul 8, 2014, 04:15 PM
femmocrat (28,194 posts)
1. Cuomo.....
Good grief.....Wonder if she is on Obama's short list if Duncan should resign? We better be careful for what we wish for!
---
Response to madfloridian (Original post)
Wed Jul 9, 2014, 09:15 PM
snot (10,245 posts)
2. Why are New Yorkers tolerating this?
---
Response to snot (Reply #2)
Sun Jul 13, 2014, 11:30 AM
Smarmie Doofus (14,498 posts)
5. They don't know any better. Constant, unrelenting disinformation from billionaire media.
(And ALL the media here is billionaire media.)

Plus curiously collaborationist union leadership.

Lots of bought-off pols, city and state, ease the way. Wall Street knows a good investment when it sees it.

A few newly-elected progressive DEM pols ( Council Speaker Mark-Viverito, City Council Ed Chair Dromm, Pub. Adv. Leticia James) are on to the scam but haven't made their influence felt.

So far, anyway.
---
Response to madfloridian (Original post)
Sat Jul 12, 2014, 12:37 PM
Doctor_J (36,392 posts)
3. I think the Obama administration would like to pass an education version of ACA
before the president retires. By that I mean force everyone to pay into a profit based system from which a quarter or a fifth of the money goes to political hacks and other 1%ers, while the quality continues to be among the worst in the world. Will be interesting to see if the fan club gets on board with that
---
Response to madfloridian (Original post)
Sat Jul 12, 2014, 04:59 PM
Jefferson23 (30,099 posts)
4. Makes my head spin, good luck NY..you're going to need it with Cuomo. n/t