Fri Sep 19, 2014, 06:47 AM
unhappycamper (60,364 posts)
Spending cuts to education and nutrition will hurt kids
http://money.cnn.com/2014/09/19/news/economy/federal-spending-on-children/index.html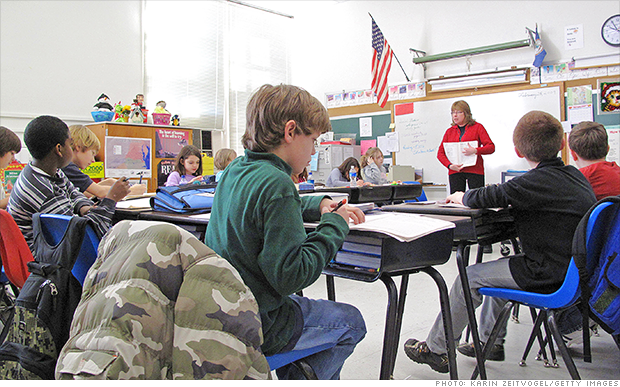 Kids may be the future of America, but you might not know it looking at how Washington spends its money.
Spending cuts to education and nutrition will hurt kids
By Jeanne Sahadi @CNNMoney September 19, 2014: 6:34 AM ET
A new report Thursday found that only 2% of the projected increase in federal spending over the next decade will be dedicated to programs benefiting children.
~snip~
And that $26 billion will go toward children's health spending, particularly in Medicaid, according to the report, published by the Urban Institute, a public policy think tank.
Meanwhile, spending on most other child-centric categories -- such as education and nutrition -- will fall.
Spending on K-12 education, for instance, will decline from $43 billion in 2013 to $38 billion in 2024.
That's due in large part to the forced budget cuts known as the sequester.
--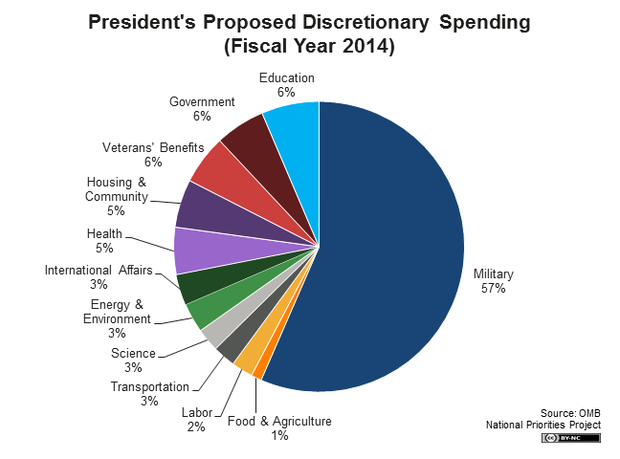 We The People coughed up our $50 billion dollars a year because our congresscritters could not agree on a budget.
http://en.wikipedia.org/wiki/Budget_sequestration_in_2013
Budget sequestration in 2013
The budget sequestration in 2013 refers to the automatic spending cuts to United States federal government spending in particular categories of outlays[note 1] that were initially set to begin on January 1, 2013, as an austerity fiscal policy as a result of Budget Control Act of 2011 (BCA), and were postponed by two months by the American Taxpayer Relief Act of 2012 until March 1 when this law went into effect.[1]
The reductions in spending authority are approximately $85.4 billion (versus $42 billion in actual cash outlays[note 2]) during fiscal year 2013,[2](p14) with similar cuts for years 2014 through 2021. However, the Congressional Budget Office estimated that the total federal outlays will continue to increase even with the sequester by an average of $238.6 billion per year[2](p3) during the next decade, although at a somewhat lesser rate.
The cuts are split evenly (by dollar amounts, not by percentages) between the defense and non-defense categories.[note 3] Some major programs like Social Security, Medicaid, federal pensions and veteran's benefits are exempt. By a special provision in the BCA, Medicare spending will be reduced by a fixed 2% per year versus the other, domestic percents planned for the sequester.[1] Federal pay rates (including military) are unaffected but the sequestration did result in involuntary unpaid time off, also known as furloughs.[4]
The sequester lowers spending by a total of approximately $1.1 trillion versus pre-sequester levels over the approximately 8 year period from 2013 to 2021.
It lowers non-defense discretionary spending (i.e., certain domestic programs) by a range of 7.8% (in 2013) to 5.5% (in 2021) versus pre-sequester amounts, a total of $294 billion. Defense spending would likewise be lowered by 10% (in 2013) to 8.5% (in 2021), a total of $454 billion.
Savings in non-defense mandatory spending would total $170 billion, while interest would be lowered by $169 billion.[1] The CBO estimated that sequestration would reduce 2013 economic growth by about 0.6 percentage points (from 2.0% to 1.4% or about $90B) and affect the creation or retention of about 750,000 jobs by year-end.[5] As of May 2013, FY2013 spending ($3.455 trillion) was projected to be lower in an absolute sense than FY2012 spending ($3.537 trillion).[6]
The blunt nature[note 4] of the cuts has been criticized, with some favoring more tailored cuts and others arguing for postponement while the economy improves.[8]
..
I wonder if the military is going to 'do' sequestration?
3 replies, 1784 views
Replies to this discussion thread
| | | | |
| --- | --- | --- | --- |
| 3 replies | Author | Time | Post |
| Spending cuts to education and nutrition will hurt kids (Original post) | unhappycamper | Sep 2014 | OP |
| | djean111 | Sep 2014 | #1 |
| | daleanime | Sep 2014 | #2 |
| | LWolf | Sep 2014 | #3 |
---
Response to unhappycamper (Original post)
Fri Sep 19, 2014, 08:17 AM
djean111 (14,255 posts)
1. Kids do not vote or make political contributions. They are given lip service during political
---
Response to unhappycamper (Original post)
Fri Sep 19, 2014, 07:49 PM
daleanime (17,796 posts)
2. K&R....
---
Response to unhappycamper (Original post)
Sun Sep 21, 2014, 01:43 PM
LWolf (46,178 posts)
3. They always do.
They also hurt the teachers who, while enduring cut days and sometimes cut pay, are pulling from their personal funds to try to make up some of the supply difference.