Wed Sep 19, 2018, 09:59 PM
NNadir (25,916 posts)
Will Data and Telecommunications Require 20% of the World's Electricity by 2030?
The news item I will discuss in this post is here:
Nature 561, 163-166 (2018)
Here's the historic/soothsaying graphic that gets to the core of what is discussed therein: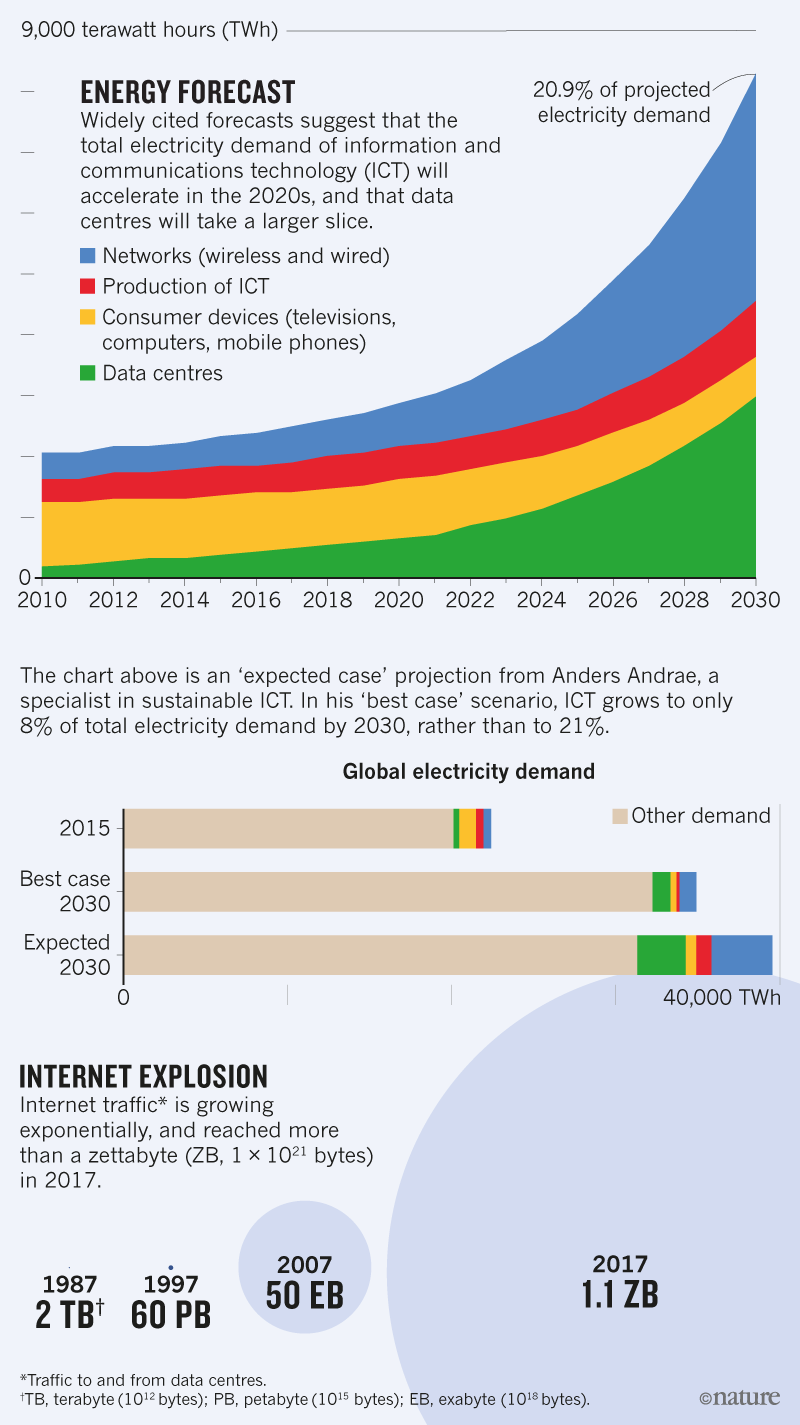 Some trademark acerbic commentary:
One of the fun things I like to do is to read predictions from 20 or 30 years ago about what energy consumption would be by
now
.
These come in three forms, serious analysis, hand waving, and pop wishful thinking, the latter usually with some breathless headline about a "study" - often from the innumerate clods at Greenpeace - that says that the world "could" run on "100% renewable energy by [insert year that the soothsaying writer will be dead here]"
The thing that characterizes these historical predictions which approaches 100%, particularly those in the "100% renewable energy by..." class, is that they were almost 100%
wrong.
In the 21st century, the fastest
growing
source of
energy
(as opposed to
peak
power available for a few minutes a day on a
good day
) has been dangerous fossil fuels. In the year 2000, they produced 337.12 exajoules; in 2016 they produced 466.83 exajoules, an increase of 129.71 exajoules, the equivalent of adding
another
United States (and then some) to the world energy equation, a United States running on 100% dangerous fossil fuels, the United States being the country with the absolute worst per capita energy consumption on the planet. Overall, world energy demand increased in that period by 155.96 exajoules, with 26.00 exajoules coming from additional wind, solar, bioenergy (including "traditional" biomass which is responsible for about half of the world's air pollution deaths), and hydro
combined
. Bioenergy provided more than half (13.60 exajoules) of this new so called "renewable energy."
By contrast, what I regard as the only truly safe and sustainable form of energy - owing to its high energy to mass ratio - nuclear energy, grew not at all, effectively, by 0.21 exajoules to a total of 28.51 exajoules.
Never underestimate the power of fear and ignorance to
kill people
, this to resounding applause.
This data may be found here:
IEA 2017 World Energy Outlook, Table 2.2 page 79
(I have converted MTOE in the original table to the SI unit exajoules in this text.)
To return to the
Nature
news item, the soothsaying in the graphic above indicates that the predicted "expected" electricity demand will be 40,000 TWh in 2030 - thankfully a unit of
energy
- which translates into 144 exajoules.
Of course, if you ask most people, since most people know nothing at all about the subject of energy even as they think they do, they'll tell you that they believe that almost all of the increase will come from so called "renewable energy" by converting all of the world's pristine mountain tops into wind industrial parks, all of its deserts into industrial parks covered with glass, steel, aluminum and a plethora of exotic metals suitable for discussion in a toxicology course, and all of its continental shelves into industrial parks, with benthic zones covered with greasy whirlygigs stuffed with copper and lanthanides attached steel posts sunk into vast pillars of concrete.
Happily or unhappily, I cheerfully predict that this won't happen, since nearly 100% of the predictions make this claim and retrospective experience shows that nearly 100% of similar predictions have been 100% wrong.
I predict that current trends will continue and almost all of the world's electricity will come in 2030 from thermal sources, perhaps marginally more efficient that current thermal sources, gas, coal, oil and nuclear, all of which exhibit thermal efficiencies in the neighborhood of 33%. Even if, by the use of combined cycle thermal technologies, we managed to raise the thermal efficiency to something like 40%, 144 exajoules of electricity will imply a primary energy demand of 360 exajoules.
Since, because fear and ignorance have won the day, nuclear energy will
not
increase, thus implying a
huge
carbon cost to be dumped on every single living human being, plant and animal that will live in the future, impoverishing whatever it does not destroy.
Some text from the article:
Upload your latest holiday photos to Facebook, and there's a chance they'll end up stored in Prineville, Oregon, a small town where the firm has built three giant data centres and is planning two more. Inside these vast factories, bigger than aircraft carriers, tens of thousands of circuit boards are racked row upon row, stretching down windowless halls so long that staff ride through the corridors on scooters.

These huge buildings are the treasuries of the new industrial kings: the information traders. The five biggest global companies by market capitalization this year are currently Apple, Amazon, Alphabet, Microsoft and Facebook, replacing titans such as Shell and ExxonMobil. Although information factories might not spew out black smoke or grind greasy cogs, they are not bereft of environmental impact. As demand for Internet and mobile-phone traffic skyrockets, the information industry could lead to an explosion in energy use (see 'Energy forecast')...
One of my favorite jokes about the failed, expensive and useless solar industry is that it is unable to run the servers dedicated to saying how great it is, but the real numbers suggest my joke is definitely an exaggeration, not that anyone in this day and age seems unwilling to engage in hyperbole, present company included:
Already, data centres use an estimated 200 terawatt hours (TWh) each year. That is more than the national energy consumption of some countries, including Iran, but half of the electricity used for transport worldwide, and just 1% of global electricity demand (see 'Energy scale'). Data centres contribute around 0.3% to overall carbon emissions, whereas the information and communications technology (ICT) ecosystem as a whole — under a sweeping definition that encompasses personal digital devices, mobile-phone networks and televisions — accounts for more than 2% of global emissions. That puts ICT's carbon footprint on a par with the aviation industry's emissions from fuel. What could happen in the future is hard to forecast. But one of the most worrying models predicts that electricity use by ICT could exceed 20% of the global total by the time a child born today reaches her teens...
Nobody today gives a rat's ass about the lives of children born today, by the way, they can go scratch, at least if we look at our policies and the undeniable fact that the rate of new carbon dioxide additions to the atmosphere is at the highest ever observed and it will be
their
problem, not ours to clean it up.
200 TWh is only about 0.72 exajoules. So called "renewable energy" including only solar, wind and geothermal was, as of 2016, 9.42 exajoules, or 1.6% of world energy demand to use the "percent talk" so called "renewable energy advocates so love, albeit after half a century of predictions about how it would dominate the world energy supply "by 2020."
It's clear from this figures that solar and wind
could
power all the world's data center servers (but not much else) as of now, so feel free to call me out on my joke in the future.
A little more text:
Shift to high gear

...Perhaps the most startling forecast of ICT's future energy demand comes from Anders Andrae, who works on sustainable ICT at Huawei Technologies Sweden in Kista; he predicts that data-centre electricity use is likely to increase about 15-fold by 2030, to 8% of projected global demand1. Such dire numbers are controversial. "There have been many alarmist predictions of growing ICT energy use over the years, and all have proven to be bunk," says Masanet. Last year's IEA report estimated that although data-centre workloads will shoot up — tripling 2014 levels by 2020 — efficiency gains mean that their electricity demand might sneak up only by 3%2. ICT's carbon footprint as a whole might even drift downwards by 2020, as smartphones take over from larger devices, researchers have suggested3...
I think it's possible the news item is open sourced, so feel free to read it yourself. It's a fun read, with all sorts of hopeful remarks about what so called "renewable energy" will do for the information industry, even if so called "renewable energy" has done nothing at all to arrest climate change, is doing nothing to arrest climate change, and will always remain incompetent to do anything about climate change, not that reality should ever interfere with popular faith.
Popular faith aside, we hit almost 412 ppm of carbon dioxide in the planetary atmosphere earlier this year and no one now living will ever again see a figure below 400 ppm. Right now, we are running about 22-23 ppm higher than we were running just ten years ago.
Have a nice day tomorrow.
2 replies, 666 views
Replies to this discussion thread
| | | | |
| --- | --- | --- | --- |
| 2 replies | Author | Time | Post |
| Will Data and Telecommunications Require 20% of the World's Electricity by 2030? (Original post) | NNadir | Sep 2018 | OP |
| | lapfog_1 | Sep 2018 | #1 |
| | NNadir | Sep 2018 | #2 |
---
Response to NNadir (Original post)
Wed Sep 19, 2018, 10:50 PM
lapfog_1 (24,684 posts)
1. I can't comment on IOT or the growth of server farms...
but I am an expert on Storage Systems (as the former Chief Architect for Seagate Technology). I can tell you that the watt cost per byte stored is dropping dramatically over the next few years. Drive manufacturers will produce (are producing) much large disk drives and flash storage units that store incredible amounts of data for the same watts (or even fewer watts) than current technology.

Seagate has announced (and is shipping) 14TB drives (Helium drives)... and they have announced a 60TB flash drive (3D flash technology) that uses only 3watts for read cycles and 6watts (max) for writes. These are both 3.5" SAS drives (standard form factor). Note, not flogging Seagate here... WD (Western Digital) is also working on similar technologies.

So while data requirements may explode as more things send data over the internet and video goes to higher definition, etc, the watts used to store that much information will likely remain constant or at least not grow exponentially.

Couple that with another driving factor... cold storage (either archived off to less power consuming technology OR simply powered down when not active) and hierarchical storage technology that moves data to these sorts of storage as predictive analysis says that the data won't be active...

So... at least for storage... increasing amounts of data will not consume corresponding increases in power. Going Green is now a major factor for large data center deployments (OPEX v. CAPX is now being dominated by OPEX requirements).

So... I simply do not believe such doomsday analysis... but only because we can address it technology.

---
Response to lapfog_1 (Reply #1)
Wed Sep 19, 2018, 11:29 PM
NNadir (25,916 posts)
2. Well, there's always Jevon's paradox, and of course, the internal and external costs of matter.
The paradox states that higher efficiency tends to increase use: It is borne out by the energy data over the last several decades: Worldwide energy efficiency is increasing; so is world wide energy consumption.

The article in the OP, the argument therein being neither endorsed or rejected by me - to its credit - does present similar arguments to yours about improved efficiency, and while I am not even close to the expert you are on this topic, I'm not sure that my current computer uses nearly as much energy as my first computer did: It had a 20MB hard drive which I considered huge.

Of course, now everybody I know owns a computer, many of us several computers. Clearly the environmental impact of computing has risen, even if the efficiency and storage density has risen as well.

As a chemist who follows his son's materials science education closely, I suspect that there are material considerations that are clearly being overlooked, these include material sources and equally important issue of material waste.

I personally don't regard high tech electronics as being truly sustainable without access to large amounts of energy, simply to overcome the entropy of mixing implicit in the manufacture of every single electronic component of which I am aware. Right now the problem of electronic waste - and its very much an energy problem as well as a toxicology problem - is quite nearly intractable, which for to my thinking represents a problem with the "all new stuff" solution raised to discuss any problem.

There are bioanalytical results in China - which recently banned the importation of any more electronic waste - that show incredible levels not only of metals, but of flame retardants as well and similar materials in human flesh, including the flesh of infants. These problems are both ethical and economic.

The argument that Seagate is making 14 TB drives is wonderful, but it reminds me of that part of the conversation in the movie "My Dinner With Andre" where Andre Gregory describes how he felt when an orthopedic specialist came to visit his dying mother and remarked on how wonderful her arm - which he was treating - looked. Andre sort of thought that the doctor might have bothered to notice that his mother was dying.

I'd rather focus on doomsday and be proved wrong than to assume that everything will be wonderful and find out that it was insane to do so.

The first case is a cause for joy, laughter and relief; the second case is a recipe for tragedy, and it does seem to me that a real tragedy is, in fact, well underway, whether we see it or not.

Now we've grown accustomed to mocking Thomas Malthus for saying the world would run out of food - even though there are hundreds of millions of people who are malnourished. Technology, primarily the (unsustainable) mining of phosphorous and the development of the (problematic) Haber-Bosch process, prevented the predicted Malthusian food collapse. But on a geological time scale, Thomas Malthus lived only a few seconds ago, and the question is what will happen in the (relative) minutes that follow.

On some level I am a technophile, but I think it may be wise to consider the risks of technology as well as the benefits. This is an exercise in combinatorics, a field still, so far as life cycle analysis goes, that still yet may be in its infancy.

Jevon's paradox seems to me to be an actual social law, to the extent that social laws exist, and personally, I always keep it in the back of my mind.

Efficiency has not saved the day; possibly the opposite is true.

Thanks, though, for your interesting comment.