Fri Apr 19, 2019, 02:33 AM
progree (5,441 posts)
Nigerians Get Poorer as Rising Population Dwarfs Growth: Chart
Nigeriaís population is growing and gross domestic product per capita shrinking, and that will continue until at least 2024, according to the International Monetary Fund. That means six Nigerians fall into extreme poverty every minute, the World Poverty Clock shows. If the current trend persists more than 120 million Nigerians, or 45 percent of the population, will be living in extreme poverty, thatís less than $1.90 a day, by 2030.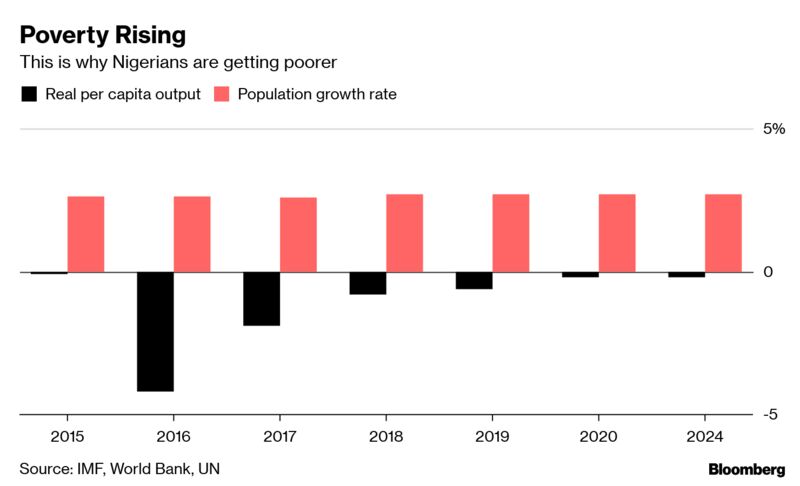 Short article, no more
https://www.bloomberg.com/news/articles/2019-04-17/nigerians-get-poorer-as-rising-population-dwarfs-growth-chart
Nigeria isn't just some African country. It is the most populous country in Africa.
As for Africa, it reached 1 billion population in 2010 and is projected to reach 2.5 billion in 2050 (that's 2 1/2 more Africas than in 2010 ). So if you think there is a lot of migration pressure to Europe lately with climate disruption migration, well, you haven't seen anything yet.
If you think they won't strive to eat more meat, have more air conditioning (I read recently that just 8% of the population do), and automobiles, etc. then sadly you are a fool.
If you think you can wave some magic wand and world percapita greenhouse gas emissions are going to plummet and solve our climate crisis problem, than you are an idiot.
If you are one of those who pooh pooh population as a major issue in our growing environmental disaster, and think more windmills and solar panels are going to fix it all, you are some kind of I don't know what to say.
4 replies, 462 views
Replies to this discussion thread
| | | | |
| --- | --- | --- | --- |
| 4 replies | Author | Time | Post |
| Nigerians Get Poorer as Rising Population Dwarfs Growth: Chart (Original post) | progree | Apr 2019 | OP |
| | applegrove | Apr 2019 | #1 |
| | progree | Apr 2019 | #3 |
| | progree | Apr 2019 | #2 |
| | Blues Heron | Apr 2019 | #4 |
---
Response to progree (Original post)
Fri Apr 19, 2019, 02:45 AM
applegrove (90,676 posts)
1. Educated girls everywhere have 1.7 children. That is why the push
Is on to get as many girls in school as possible.
---
Response to applegrove (Reply #1)
Fri Apr 19, 2019, 02:54 AM
progree (5,441 posts)
3. True. Absolutely no argument from me that we must do everthing we can
Besides education, to just get effective contraceptives to those who want them .... there's a big shortage of modern contraceptives -- especially the most effective and discrete kinds ... a big shortage relative to the women who want them.
---
Response to progree (Original post)
Fri Apr 19, 2019, 02:51 AM
progree (5,441 posts)
2. For those that are new to the Environment and Energy Group
Under the very optimistic IEA International Energy Agency New Policies Scenarios, is that, in 2040, "other renewables", which encompass solar and wind, will be only 1223 MTOE (51 exajoules), compared to fossil fuel of 13,139 MTOE (550 exajoules), summing up oil + coal + natgas. IOW in 2040, the "other renewables" will be 9.3% of the fossil fuel total.
https://www.iea.org/weo/
Or to represent it graphically:
in 2040
:
the first line on the bar graph below is other renewable which includes solar and wind
the second line is fossil fuels
Remember, this is a very optimistic projection to 2040.
##
solar, wind, geothermal
#####################
fossil fuels
The fact of the matter is, that fossil fuel use is growing quantitatively faster than "renewables", which themselves involve a massive amount of non-renewables in their construction.
One reading the E&E Group newsfeed of endless annoucements of wind and solar farms may think its all going great. Well its not. Extremely very sorry to say.
You need to come to grips with population increases of 1 billion every 13 years or so, and realize that these people and billions of others are striving to do everything they can to improve their living standard (meaning use more energy, eat more meat, more transportation including a few billion more having cars, etc.)
If you are the kind of idiot that thinks it's all because of capitalism ... oh never mind. I know most of you suffering such delusions have long ago migrated to Jeeper Land to vote for Jill Stein, but, sadly, some are still hanging around here.
---
Response to progree (Original post)
Fri Apr 19, 2019, 06:37 AM
Blues Heron (1,458 posts)
4. If you think windmills don't matter then your a