Sat Apr 4, 2020, 10:05 AM
hatrack (50,265 posts)
Oh, Great: Ozone Hole Opens Over Arctic Ocean; Currently 3X Size Of Greenland, Breakup Coming Soon
A vast ozone hole — probably the biggest on record in the north — has opened in the skies above the Arctic. It rivals the better-known Antarctic ozone hole that forms in the southern hemisphere each year.
Record-low ozone levels currently stretch across much of the central Arctic, covering an area about three times the size of Greenland (see 'Arctic opening'). The hole doesn't threaten people's health, and will probably break apart in the coming weeks. But it is an extraordinary atmospheric phenomenon that will go down in the record books.
"From my point of view, this is the first time you can speak about a real ozone hole in the Arctic," says Martin Dameris, an atmospheric scientist at the German Aerospace Center in Oberpfaffenhofen.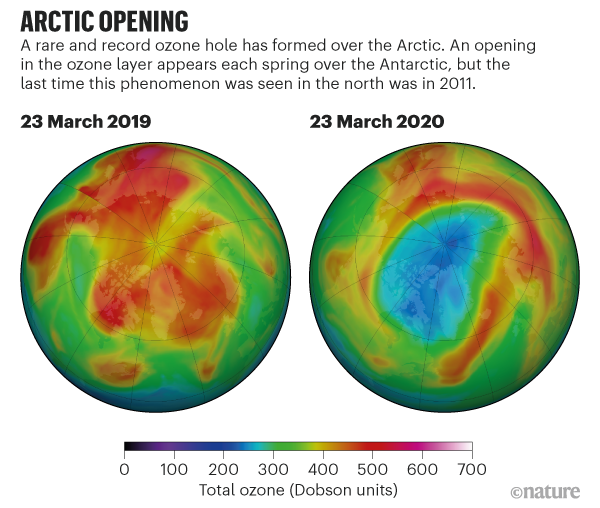 EDIT
The Arctic ozone hole isn't a health threat because the Sun is just starting to rise above the horizon in high latitudes, says Rex. In the coming weeks, there is a small chance the hole might drift to lower latitudes over more populated areas — in which case people might need to apply sunscreen to avoid sunburn. "It wouldn't be difficult to deal with," Rex says. The next few weeks are crucial. With the Sun slowly getting higher, atmospheric temperatures in the region of the ozone hole have already started to increase, says Antje Inness, an atmospheric scientist with the European Centre for Medium-Range Weather Forecasts in Reading, UK. Ozone could soon start to recover as the polar vortex breaks apart in the coming weeks.
EDIT
https://www.nature.com/articles/d41586-020-00904-w
2 replies, 623 views
Replies to this discussion thread
| | | | |
| --- | --- | --- | --- |
| 2 replies | Author | Time | Post |
| Oh, Great: Ozone Hole Opens Over Arctic Ocean; Currently 3X Size Of Greenland, Breakup Coming Soon (Original post) | hatrack | Apr 2020 | OP |
| | NCjack | Apr 2020 | #1 |
| | ProudMNDemocrat | Apr 2020 | #2 |
---
Response to hatrack (Original post)
Sat Apr 4, 2020, 10:13 AM
NCjack (6,181 posts)
1. Trump's Hole
---
Response to hatrack (Original post)
Sat Apr 4, 2020, 10:53 AM
ProudMNDemocrat (6,837 posts)
2. While in Australia in 2018,
I came armed with a 50 SPF sunblock, my broad rimmed Akubra, and parasol because the Ozone layer there was very thin. Good thing I came prepared.