Mon Apr 6, 2020, 11:29 AM
Eugene (48,715 posts)
Whale sharks: Atomic tests solve age puzzle of world's largest fish
Source:
BBC
Whale sharks: Atomic tests solve age puzzle of world's largest fish
By Matt McGrath
Environment correspondent
6 April 2020
Data from atomic bomb tests conducted during the Cold War have helped scientists accurately age the world's biggest fish.
Whale sharks are large, slow moving and docile creatures that mainly inhabit tropical waters.
They are long-lived but scientists have struggled to work out the exact ages of these endangered creatures.
-snip-
The study indicated that these creatures do actually live an incredibly long time.
"The absolute longevity of these animals could be very, very old, possibly as much as 100-150 years old," said Dr Meekan.
"This has huge implications for the species. It suggests that these things are probably intensely vulnerable to over-harvesting."
The scientists say their results explain why whale shark numbers have collapsed in locations like Thailand and Taiwan where fishing has taken place.
-snip-
Read more:
https://www.bbc.com/news/science-environment-52155008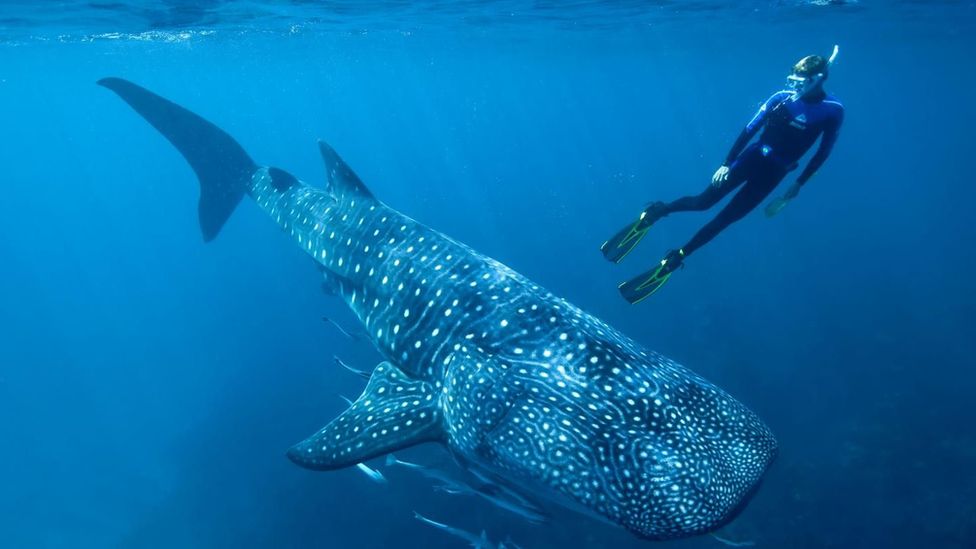 Researcher Mark Meekan diving with a whale shark (Wayne Osborn)
3 replies, 1903 views
Replies to this discussion thread
| | | | |
| --- | --- | --- | --- |
| 3 replies | Author | Time | Post |
| Whale sharks: Atomic tests solve age puzzle of world's largest fish (Original post) | Eugene | Apr 2020 | OP |
| | Judi Lynn | Apr 2020 | #1 |
| | Judi Lynn | Apr 2020 | #2 |
| | lostinhere | Apr 2020 | #3 |
---
Response to Eugene (Original post)
Mon Apr 6, 2020, 04:41 PM
Judi Lynn (140,909 posts)
1. Saw the gar-like companions with Mr. or Ms. Whale Shark, tried to find out about them.
First thing to pop up in my search was something I wasn't expecting.
Whale Shark & Entourage: All The Pretty Fishies
October 16, 2019
. . .
The sharks, and the small fish, are all chasing the same prey: small (~1 cm) sergestid shrimps. When the shrimp move inshore over summer, the sharks and the fish follow them in. Predatory fishes, such as cobia and mackerel, join the migration.
I guess it makes sense for the smaller fish to team up with the sharks for the protection. I doubt the sharks get much out of the deal – after all, these small fishes are direct competitors – but it does look really cool.
. . .
Video at link:
https://simonjpierce.com/whale-shark-fish-school-mafia-island/
---
Response to Judi Lynn (Reply #1)
Mon Apr 6, 2020, 04:46 PM
Judi Lynn (140,909 posts)
2. Different swim-mates at the Georgia Aquarium:
---
Response to Judi Lynn (Reply #2)
Mon Apr 6, 2020, 11:12 PM
lostinhere (53 posts)
3. Very Cool