Mon May 4, 2020, 04:31 AM
Rhiannon12866 (115,220 posts)
'Not just weeds': how rebel botanists are using graffiti to name forgotten flora
Pavement chalking to draw attention to wild flowers and plants in urban areas has gone viral across Europe – but UK chalkers could face legal action
Arising international force of rebel botanists armed with chalk has taken up street graffiti to highlight the names and importance of the diverse but downtrodden flora growing in the cracks of paths and walls in towns and cities across Europe.
The idea of naming wild plants wherever they go – which began in France – has gone viral, with people chalking and sharing their images on social media. More than 127,000 people have liked a photo of chalked-up tree names in a London suburb, while a video of botanist Boris Presseq of Toulouse Museum of Natural History chalking up names to highlight street flowers in the French city has had 7m views.
Presseq told the Guardian: "I wanted to raise awareness of the presence, knowledge and respect of these wild plants on sidewalks. People who had never taken the time to observe these plants now tell me their view has changed. Schools have contacted me since to work with students on nature in the city."
France banned pesticide use in parks, streets and other public spaces in 2017 and in gardens from 2019, leading to a surge in awareness of urban wild flowers in the country.
French botanist and campaigner Sophie Leguil, who lives in London, set up the More Than Weeds campaign to change perceptions of urban plants in the UK after helping to spread the Sauvages de ma rue ("wild things of my street") chalking campaign in France led by Tela Botanica. She has won permission to chalk up Hackney's highways and make chalk trails to highlight the forgotten flora at our feet and is asking other councils to allow the same.
Read more:
https://www.theguardian.com/environment/2020/may/01/not-just-weeds-how-rebel-botanists-are-using-graffiti-to-name-forgotten-flora-aoe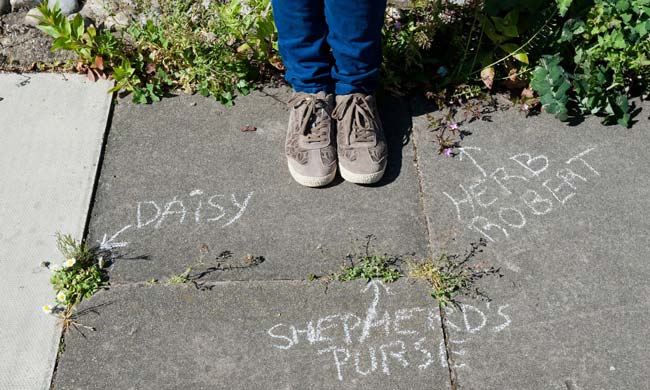 Sophie Leguil, founder of More Than Weeds, stands over chalk names of plants on the pavement.
Photograph: Jill Mead/The Guardian
4 replies, 501 views
Replies to this discussion thread
| | | | |
| --- | --- | --- | --- |
| 4 replies | Author | Time | Post |
| 'Not just weeds': how rebel botanists are using graffiti to name forgotten flora (Original post) | Rhiannon12866 | May 4 | OP |
| | love_katz | May 4 | #1 |
| | Rhiannon12866 | May 4 | #2 |
| | voteearlyvoteoften | May 4 | #3 |
| | mopinko | May 4 | #4 |
---
Response to Rhiannon12866 (Original post)
Mon May 4, 2020, 04:43 AM
love_katz (1,564 posts)
1. This is a wonderful concept.
I recommend following the link and reading the full article. Even though the project is located in the U.K. doesn't mean it would have no value here. Many plants that are despised as weeds can be used for medicine and nutritious food. Instead, too many people add to the poison load of the environment by applying pesticides. A weed is just a plant that is growing somewhere without being directly planted by a human. The link contained in the article can connect you to a website that can provide you with the knowledge to turn that around. I'm aware that not all weeds are useful or benign, but the website can help people start to learn about the plants that are. Recommended!.
---
Response to love_katz (Reply #1)
Mon May 4, 2020, 05:03 AM
Rhiannon12866 (115,220 posts)
2. Thanks! And I sure know what you mean!
Too many people, these days, go to any lengths to have the "perfect" lawn, I cringe when I start seeing the dandelions crop up on mine. When I was a little kid, my grandmother, who was brought up in a rural area during the early part of the century, once took me and my brother out to gather dandelion greens which she boiled up and served us. I'm sure that she was looking for something to keep us entertained and busy, but I thought that was the coolest thing even though I didn't love the finished dish, LOL.
When I lived at my parents, when I took my dog out, I had to walk her all the way to the end of the street and to the entrance to the woods to avoid the pesticides that my mother and all the neighbors had placed on their lawns - most of us have seen the posted "poison" signs.
And I'm back to watching "Dr. Quinn, Medicine Woman" rather than news 24/7 these days, and she often uses herbs in her 19th-century medical practice that she learned from her Cherokee neighbors. We need to start thinking of more natural remedies rather than the prescriptions that are advertised on TV all the time - along with the dangerous side effects that they're forced to mention at the end.
---
Response to Rhiannon12866 (Original post)
Mon May 4, 2020, 07:18 AM
voteearlyvoteoften (1,525 posts)
3. Life goals...Be a rebel botanist
Seriously. This is everything.
---
Response to Rhiannon12866 (Original post)
Mon May 4, 2020, 08:10 PM
mopinko (56,803 posts)
4. i shared this story on my farm's fb page.
and i got some chalk out there the next day.