Mon May 18, 2020, 07:24 PM
Judi Lynn (140,932 posts)
U.S. fund that supports Sumatran rhino research faces deep cuts under Trump
by Charles Pekow on 14 May 2020
The Sumatran rhinoceros ó the smallest, hairiest and most endangered of all rhino species ó is today only found in Indonesia. But for a quarter century, the remaining few have benefited from a program established by the United States government to support endangered species around the world.
The Rhinoceros and Tiger Conservation Act, signed into law in 1994, set up the Rhinoceros and Tiger Conservation fund to provide grants to support international efforts to preserve the three-toed ungulates and big cats.
Records from the U.S. Fish and Wildlife Service (FWS), which administers the fund, show that in fiscal years 2012-2018 it specifically supported 12 projects designed to protect the critically endangered Sumatran rhinoceros (Dicerorhinus sumatrensis). But while the species remains on the brink, the 25-year-old program is facing a threat to its own viability: a Trump administration not focused on environmental issues.
Congress reauthorized the law several times and it is currently in effect through 2023. But while the law allows spending of $10 million a year, Congress has historically provided only about $3.5 million annually. And the U.S. Department of the Interior (DoI), parent agency to FWS, has proposed a budget for FY2021 that would slice current funding for rhinos and tigers to less than half, to only $1.575 million. The DoI also tried to halve the fundís FY2020 budget, but congress didnít go along.
More:
https://news.mongabay.com/2020/05/u-s-fund-that-supports-sumatran-rhino-research-faces-deep-cuts-under-trump/
Sumatran rhino
4 day-old rhino calf and parent.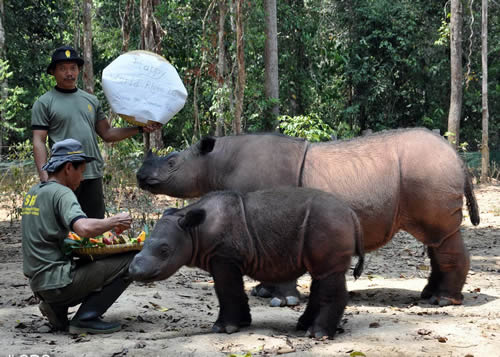 - click for image -
https://ewscripps.brightspotcdn.com/dims4/default/2575f5f/2147483647/strip/true/crop/3000x1688+0+289/resize/1280x720!/quality/90/?url=https%3A%2F%2Fewscripps.brightspotcdn.com%2F9b%2Fc5%2Fd6dc60e84c2d9d320980cb99e3ca%2Fgettyimages-51191587.jpg
3 replies, 469 views
Replies to this discussion thread
| | | | |
| --- | --- | --- | --- |
| 3 replies | Author | Time | Post |
| U.S. fund that supports Sumatran rhino research faces deep cuts under Trump (Original post) | Judi Lynn | May 18 | OP |
| | mr_lebowski | May 18 | #1 |
| | Mickju | May 19 | #3 |
| | abqtommy | May 18 | #2 |
---
Response to Judi Lynn (Original post)
Mon May 18, 2020, 07:38 PM
mr_lebowski (14,423 posts)
1. God I HATE THESE F****** PEOPLE!!!
They are such garbage human beings.
---
Response to mr_lebowski (Reply #1)
Tue May 19, 2020, 07:26 PM
Mickju (710 posts)
3. I agree!
I also hate them. They are the worst of humanity.
---
Response to Judi Lynn (Original post)
Mon May 18, 2020, 07:49 PM
abqtommy (5,007 posts)
2. I'd rather look at a rhino's rump than to see any picture of tRUMP!