Fri May 2, 2014, 09:09 AM
nationalize the fed (2,169 posts)
2 outstanding examples of how the Feds protect open lands in the West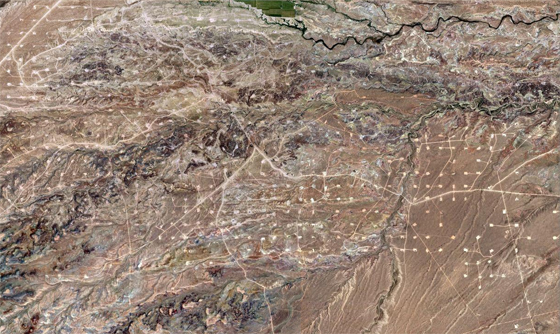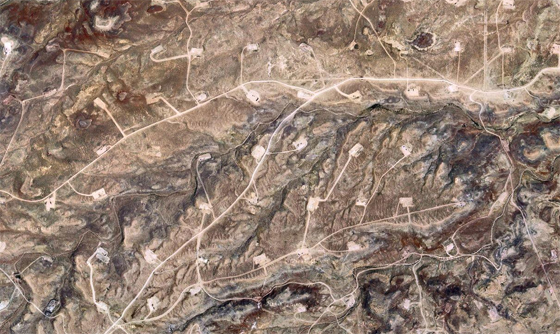 Google Earth images of northeastern Utah reveal networked grids, footprints where well drilling has fractured shale rock and released toxic materials from the ground into the water system, a practice known as hydraulic fracturing or fracking.
The Halliburton loophole in the 2005 Energy Bill exempts the oil and natural gas industries from the Safe Drinking Water Act, leaving the ground water of 34 states unmonitored by the EPA. Seen on Democracy Now!, the film Gasland documents this crisis from across the country, demonstrating the levels of volatile organics in one Colorado kitchen by setting running water into a fire ball...
http://www.situstudio.com/blog/2010/10/08/hydraulic-fracturing/
No turtles there!
And they are pushing Ukraine towards more fracking
Vice President Joe Biden Promotes U.S. as Fracking Missionary Force On Ukraine Trip
During his two-day visit this week to Kiev, Ukraine, Vice President Joe Biden unfurled President Barack Obama's
"U.S. Crisis Support Package for Ukraine."
A key part of the package involves promoting the deployment of hydraulic fracturing ("fracking") in Ukraine. Dean Neu, professor of accounting at York University in Toronto, describes this phenomenon in his book "Doing Missionary Work." And in this case, it involves the U.S. acting as a modern-day missionary to spread the gospel of fracking to further its own interests...
..."And as you attempt to pursue energy security, there's no reason why you cannot be energy secure. I mean there isn't. It will take time. It takes some difficult decisions, but it's collectively within your power and the power of Europe and the United States,"
Biden said
...
http://www.desmogblog.com/2014/04/23/vice-president-joe-biden-promotes-u-s-fracking-missionary-force-during-ukraine-trip
Which does more damage- Grazing cattle or gas fracking?
4 replies, 1262 views
Replies to this discussion thread
| | | | |
| --- | --- | --- | --- |
| 4 replies | Author | Time | Post |
| 2 outstanding examples of how the Feds protect open lands in the West (Original post) | nationalize the fed | May 2014 | OP |
| | giftedgirl77 | May 2014 | #1 |
| | nationalize the fed | May 2014 | #2 |
| | giftedgirl77 | May 2014 | #3 |
| | gejohnston | May 2014 | #4 |
---
---
Response to giftedgirl77 (Reply #1)
Fri May 2, 2014, 09:52 AM
nationalize the fed (2,169 posts)
2. I am trying to provide context.
The Feds don't "protect land" anywhere.

They try to figure out how to exploit the best return to their campaign coffers.
---
Response to nationalize the fed (Reply #2)
Fri May 2, 2014, 10:32 AM
giftedgirl77 (4,713 posts)
3. Complete & utter bullshit...
While the issues with the tracking going on is a huge problem if we didn't have the Feds protecting our federal lands they would be a lot more fucked up then they are now. Not to mention the grazing cows cause their fair share of damage & their owner is a freeloading terrorist.
---
Response to nationalize the fed (Original post)
Sat May 3, 2014, 03:14 PM
gejohnston (17,502 posts)
4. The BLM can't win for losing
Everyone hates them. Ranchers, ATV fans, Big Oil, environmentalists, wild horse advocates, hunters, all complain that the agency is in the pockets of competing interest groups.
As for the cows, 20 years ago 54 ranchers each had about one or two thousand head competing with deer, wild horses, proghorn etc. for what little grass existed in an arid area. So, yeah that many cattle with that little grass could do serious damage.

The BLM decided it was unsustainable, so they limited it to 150 head per ranch. The other ranchers complied and went out of business. One told them to screw themselves.