Sat Jun 23, 2012, 05:35 AM
Behind the Aegis (45,065 posts)
Alan Turing, the father of the computer, is finally getting his due
For Alan Turing's many admirers, the centenary of his birth on Saturday is an occasion for both celebration and mourning. Here, after all, is the architect of the modern computer, the code-breaker whose ingenuity ensured an Allied victory in World War II and the father of artificial intelligence. Yet Turing was also a victim of a pernicious and paranoid strain of sexual hypocrisy in 20th-century England. Nor, in the 21st, has the victimization wholly ceased.
---snip---
From early in his adolescence, Turing understood that he was gay and saw nothing wrong with it. If the society in which he lived criminalized homosexuality, he believed the fault lay with the society, not with the men and women it vilified. He made little effort to disguise or efface his desire for other men, and when, in the early 1950s, he embarked on a businesslike affair with a youth in Manchester, his sense of how the world should be clashed with how it was.
Suspecting his boyfriend of robbery, he summoned the police to his house. They ended up arresting Turing under the "blackmailer's charter," which criminalized "acts of gross indecency" between adult men in public or in private. It was under this law — not repealed until 1967 — that Oscar Wilde had been sentenced to hard labor in prison.
To avoid a similar fate, Turing agreed to submit to a course of estrogen therapy intended to cure him of his homosexuality; as a result, he grew breasts and became impotent. Yet even after the treatment ended, the police, fearing that he might defect to the Soviet Union, stayed on his trail, interrupting every effort he made to live life as he saw fit. In June 1954, Turing committed suicide by biting into an apple laced with cyanide — a nod to his favorite film, Walt Disney's "Snow White and the Seven Dwarves."
more @
http://www.washingtonpost.com/opinions/alan-turing-father-of-computer-science-not-yet-getting-his-due/2012/06/22/gJQA5eUOvV_story.html
Hat-tip to
Sgent
who has posted this story in LBN:
http://www.democraticunderground.com/1014150355,
please visit and "K&R" that thread!
ETA: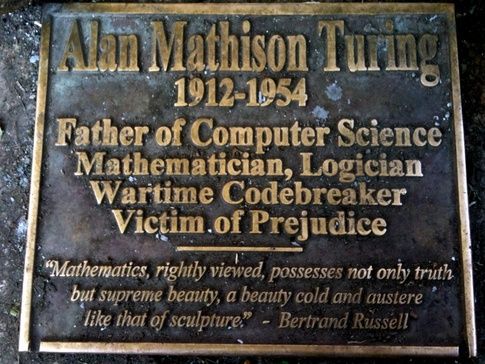 0 replies, 1039 views