Tue Jul 30, 2019, 10:06 AM
appalachiablue (22,313 posts)
US Families Seek Answers to Rise in Childhood Cancers & Team Up with Scientists
'Families seek answers for US rise in childhood cancers.' Parents whose children have died from cancer are teaming up with scientists to study any correlations between toxicants and illness. The Guardian, July 30, 2019.
Soccer was a huge passion in Oliver Strong's young life. Right up to his death from acute myeloid leukemia in June 2015 at the age of 12, he was a standout athlete and goalkeeper, a healthy, vibrant and popular boy with a zest for living that inspired his teammates, friends and family. So when Oliver died suddenly at a Miami children's hospital, just 36 hours after doctors first diagnosed the disease, his parents Simon and Vilma started looking for answers. What they found was disturbing.
Cases of pediatric cancer in the United States surged by almost 50% from 1975 to 2015, according to alarming but under-reported statistics by the National Cancer Institute, and in 2018 up to 16,000 children from birth to age 19 will have received a new diagnosis.
Yet what really elevated the disquiet of Oliver's parents was increasing concern over the role that carcinogenic environmental toxicants, including industrial waste and pollutants, were believed to be playing in the rise of childhood cancer. "There's almost an unspoken scientific consensus that it's always environmental," said Simon Strong, who with his wife set up Oliver Forever Strong – a foundation in their son's memory. Oliver's Forever Strong has now teamed up for an ambitious research study with scientists at the Texas Children's Hospital, home to the nation's largest pediatric cancer center, and the Baylor College of Medicine...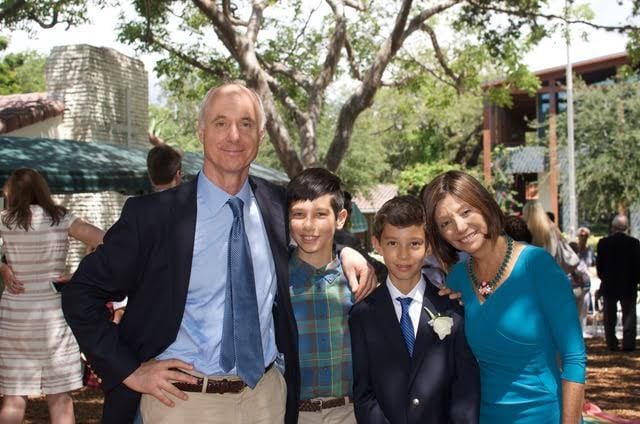 Dr Michael Scheurer, director of the childhood cancer epidemiology and prevention program at Texas Children's Hospital, said: "[This research] … will allow families who might not live near one of the existing study centers to participate as they are comfortable. "We realize individuals won't know if they've been exposed to a certain chemical or specific agent so we try to gather an overview of their environment, where have they lived over the course of time, when the child was conceived, during mom's pregnancy, during early childhood, up to the point they developed their cancer. Are those residences located near Superfund sites, or in areas with high levels of air pollution or water contaminants?...
Strong says he has no idea if it was any kind of factor in his son's death but that he regrets using Roundup on their patio to get rid of weeds..Strong said someone had also told him about artificial turf and "the role it might be having in an apparently high level of childhood cancer"..."So I'd been exposing Oliver to Roundup, he'd been playing for six months as a goalkeeper on this stuff. I have no clue whether either contributed, but he was exposed to these two things and if I'd known better, I would have not exposed him."
On a wider scale, Strong started looking at incidences and clusters of childhood cancer nationwide, and possible environmental factors behind them, which led to the foundation launching the thereasonswhy.us project. "The International Agency for Research on Cancer's raison d'etre is studying carcinogens in our environment, but in our health industry the focus is purely on detection, diagnosis and treatment, because that's where the money is … and not focusing on prevention," he said...
Cancer research funding cut by government: Privately-funded research will likely increase in importance as federal funding falls for tackling pediatric cancer, the leading cause of death in the US for children past infancy..The president has also slashed environmental protections that Strong says has contributed to the "emasculation" of the Environmental Protection Agency (EPA). There are tens of thousands of synthetic chemicals registered by the EPA but only a small proportion tested for toxicity, Strong says. "It's in our foods, packaging and clothing, building materials, cleaning products, cosmetics, toys and baby bottles. And even less is known about the effects of simultaneous exposure to multiple chemicals.
"There are hundreds of communities across the country where people are raising their voices..Ultimately, Strong hopes to enlist thousands of families for the study, with the first 200 signed up by the middle of the summer.."Oliver was a compassionate, empathetic soul with a strong sense of justice, so I'd like to think we are doing this in his spirit, and at the same time it's important for me that this not be about Oliver, it's about all families who are affected by childhood cancer," he said.
"We want society to be invested not in sickness but in health … celebrating young people preserving their health because we live in an environment with safer water, safer air and safer products."...
Read More,
https://www.theguardian.com/us-news/2019/jul/30/toxic-america-families-seek-answers-childhood-cancers
4 replies, 611 views
Replies to this discussion thread
| | | | |
| --- | --- | --- | --- |
| 4 replies | Author | Time | Post |
| US Families Seek Answers to Rise in Childhood Cancers & Team Up with Scientists (Original post) | appalachiablue | Jul 2019 | OP |
| | dewsgirl | Jul 2019 | #1 |
| | appalachiablue | Jul 2019 | #2 |
| | dewsgirl | Jul 2019 | #3 |
| | appalachiablue | Jul 2019 | #4 |
---
Response to appalachiablue (Original post)
Tue Jul 30, 2019, 10:28 AM
dewsgirl (7,691 posts)
1. A couple years ago I watched a special on 20/20 or one of those type shows about several children
That either had cancer or had died from cancer. Their link, they all were soccer players/goalies. They thought it may have been the artificial astroturf.
---
Response to dewsgirl (Reply #1)
Tue Jul 30, 2019, 10:40 AM
appalachiablue (22,313 posts)
2. Thanks for that news. It's all horrible, a rising epidemic.
(Huff Post, 'Creating Meaning from the Unthinkable,' Dec.6, 2017). Oliver was only 12 years old, a standout in everything he did. His passion was soccer, so his performance as an elite-level goalie for his youth soccer team in Miami was no surprise. A good student in school, he also played the piano and baritone saxophone, was a compelling actor, was kind to his younger brother and his friends, and could make anyone laugh out loud.
Then, on June 18, 2015, Oliver died, only 36 hours after being diagnosed with acute myeloid leukemia, a cancer that is rare in children. Like many parents of kids who die of cancer, his mother Vilma Tarazona and father Simon Strong kept asking, "Why? How could this happen?"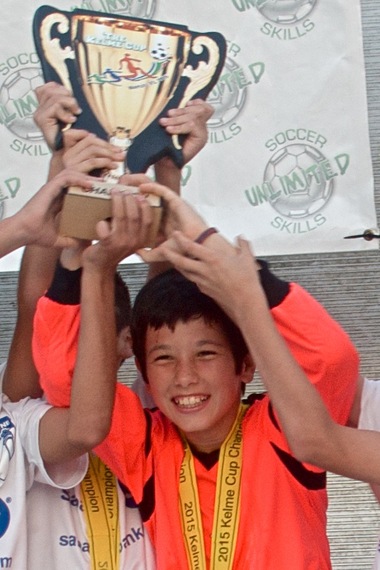 Cancer kills more children than any other disease; it is second only to accidents as a cause of childhood death. Unlike many parents, Vilma and Simon refused to accept being told that "no one knows why." Could it have been the chemical-laden artificial turf on which he played soccer goalie? Something toxic in the air or water? Household chemicals such as cleaning supplies or herbicides? The more they looked, the less they learned.
But they did learn that cancer can be triggered by the environment. According to the World Health Organization, cancer develops "when an environmental agent such as a chemical, an infection or radiation successfully damages DNA and this damage fails to be repaired."
> > The WHO projects a 70 percent increase in new cancer cases over the next two decades.
Professionally both Vilma and Simon are into fact-finding. Vilma is a senior reporter for Univision's national news network in Miami, and Simon is a bi-lingual expert in risk assessment, global due diligence, and business investigative services. Both are determined to protect their second son's health and to buffer other families from the waves of grief, anger, and frustration that engulfed their family. They're determined to learn "why."
As they researched pediatric leukemia, the Strongs learned that only 4 percent of National Cancer Institute research funding is targeted to finding new treatments for childhood cancers. They were even more stunned that there is virtually no research being done to learn the causes despite the fact that the rate of childhood cancer in the USA rose 34 percent between 1975 and 2010 and a further 34 percent by 2014.
>> Furthermore, childhood cancer has been rising in South Florida...
Read More,
https://www.huffpost.com/entry/creating-meaning-in-the-f_b_9273680
---
Response to appalachiablue (Reply #2)
Tue Jul 30, 2019, 10:53 AM
dewsgirl (7,691 posts)
3. Thank you, I have always remembered that special I watched.
This is the first I have came across anything related. I do think of it each time I see anything Round up/cancer related. The corruption and greed is unbelievable with these big companies and now they have a rubber stamp. It is so unbelievably heartbreaking.
---
Response to dewsgirl (Reply #3)
Tue Jul 30, 2019, 11:43 AM
appalachiablue (22,313 posts)
4. The impact of the greed, massive deregulation and misery
will continue for decades beyond clean up, if and when it happens. Heartbreaking it truly is.