Sun Sep 9, 2012, 12:32 AM
pbmus (11,522 posts)
Why Do Schizophrenics Hear Voices?
In a way, you're never alone. Your inner consciousness is always there to keep you company. That voice inside your head is reliably available for conversation. These intensely personal and comforting self-to-self dialogues are splayed across the humdrum of a typical day. "I think I'll wear the blue polo to my date tonight." "Enchiladas: that's what I want for lunch." "Oh my gosh, cute kittens!"
But what if there was a foreign voice inside your head? An entity over which you could exact no control. Wouldn't that be the worst invasion of privacy imaginable? Wouldn't that be disturbing?
For the majority of schizophrenics, this dreadful plight is a vexing regularity. Fortunately, schizophrenia is rare, but that's no consolation to the 24 million people afflicted with the condition. Moreover, there is limited understanding of its underlying causes, and treatments -- often in the form of antipsychotics -- are far from perfect, presenting their own loaded plate of perturbing side effects.
This is where Baylor neuroscientist David Eagleman enters into the discussion. Widely regarded for his work on the brain's perception of time, synesthesia, and neurolaw, Eagleman is now foraying into the study of schizophrenia. It wasn't something he originally planned on.
http://www.realclearscience.com/blog/2012/08/is-schizophrenia-simply-a-matter-of-time.html
6 replies, 3752 views
Replies to this discussion thread
| | | | |
| --- | --- | --- | --- |
| 6 replies | Author | Time | Post |
| Why Do Schizophrenics Hear Voices? (Original post) | pbmus | Sep 2012 | OP |
| | Tobin S. | Sep 2012 | #1 |
| | MindMover | Sep 2012 | #2 |
| | intaglio | Sep 2012 | #3 |
| | Denninmi | Sep 2012 | #4 |
| | Tobin S. | Sep 2012 | #5 |
| | hunter | Sep 2012 | #6 |
---
Response to pbmus (Original post)
Sun Sep 9, 2012, 12:55 AM
Tobin S. (10,418 posts)
1. An early offering
I'll check out your article later.

The voices that some mentally ill people hear are their own thoughts that somehow get disassociated from the self. That is, they get attributed to an outside source. So a person who has low self esteem might have a thought like, "You're worthless," and instead of understanding that it's his own thought will think it came from somewhere or something or someone else. This can get incredibly complex.

That's my take on the issue. I'll check out your article later to see what the experts have to say.
---
Response to Tobin S. (Reply #1)
Sun Sep 9, 2012, 01:48 AM
MindMover (5,016 posts)
2. That has been the standard answer ...
---
Response to pbmus (Original post)
Sun Sep 9, 2012, 05:04 AM
intaglio (8,170 posts)
3. The Englemann study is interesting
But until some firmer evidence is found I'll regard it with skepticism.

My personal thought is that schizophrenia involves a whole suite of cognitive and perceptive defects and corruptions of normal brain functions and Misperception of time together with misattribution of sources probably plays some part in this terrible illness. Current meds can assist the sufferer but few mechanisms of action are known and the side effects are only marginally more tolerable than the illness itself.
---
Response to pbmus (Original post)
Sun Sep 9, 2012, 05:19 AM
Denninmi (6,581 posts)
4. 24 million cases is a "rare" disease?
Sounds like a pretty large patient population to me.
---
Response to Denninmi (Reply #4)
Sun Sep 9, 2012, 10:34 AM
Tobin S. (10,418 posts)
5. Yeah, it's not really rare. It affects about 1% of the population worldwide.
So there's a lot more than 24 million cases, too.
---
Response to pbmus (Original post)
Mon Sep 10, 2012, 01:51 PM
hunter (32,908 posts)
6. Hmmmm... my own perceptions of time are screwy.
I think that whatever synthesizes the "now" experience in my consciousness is faulty. I can ride a bike or drive a car and stuff, but I've got to suppress the "voice in my head" entirely to do it and furthermore I've got to suppress outside voices too. People talking to me when I drive, or worse, giving directions, confuses the hell out of me. Time gets all shifty and my consciousness loses synch. I lose solid contact with the "real world" where a ton of moving metal can cause serious injury or death. Do not talk to me, the driver.
In my normal, not writing-or-talking, internal mental life I shut down the voices entirely. If I hear a radio I may be aware someone is speaking English or Spanish, but the words simply don't register. It's all a foreign language. If there are any "voices in my head," those don't register either. No "self-dialogues," no,
"Oh my gosh, cute kittens!"
It's usually quiet in my head, the voices are distant and unintelligible.
I think that's why I like this cartoon: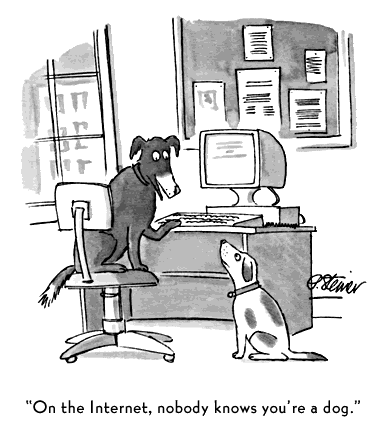 http://en.wikipedia.org/wiki/On_the_Internet,_nobody_knows_you're_a_dog
Maybe my normal mental life does resemble a dog's.
This has consequences. In my normal, non-language mode, it takes me a second to engage when someone asks me something and I will always miss the first few words. Sometimes I can "replay" them, but mostly not. And sometimes I will miss the first few words when I have to speak to someone too. I'll believe I've said the words, but people tell me I haven't, that I will simply start talking in the middle of a sentence.
I often suffer auditory hallucinations, usually someone calling me who isn't there -- which is disconcerting when it's someone like my long dead grandmothers. Or parrots. Or dogs. (Heh, I hear dead people...) My ability to tune out these hallucinations causes problems when someone is actually there calling me.
Maybe I'm borderline schizophrenic. Maybe I didn't like what the "voices in my head" were saying so I compensated by shutting them out entirely. "Piss off, voices!"
This time anomaly even influences the way I think about the universe. I don't think we live in a four-dimensional universe, one with three Cartesian coordinates of
x,y,z
and a different sort of dimension,
t
for time. I'm pretty sure the normal universe can be described in three identical dimensions each of which is, roughly speaking, 2/3 space-like and 1/3 time-like. It simplifies the math, making it all energy. There is not time, everything is ripping along at the speed of light, the only "speed" possible. What we perceive as time is a relationship of causality that proved useful in our evolution; the propagation of our genes. We don't "see" the universe as it truly is.