Mon Jan 14, 2013, 12:18 AM
A HERETIC I AM (22,323 posts)
Stuffed Chicken Breasts (pic heavy) Updated with videos
Last edited Wed Feb 20, 2013, 12:46 AM - Edit history (2)
Basically a variation of Gordon Ramsay's Stuffed Chicken Legs.
Watch the quick, 2 minute vid first;
I changed it up by using a boneless, skinless breast, not the leg and thigh he used. I am also NOT using any frickin nuts in the stuffing! Nuts do not belong in food. Instead of a sausage base, the stuffing is stepped up Stove Top (I know, I know...sacrilege!) I also marinated the breast in white wine and basil. About 1 cup or so of wine and about 2 Tablespoons of dried basil. Fresh basil works perfectly well also. Just do a
chiffonade
. I let the basil steep like tea leaves for about 30 minutes before I added the butterfly'ed (It was a thick one, so I cut it so to butterfly it) and pounded out breast. Marinated while I prepared the stuffing, about 40 minutes or so (with beer breaks).
Here's the stuffing prep;
Finely minced Mushroom, Onion, Bell Pepper, Celery and about 4 garlic cloves.
Knife work slicing mushrooms;
First in a hot pan with a bit of olive oil is the mushrooms;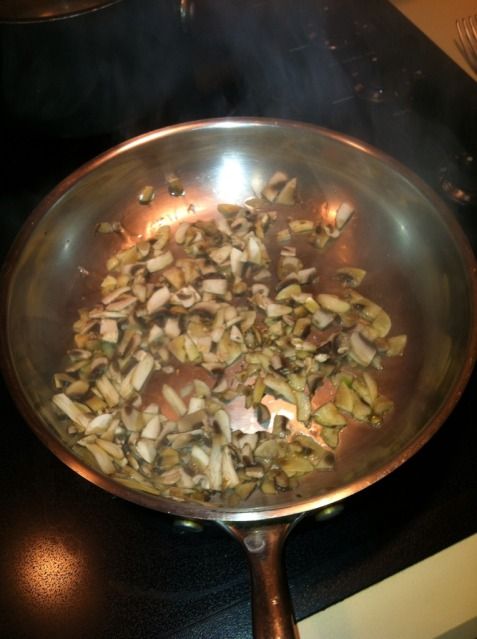 Sweat them out then add the rest.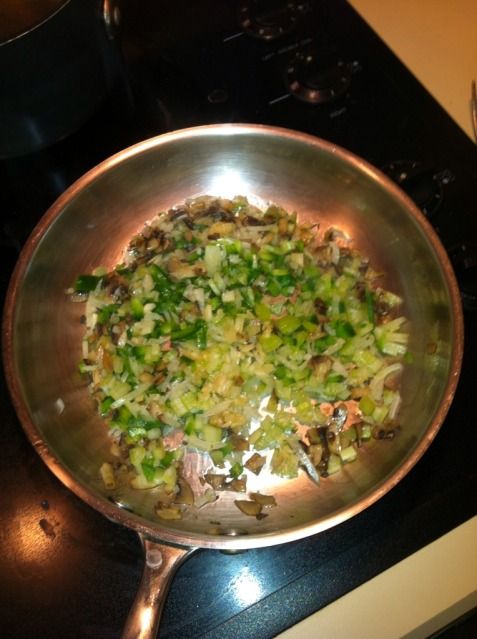 When the veg is tender and the onions are translucent, I added some white wine - just enough to cover the bottom of the pan and make all of it wet.
In spite of its bad reputation, I like boxed wine because it keeps so well in the fridge.
Cooked until all the wine is gone. I seasoned with salt and pepper, added a bit of basil, some ground sage and a little garlic powder.
When done, set aside.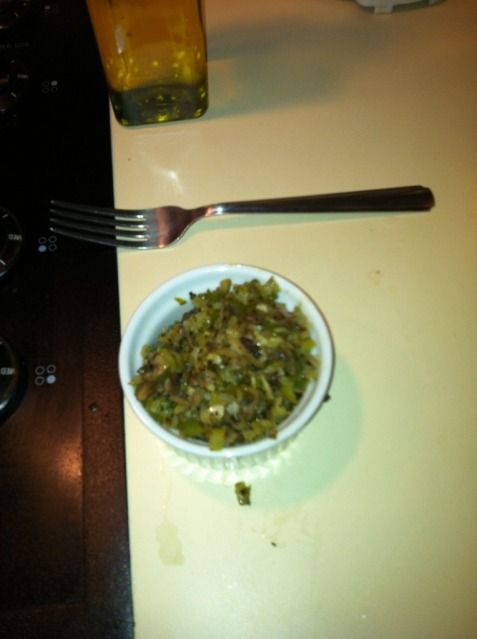 I made the bread portion of the stuffing with, as I said, Stove Top, but I used the wine I marinated the breast in instead of water and I added a little heavy cream as well. When it was done, I folded in the sauteed veg.
Now for the breast. It's been marinating for almost an hour by now (Hey! I took beer and bourbon breaks, OK?)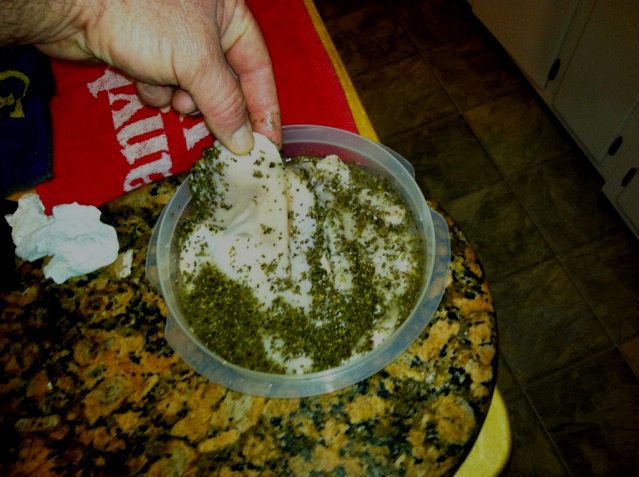 I pulled it out of the marinade and laid it on a plate, tilted slightly to drain.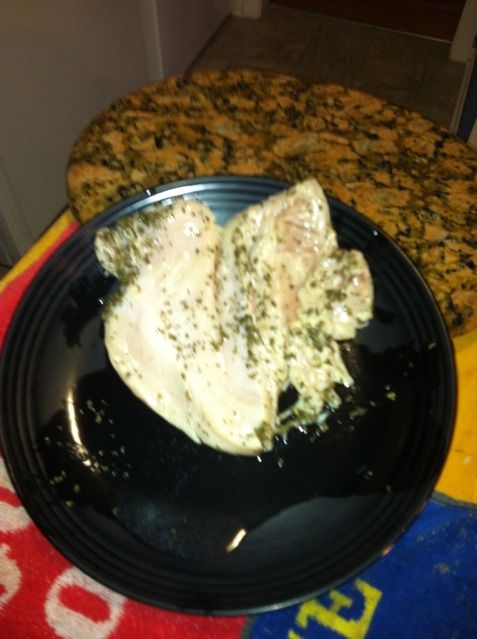 Now the roll prep. Similar to what Ramsay did;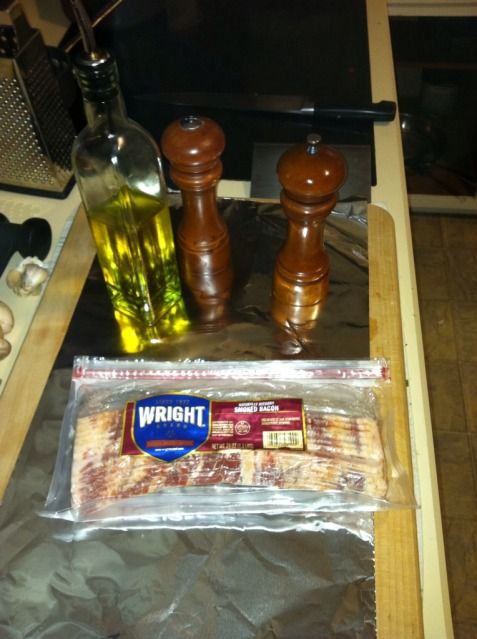 Aluminum foil, bacon, salt & pepper and olive oil.
Here it is ready for the breast;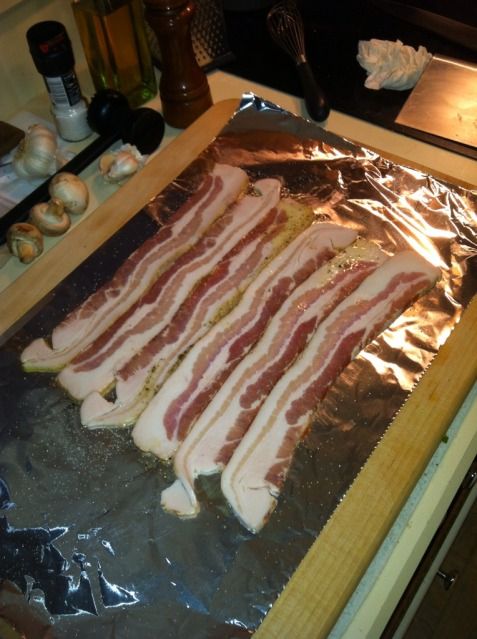 The breast placed in the center. Flecks of basil are present.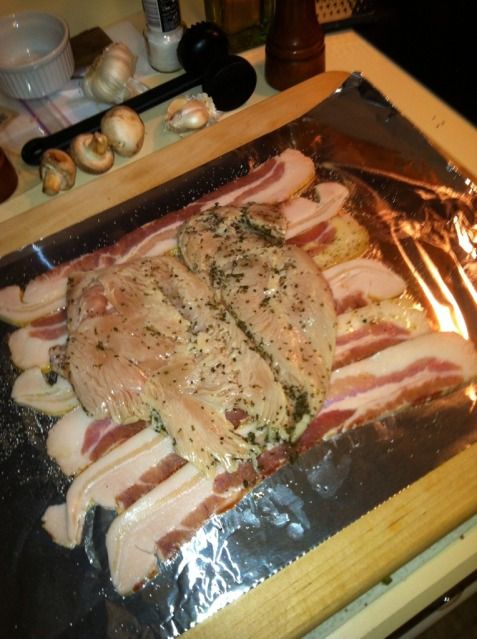 Now for the stuffing.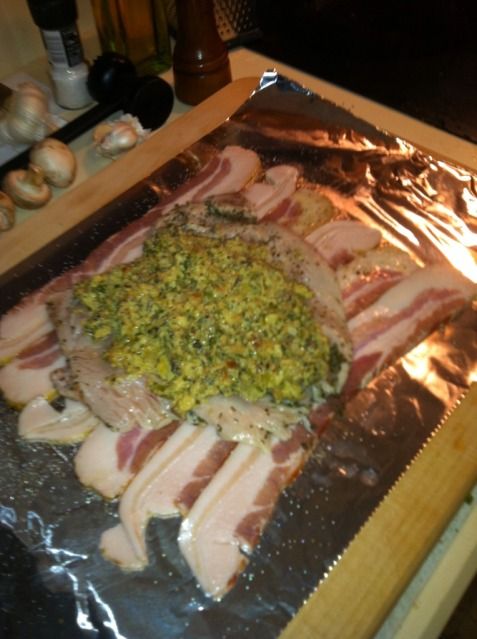 And an added twist, some shredded Mozzarella on top.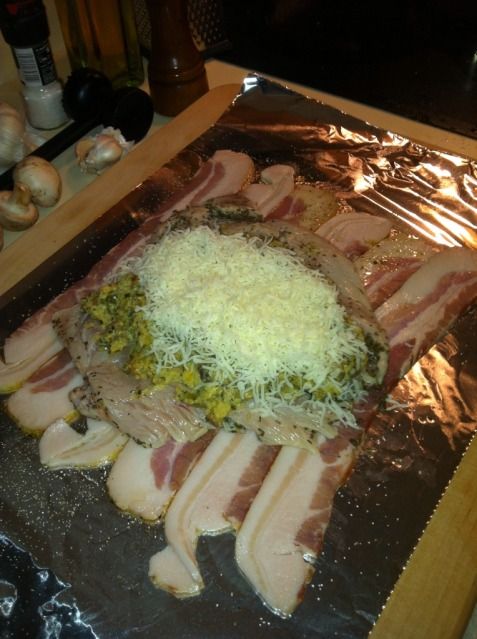 Now to roll it. This isn't as easy as Ramsay makes it look, but take your time and it will happen. Lift up one edge of the foil to start, then the other side and tuck over the bacon strips. Complete it by rolling the first side away from you and make it as tight as you can.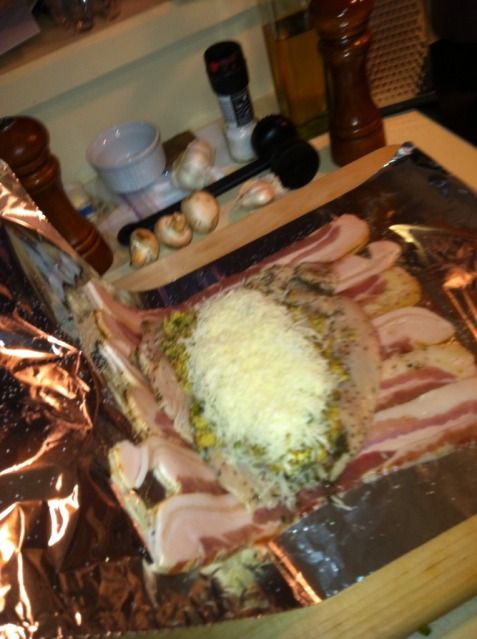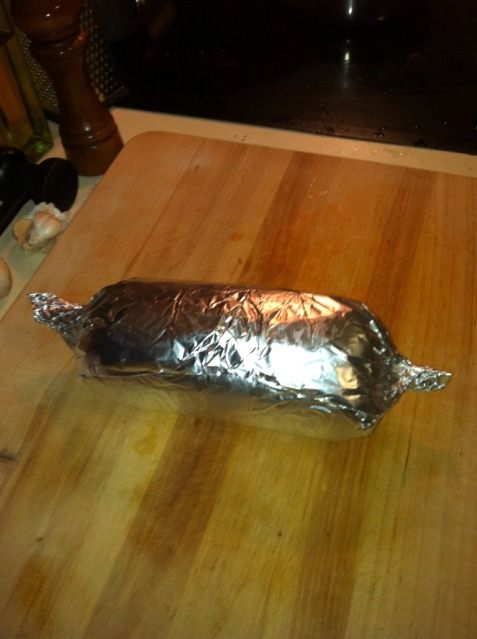 Video of the assembly process. This video was recorded on Feb. 19. 2013 so it is not of the same meal;
Now poach it. Gentle boil, about 20 to 25 minutes should do it.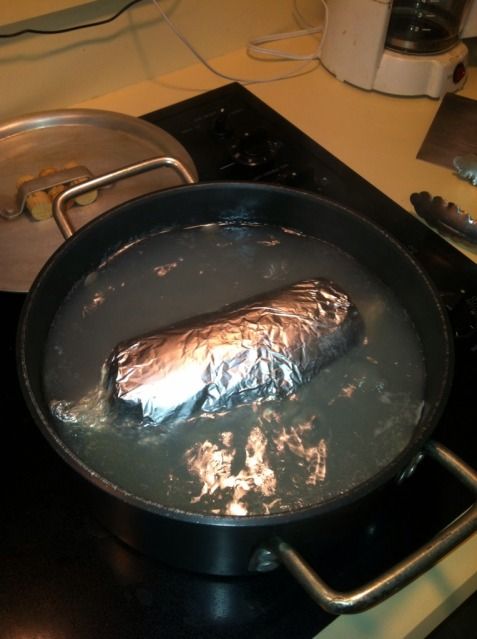 Put it in the fridge for about 30 minutes or so. On the long side is a bit better, as it will set up and hold its shape better for the next step.
Unwrapping.
Ready for the hot pan. Not as pretty as Ramsays, but completely serviceable. I really over stuffed it, and that was part of why I had the problems to follow.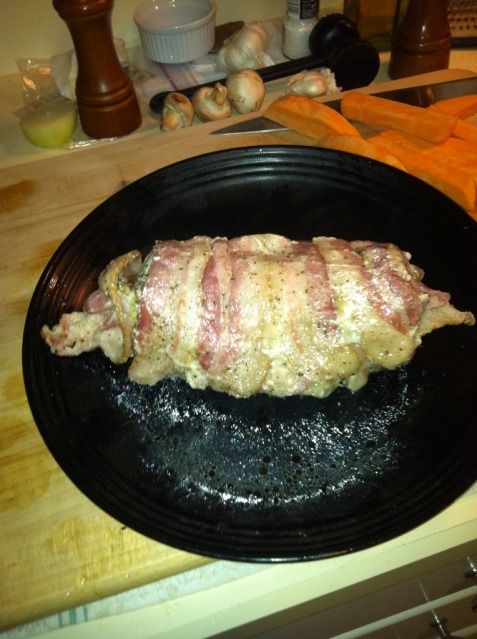 Cook over medium high heat, and roll it just like he does in the video to cook the bacon.
Not bad, not bad at all. It wanted to fall apart, because as I said, I over stuffed it. Oh well!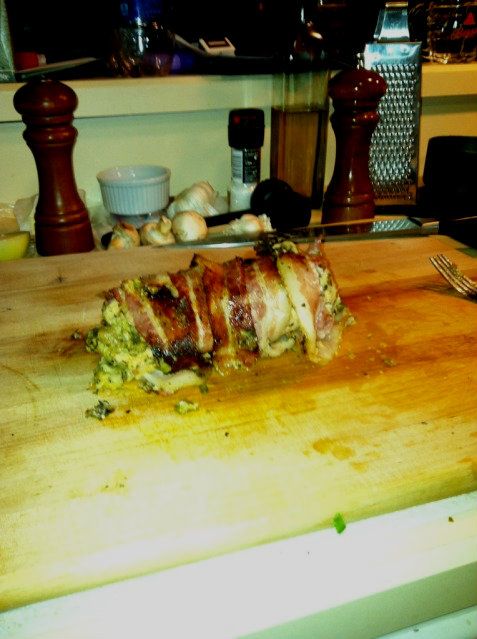 I Heard Ramsay say on one of his programs that a French chef suggested that when cooking meat, you should let it rest for as long as you cooked it. While that isn't always practical, the longer the better. I let it rest for a good ten minutes.
Now to slice it.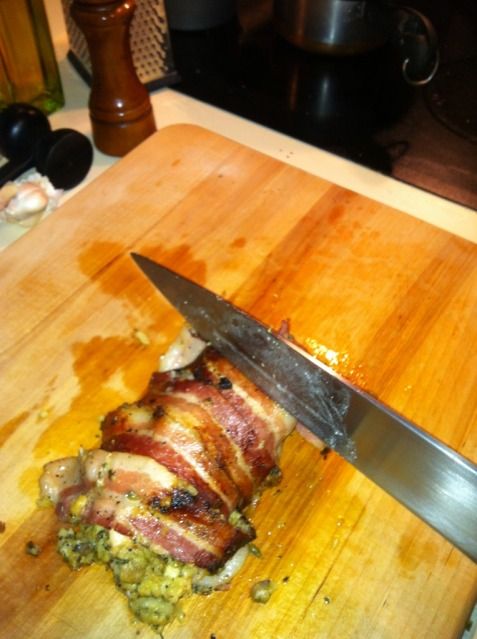 Again, not bad. Not bad at all.
And a video of the above procedure;
I plated it over rice with steamed broccoli and steamed sweet potato with some Bearnaise sauce I had left over.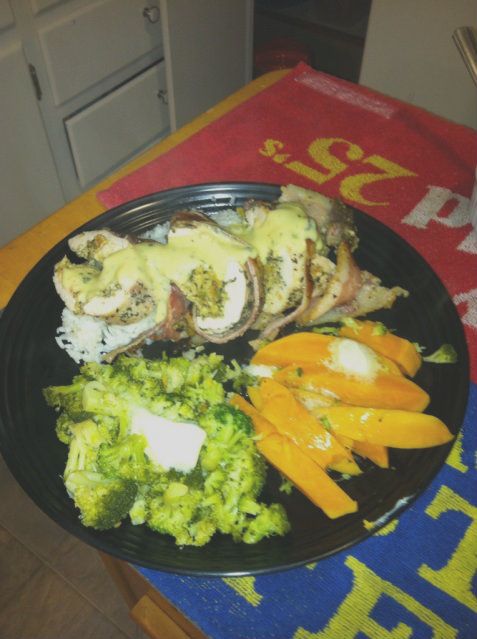 Sorry about the pics, they were taken with my phone. The white splotches on the veggies is butter!
It was delicious. Give something like this a try. It was a bit time consuming start to finish, but well worth it and I guarantee you won't regret it.
Bon Appetite!
10 replies, 3905 views
Replies to this discussion thread
| | | | |
| --- | --- | --- | --- |
| 10 replies | Author | Time | Post |
| Stuffed Chicken Breasts (pic heavy) Updated with videos (Original post) | A HERETIC I AM | Jan 2013 | OP |
| | Warpy | Jan 2013 | #1 |
| | Callalily | Jan 2013 | #2 |
| | intheflow | Jan 2013 | #3 |
| | NJCher | Jan 2013 | #4 |
| | A HERETIC I AM | Jan 2013 | #5 |
| | Glassunion | Jan 2013 | #6 |
| | A HERETIC I AM | Jan 2013 | #7 |
| | mother earth | Jan 2013 | #8 |
| | A HERETIC I AM | Jan 2013 | #9 |
| | bif | Jan 2013 | #10 |
---
Response to A HERETIC I AM (Original post)
Mon Jan 14, 2013, 01:09 AM
Warpy (101,585 posts)
1. That does look wonderful, oozing stuffing and all
I like things better a little overstuffed because anything that gives extra flavor to a bland meat like chicken is a plus.

My own take on it (dating from the 70s) is chicken breasts, pounded flat with the bottom of a frypan, stuffed with a mixture of sauteed mushrooms, onion, broccoli, and water chestnuts (I like crunch). Roll the flattened chicken breasts around the stuffing and secure with a toothpick. Arrange in a single layer in a baking dish and cover with a bechamel sauce made with chicken stock and seasoned with onion and a little thyme. Sprinkle some grated cheese on top and bake until brown and bubbly, 35-45 minutes.

I suppose you could eliminate the bechamel and use bacon here, too. Or even roll the chicken breasts in breading and serve a sauce on the side. However, it's a great dish.
---
Response to A HERETIC I AM (Original post)
Mon Jan 14, 2013, 06:44 AM
Callalily (12,681 posts)
2. Looks very tasty!
Definitely a Sunday afternoon project!
---
Response to A HERETIC I AM (Original post)
Mon Jan 14, 2013, 11:27 AM
intheflow (26,406 posts)
3. Yum!!!
I was totally skeptical when I saw you boiling it, but the next step restored my faith in the process. Looks quite tasty!
---
Response to A HERETIC I AM (Original post)
Mon Jan 14, 2013, 08:14 PM
NJCher (28,002 posts)
4. rolling
I know what you mean about the overstuffing. I did that last night when I made negamaki. Wouldn't do it again.
ln regard to the rolling, I found it pretty easy with my negamaki. I wouldn't let rolling stop me from making a recipe. Your slices turned out beautiful!
I think you can be forgiven the Stovetop, given the numerous steps of this recipe. Also, now Stovetop has a lower sodium version.
Regarding boxed wine, I prefer it, too. Because it is in the bag, it isn't exposed to air, which makes it keep better.
Nice pan. Not only is it esthetically beautiful, it looks like it's heavy as well.
Thanks for taking the pictures for the post. Always so much easier to understand with photos.
Cher
---
Response to NJCher (Reply #4)
Mon Jan 14, 2013, 08:57 PM
A HERETIC I AM (22,323 posts)
5. Thanks. Re: the pan(s)...
The one I used to poach in is at least 21 years old! Calphalon I bought in a set back in '91 or '92. The one behind in that shot is from the same set.

The fry pan is also Calphalon, but much newer, probably purchased in 2006 or so. It has a fairly thick copper bottom, so yes, it's heavy and works real well.

As far as boxed wine is concerned, you are exactly correct. The fact that air doesn't enter in as you use it makes it really handy to store in the fridge for extended periods.

That works better in some households than others!

Thanks for the comments.
---
Response to A HERETIC I AM (Original post)
Fri Jan 18, 2013, 01:39 AM
Glassunion (10,201 posts)
6. Pinned... +100 for the pictures and detail...
---
Response to Glassunion (Reply #6)
Fri Jan 18, 2013, 08:24 AM
A HERETIC I AM (22,323 posts)
7. Oh wow! I'm very flattered!
Thanks for considering this worthy of inclusion in the pinned thread.


Thanks!
---
Response to A HERETIC I AM (Original post)
Mon Jan 21, 2013, 06:32 PM
mother earth (6,002 posts)
8. Looks wonderful. Hmmm...I'll have to give this a shot in the near future. I love your pics too.
You could tell someone about this recipe, but it's really true, first you eat with your eyes. Looks delish, thanks for bringing this to us.
---
Response to mother earth (Reply #8)
Mon Jan 21, 2013, 06:53 PM
A HERETIC I AM (22,323 posts)
9. Thank you very much!
As I said in the OP, it is a bit time consuming doing it the way I did it, but not technically difficult.

I realize one mistake I made that I haven't mentioned, and that is to overlap the bacon slices a bit. I didn't, and that led to the bacon wanting to get away from me!

Enjoy.
---
Response to A HERETIC I AM (Original post)
Tue Jan 22, 2013, 09:19 AM
bif (19,511 posts)
10. Looks incredible!
It's making me hungry, and it's only 9 in the morning!