Sun Dec 9, 2018, 04:29 PM
JHan (10,173 posts)
Coquito - Puerto Rican Coconut Nog
Like many traditional foods or drinks that coquito can trigger some passionate debate. The biggest debate regarding coquito is with or without egg yolk.

Everyone that is familiar with coquito stands firmly in one camp. I am firmly in the no egg yolk camp. My abuela and mother made it with no egg yolk so I make it with no egg yolk. I always say coquito isnít eggnog itís coquito

Now Iím not knocking eggnog. In fact, my friend Rebecca has a killer eggnog recipe. But eggnog and coquito are not the same thing.

Abuela once told me that the addition of egg yolk was the influence of the classic American Christmas drink eggnog. How true that is I canít say but I continue to stand firm in the no egg yolk camp. If your abuela made it with egg yolk go for it.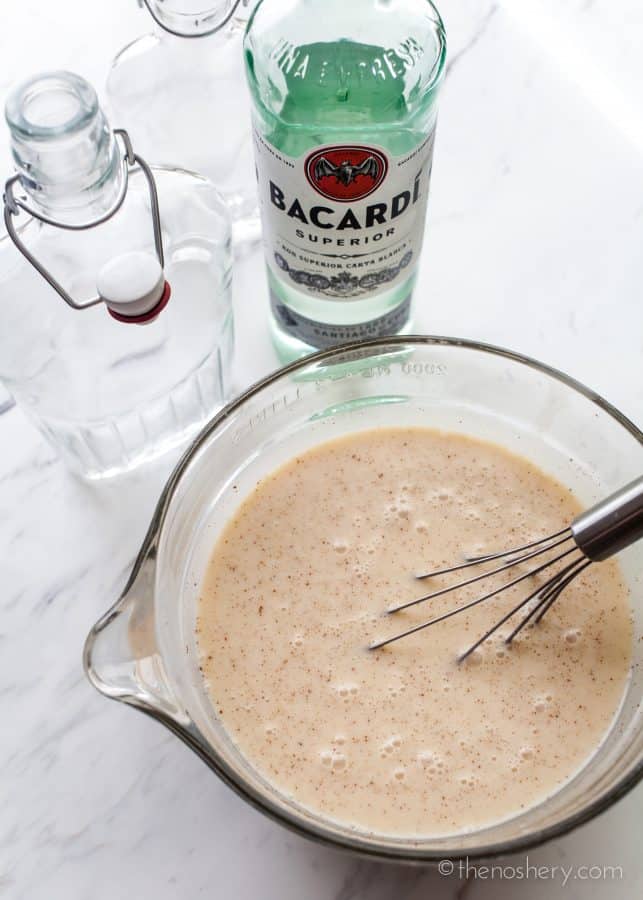 what is coquito?
Regardless of the eternal egg yolk debate the main ingredients of coquito, are coconut milk, coconut cream, Puerto Rican rum, and sweetened condensed milk. The result is a creamy coconut rum drink that is essential to any Puerto Rican Christmas celebration.
tips for coquito
This recipe calls for cream of coconut like Coco Lopez. This is different from coconut milk.
Coquito (without egg) will last in an airtight container refrigerated for 4-6 months.
If the some of the coconut fat solidifies let it sit on the counter for 10 minutes and give it a good shake before serving.
Traditional coquito is made with Puerto Rican Rum like Don Q.
These swing-top bottles are great for gifting coquito.

In the recipe, I suggest 1 1/2 cups of white rum. If that sounds like too much start with 1 cup and add more to taste. I like to add just enough rum that itís prickly on the back of your throat and warms you on the inside. It will be one of the few drinks youíll have that is cold that warms you up.

Just be careful because the flavor of the rum gets stronger the longer the drink ďmarinadesĒ.

get recipe here
4 replies, 954 views
Replies to this discussion thread
| | | | |
| --- | --- | --- | --- |
| 4 replies | Author | Time | Post |
| Coquito - Puerto Rican Coconut Nog (Original post) | JHan | Dec 2018 | OP |
| | lunasun | Dec 2018 | #1 |
| | JHan | Dec 2018 | #2 |
| | lunasun | Dec 2018 | #3 |
| | JHan | Dec 2018 | #4 |
---
Response to JHan (Original post)
Sun Dec 9, 2018, 05:38 PM
lunasun (20,714 posts)
1. Somebody gave me a bottle of that last Christmas and told me to keep it in the fridge
Well a lot got put in the fridge that week . Anyway, a few weeks maybe a month pass
I bring it out - oh
that was some strong rum coming out when open
Now I know how it was made and yes they gifted in a swing top bottle
---
Response to lunasun (Reply #1)
Sun Dec 9, 2018, 06:33 PM
JHan (10,173 posts)
2. yeah and it "marinades" over time.
Last edited Tue Dec 11, 2018, 08:01 PM - Edit history (2)
there are other versions in the Caribbean too which use condensed milk, like Trinidadian egg nog - "Ponche De Creme" - with eggs , lime zest , condensed milk, bitters , nutmeg also star anise, cloves, allspice, some evap milk and good Caribbean Rum. (2 cups of rum for every 6 eggs)


---
Response to JHan (Reply #2)
Sun Dec 9, 2018, 10:36 PM
lunasun (20,714 posts)
3. I'm a sucker for anything with even a hint of lime + hey that sounds good too 🍹
---
Response to lunasun (Reply #3)
Tue Dec 11, 2018, 07:54 PM
JHan (10,173 posts)
4. it's good and easy to make