Thu Oct 14, 2021, 10:21 AM
NJCher (28,546 posts)
Composting Tip
This is also a story about what a pitifully addicted gardener I am.  Yesterday I pulled spent tomato vines out of a raised bed. I threw them on top of a crate where I had been throwing weeds and straw I'd pulled off the top of the beds over the summer.
I wanted to take the tomato vines to the recycling center before the 4:30 closing, and to make it on time I resorted to just pushing the crate in the back of my station wagon without looking at it much.  Well, I did make it on time to the recycling center, but just barely. I threw the contents of the crate on the ground where clippings are supposed to go and on the bottom four inches of the crate was the most beautiful compost!!  
I said oh no!! I want that compost.  But I had no trowel or shovel in the car to pick it up (unusual), so I improvised by getting a plastic bag and scraping it into the bag with the flap off a cardboard box!  It filled a whole plastic grocery bag!!  Meanwhile the guy who runs the recycling center was standing to my left tapping his wristwatch. I must have been a pathetic sight.
It occurred to me that the crate would be a good composter over the winter, or at the very least, a leaf mulcher.  Pictured below is the type of crate. The secret is the ventilation. I would not put veggie scraps in this due to rodents being able to access it, but for leaves, chopped weeds, etc., it is ideal.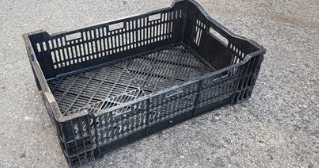 The best part of this leaf mulcher is that it's stackable. I get them free from the grocery store and I intend to get more, stacking them under my deck until spring.
3 replies, 553 views
Replies to this discussion thread
| | | | |
| --- | --- | --- | --- |
| 3 replies | Author | Time | Post |
| Composting Tip (Original post) | NJCher | Oct 2021 | OP |
| | UserNotFound | Oct 2021 | #1 |
| | amerikat | Nov 23 | #2 |
| | Kaleva | Dec 8 | #3 |
---
Response to NJCher (Original post)
Thu Oct 14, 2021, 06:15 PM
UserNotFound (101 posts)
1. Yup, good on you!
Compost is magical stuff...
---
Response to NJCher (Original post)
Tue Nov 23, 2021, 11:42 PM
amerikat (4,709 posts)
2. nature composts automatically everywhere on earth
getting it to compost where you need it is another thing entirely. seems you have found a shortcut.
---
Response to NJCher (Original post)
Wed Dec 8, 2021, 11:25 AM
Kaleva (29,384 posts)
3. Interesting! Thanks for posting!