Tue Oct 19, 2021, 05:51 AM
Botany (62,422 posts)
About Bumble Bees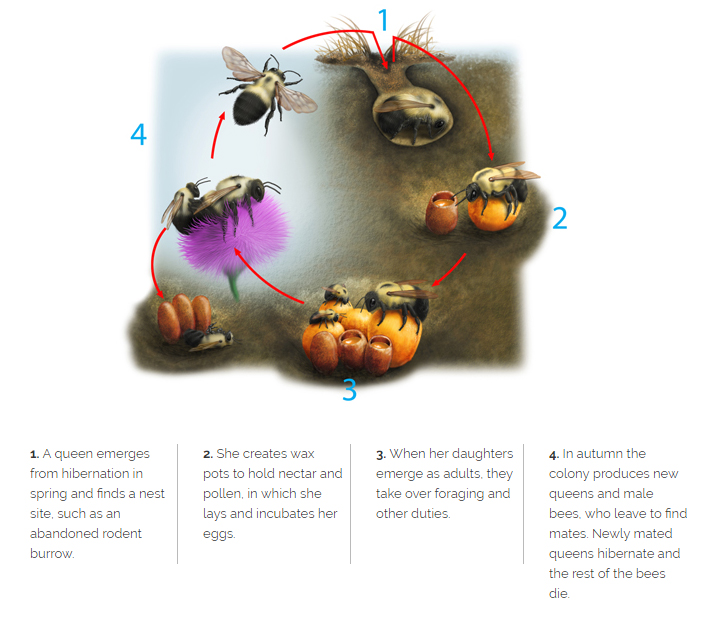 Bumble Bee populations across America have fallen off drastically however there are some
simple things that you can do to help out this extremely important native pollinator. Give
'em food (native plants), water, habitat, and limit you use of insecticides and one person,
or one school, or one business can help our friend "the Bombus."
https://www.smithsonianmag.com/smart-news/american-bumblebee-has-vanished-from-eight-us-states-180978817/
BTW joining and supporting the Xerces Society is good way to help to support all of our "little
critter friends." E.O. Wilson, "The Little Things that Run The World."
************
All bumble bees belong to the genus Bombus within the family Apidae. The family Apidae includes the well-known honey bees and bumble bees, as well as carpenter bees, cuckoo bees, digger bees, stingless bees, and orchid bees. Bumble bees are important pollinators of wild flowering plants and crops. As generalist foragers, they do not depend on any one flower type. However, some plants do rely on bumble bees to achieve pollination. Loss of bumble bees can have far ranging ecological impacts due to their role as pollinators. In Britain and the Netherlands, where multiple bumble bee and other bee species have gone extinct, there is evidence of decline in the abundances of insect pollinated plants. Bumble bees are also excellent pollinators of many crops.
Nesting
Bumble bees are the only bees native to North America that are truly social. They live in colonies, have different divisions of labor or castes, and have overlapping generations, usually with multiple broods throughout the spring, summer, and fall. However, unlike the non-native, European honey bees, the bumble bee colony has an annual life cycle. At the end of the summer the foundress queen, her workers and male offspring will all die; only the newly emerged, fertilized queens (gynes) survive to hibernate through the winter. In the spring, she will found a new nest that eventually may grow, depending on the species and available resources, to 50 – 500 individuals. Bumble bees need a cavity in which to build their nest. The queens are opportunists, looking for any suitably sized cavity. Sometimes this is above ground, such as in hollow trees, abandoned bird nests, rock walls, or under a tussock of grass, but they mostly nest underground. An abandoned rodent hole is a favorite, as this space is warm and already lined with fur.
snip
Foraging
Bumble bees are generalist feeders, often the first bees active in late winter (February) and the last in fall (November). Since they are active for so many months, they must be able to forage on a wide range of plant species in a wide range of weather conditions to support a colony. Early season, and late season resources are critical, as these are sensitive times of the year for successful establishment, and reproduction. Some individual bees in the colony choose to forage exclusively on a single species or a limited range of related plant species, effectively becoming specialist foragers. When foraging, the female bumble bee carries pollen in a concave, hairless area surrounded by stiff hairs on her rear legs, known as the pollen basket or corbicula. This basket can be seen clearly when it is empty⁠—and, when full, the pollen ball pressed into it is obvious.
Pollination
Bumble bees are able to fly in cooler temperatures and lower light levels than many other bees, and they perform a behavior called "buzz pollination," in which the bee grabs the pollen producing structure of the flower in her jaws and vibrates her wing musculature. This causes vibrations that dislodge pollen that would have otherwise remained trapped in the flower's anthers. Some plants⁠—including tomatoes, peppers, and cranberries⁠—benefit significantly from buzz pollination. In contrast to European honey bees, who make large amounts of honey so the entire colony can survive the winter, bumble bees only make a small amount of honey⁠—just enough to feed the colony for a couple of days during bad weather. Since newly-mated bumble bee queens hibernate, they do not need the vast quantity of honey found in honey bee hives.
https://xerces.org/bumblebees/about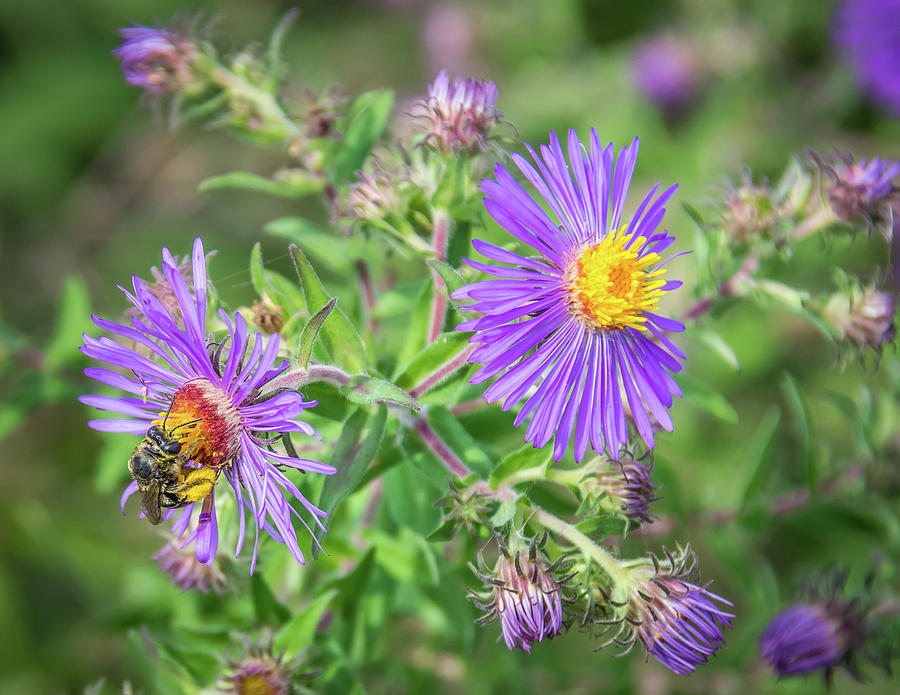 12 replies, 1275 views
Replies to this discussion thread
| | | | |
| --- | --- | --- | --- |
| 12 replies | Author | Time | Post |
| About Bumble Bees (Original post) | Botany | Oct 2021 | OP |
| | mopinko | Oct 2021 | #1 |
| | Botany | Oct 2021 | #3 |
| | mopinko | Oct 2021 | #5 |
| | Botany | Oct 2021 | #6 |
| | mopinko | Oct 2021 | #8 |
| | Botany | Oct 2021 | #9 |
| | mopinko | Oct 2021 | #10 |
| | Botany | Oct 2021 | #11 |
| | mopinko | Oct 2021 | #12 |
| | Farmer-Rick | Oct 2021 | #2 |
| | Botany | Oct 2021 | #4 |
| | WestMichRad | Oct 2021 | #7 |
---
Response to Botany (Original post)
Tue Oct 19, 2021, 08:38 AM
mopinko (61,825 posts)
1. thanks for this. just shared it
---
Response to mopinko (Reply #1)
Tue Oct 19, 2021, 09:05 AM
Botany (62,422 posts)
3. FYI Wild Bee Conservation / A home grown national park
---
Response to Botany (Reply #3)
Tue Oct 19, 2021, 09:22 AM
mopinko (61,825 posts)
5. i really need to get around to making a bee hotel.
i get asked all the time why i dont keep bees. mostly, it's just too many little souls on my conscience. the chickens are worry enough.
but also because i'm trying to let this be as wild as it can. it's every bit as important to me as the tomatoes and the peaches and the apples.

for the most part, i dont plant natives so much as let the local natives, aka weeds, grow as much as possible. this year seems to have been thistle year. they started showing up last year, and this year i had a couple big patches, including the parkway in front of my house.
milkweed did the same. so i had a cloud of butterflies to watch from my window, including lots of monarchs.
but up close, that patch was just swarmed by native bees. lots of mason bees.
some bumble bees, too, but they do seem to be declining, even from 9 years ago when i started this project. nothing scientific about my numbers, tho. just impressions.

i picked up doll house from the trash, and it's sitting there waiting to be a bee hotel.
been to distracted w the property management side of this circus this year. it's been wilder than usual. it's a project for winter. maybe this winter.
---
Response to mopinko (Reply #5)
Tue Oct 19, 2021, 10:03 AM
Botany (62,422 posts)
6. You don't need to keep honey bees to have good pollination .... native pollinators (wasps, bees, ...
... flies, beetles, moths, butterflies, and so on) can do the job. And whatever you do to help protect our native pollinators
will also help protect the honeybees too. The more natives you have the more native pollinators you will have. Smooth
Sumac, Button Bush, Snowberry/Coral Berry, and elderberry are all excellent native shrubs
This is a wonderful resource. Sometimes you don't have to make a man made structure to help the bees.
Thistle is a non native invasive pest. (Outside of Field Thistle.) I support the careful use of chemicals to control it
and the replacing it with a native.
---
Response to Botany (Reply #6)
Tue Oct 19, 2021, 10:16 AM
mopinko (61,825 posts)
8. yeah, i think i will have to. unless i can get some goats in here.
honestly, i was sick and putting up w so much bs from neighbors this year, and the whole place is a mess.
i'd rly like to get a couple cashmere goats, but not right now.
so, looking to rent a couple, and get this place put to bed right, at least.

if i cant find them, i will pull out the roundup. i know it is not the cosmic threat that it is made out to be. it's creeping thistle, which, i think, is a variety of canadian thistle. and creep it does.
it is gorgeous, tho, imho. i have a dear friend who is a proud scot, and it sort of got in by attaching itself to her. lol.
i did sell a bushel to a witch in the neighborhood, but....

i have elderberries that are wild here, and a big patch of goldenrod. lots of dandelions.
i let the creeping charlie go until other things start blooming.
i try to grow at least one nightblooming flower. nicotonia is a fave. god the perfume.

and yeah, they are doing ok w/o accommodations, but a bee hotel made out of a old doll house is just cute. and i try to teach as much as grow.
---
Response to mopinko (Reply #8)
Tue Oct 19, 2021, 10:34 AM
Botany (62,422 posts)
9. Round up doesn't really work on thistle. It just burns the plant and maybe the top few inches of ..
... the root which will then send up new sprouts. The roots on thistles can be massive. 2-4D is better.
You will never get all the thistle but you can control it and then replace it with a native.


As per chemicals you can't let the perfect be the enemy of the good and right now during this
age of extinction where we are losing so much biodiversity and the supportive capacity of
our ecosystems to non native invasive plants they are an important tool. Sometime we need
to kill plants to help our planet.

I do some ecological restoration work and if you have something to use instead of round up I'm
all ears.

any ?s P.M. me
---
Response to Botany (Reply #9)
Tue Oct 19, 2021, 12:39 PM
mopinko (61,825 posts)
10. yeah, i agree.
a lot of science phobia out there across the spectrum. there's a big diff between regular use as a matter of course, and dealing w shit that needs to be dealt with.

and thanks for the advise. i should be able to find some goats. you can keep any animal in chi, and there are quite a few around. a foaf rented some. trying to track them down.
it'd do a lot more for my image in the hood to be seen w some cute goats instead of a sprayer.
---
Response to mopinko (Reply #10)
Tue Oct 19, 2021, 01:00 PM
Botany (62,422 posts)
11. The best course is to get the goats to munch the thistle and when they are gone the thistle ....
.... will come back up and then you can spray it. Spray only when it is actively growing
and mix some some liquid plant (miracle-gro ??) in with your spray. The thistle will take
the chemical up faster. You will have to spray 2 to 3 times and then you can seed the
area or plant some plugs. It took the Cincinnati's parks dept. about 10 years to get real
control over the thistle and the natives growing at such a rate they were choke out the
thistle.


---
Response to Botany (Reply #11)
Tue Oct 19, 2021, 01:04 PM
mopinko (61,825 posts)
12. thanks.
goats work if they are kept at it. yeah. one time shot is only a pause.
one patch is slated to be torn up w the bobcat, and buried under a few feet of woodchips.
would still help to weaken it first.
---
Response to Botany (Original post)
Tue Oct 19, 2021, 09:04 AM
Farmer-Rick (5,598 posts)
2. I love bumblebees
They come out early spring and buzz around your head like they are bigger than they really are.

They do a great job with Maypops or the passion flower. Carpenter bumblebees specifically pollinates the TN passion flower. But so many people kill them because they like to drill holes in wood the wild passion flower is slowly disappearing here.

I also find them in late fall on my saffron flowers stumbling around, drunk on the nectar. They are kind of funny to watch.

Thanks for posting this.
---
Response to Farmer-Rick (Reply #2)
Tue Oct 19, 2021, 09:10 AM
Botany (62,422 posts)
4. I love to watch bumble bees "buzz pollinate"* VA Bluebells in the early spring
* sonication .... it always makes me smile.
---
Response to Botany (Original post)
Tue Oct 19, 2021, 10:08 AM
WestMichRad (247 posts)
7. Support Project Wingspan
… as another way to help pollinators. This is a multi-state, multi organization effort to increase populations of native plant species that are most beneficial to key pollinator species such as monarch butterflies and bumblebees. States participating in Project Wingspan include all those bordering on the Great Lakes from Pennsylvania to Minnesota, plus Iowa and Arkansas.

For more info, go to www.pollinator.org