Sat Jul 25, 2015, 12:53 AM
NJCher (24,697 posts)
Wild & Crazy Tomato Plant
[URL=
.html][IMG]
[/IMG][/URL]
Is this guy nuts or what?!
This year I decided to put a tomato plant in front of my house. I have many others in my garden in my raised beds. I even have more tomato plants growing in pots, but this is the plant that is growing like crazy.
You can't see it, but it is growing on a cast iron tuteur.
Just one, though.
Here's a container of pole beans growing next to it. Looks like I'm going to have to pick them using a ladder!
[URL=
.html][IMG]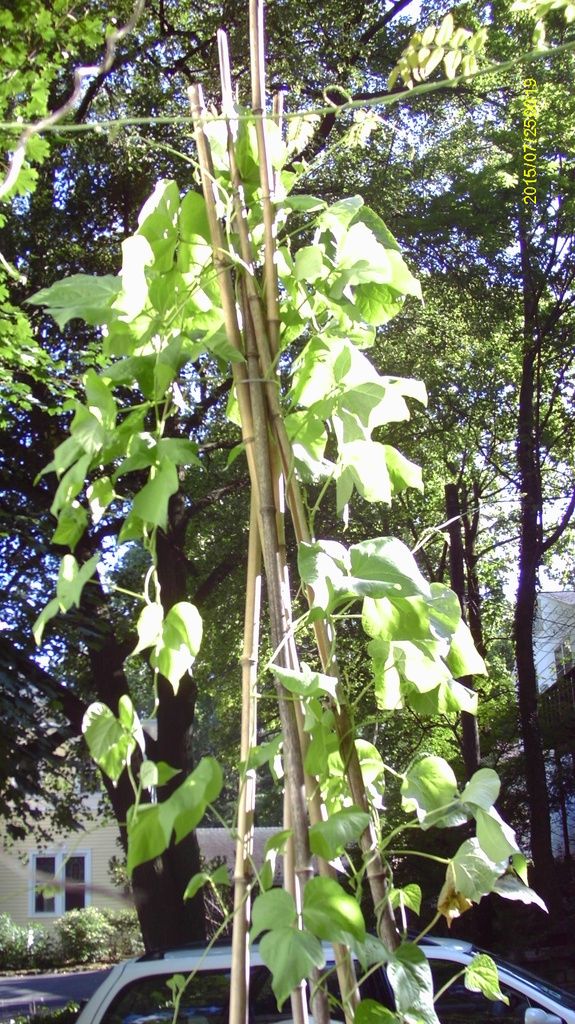 [/IMG][/URL]
The leaves are so big that they dwarf an outstretched hand. There would be more vines, but the groundhog came along and ate them.
With the tomatoes, I have to encase them in plastic net bags because I know he'll eat them.
Cher
p.s. I also grew the bamboo poles the beans are climbing.
2 replies, 1431 views
Replies to this discussion thread
| | | | |
| --- | --- | --- | --- |
| 2 replies | Author | Time | Post |
| Wild & Crazy Tomato Plant (Original post) | NJCher | Jul 2015 | OP |
| | NRaleighLiberal | Jul 2015 | #1 |
| | NJCher | Jul 2015 | #2 |
---
Response to NJCher (Original post)
Sat Jul 25, 2015, 01:13 AM
NRaleighLiberal (52,089 posts)
1. I've got monster plants on my deck. I did some measurements earlier - indeterminate tomato
varieties (which represent most types people grow - by far most of the heirlooms like Cherokee Purple, and hybrid cherries like Sun Gold) grow 2-3 inches per DAY...that's over 1 foot per week! (depending upon specific variety and amount of sun).

That's why I chuckle at the 3 or 4 foot tall cone shaped tomato cages. Then there is to prune or not to prune, which gives the horizontal chaos.

All sorta fun, hey! My deck cherry tomatoes are now 7 - 8 feet tall. And starting to produce like crazy!
---
Response to NRaleighLiberal (Reply #1)
Sat Jul 25, 2015, 09:52 AM
NJCher (24,697 posts)
2. now that is some interesting research
I had no idea that they grew that much in a day. That is primary source research you can use in your next book!
Still have yet to experience my first tomato of the season. This plant was put out in time, but the others were a bit late. Being a school teacher is definitely incompatible with being a gardener, as our busy times are right when the gardening make-or-break times are.
I have been set back severely by a groundhog who broke into my fenced garden. Fortunately, the only thing he got was the top of my zucchini plant, which will recover quite nicely.
Downstairs, however, on the level my house is on, he ate my peas, my beans, and even my sweet potato vine, which was purely decorative. I even saw him at it once and I chased him off.
Cher