Fri Feb 2, 2018, 08:05 PM
shenmue (37,592 posts)
Customers attack Bournemouth One Stop store cat ban
5 replies, 966 views
Replies to this discussion thread
| | | | |
| --- | --- | --- | --- |
| 5 replies | Author | Time | Post |
| Customers attack Bournemouth One Stop store cat ban (Original post) | shenmue | Feb 2018 | OP |
| | TreasonousBastard | Feb 2018 | #1 |
| | democratisphere | Feb 2018 | #3 |
| | sheshe2 | Feb 2018 | #2 |
| | Judi Lynn | Feb 2018 | #4 |
| | shenmue | Feb 2018 | #5 |
---
Response to shenmue (Original post)
Fri Feb 2, 2018, 08:12 PM
TreasonousBastard (33,762 posts)
1. No doubt there are worse things in that store than this guy...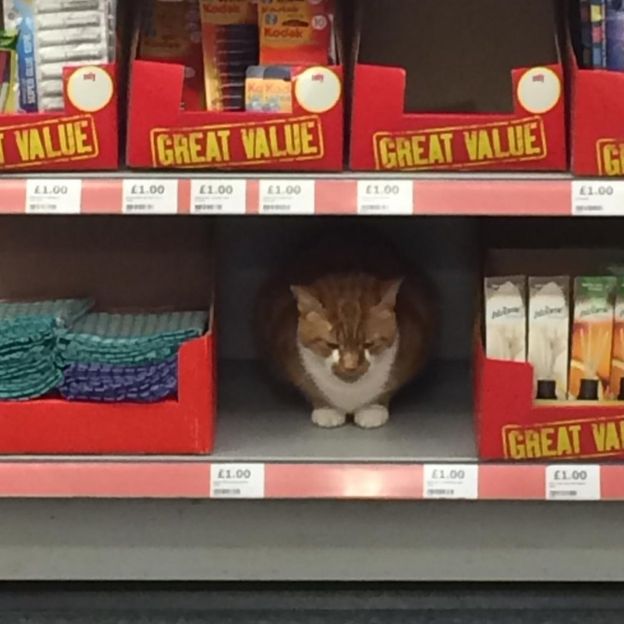 13 years he's been visiting that store
---
Response to TreasonousBastard (Reply #1)
Fri Feb 2, 2018, 08:23 PM
democratisphere (16,435 posts)
3. The cat has been going to the store for 13 years and probably is cleaner
than most of the human store patrons. Some bitty comes along and complains and out the cat must go. Ridiculous! Bombard corporate with phone calls and petitions to restore the cat's privileges.
.
---
Response to shenmue (Original post)
Fri Feb 2, 2018, 08:16 PM
sheshe2 (62,721 posts)
2. What a cutie.
---
Response to shenmue (Original post)
Fri Feb 2, 2018, 11:09 PM
Judi Lynn (137,332 posts)
4. Hooray for Lennon, D.C., and/or Dave! I like the "Dave" name for this guy.
Sure sounds as if he has a ton of friends who like him in the store.
The lady who wrote about him said all the food is wrapped, so this kitteh is NOT likely to touch any food of any kind. He just hangs out by the register. I'll bet he got tons of pats on the head, and chin-chucks every day.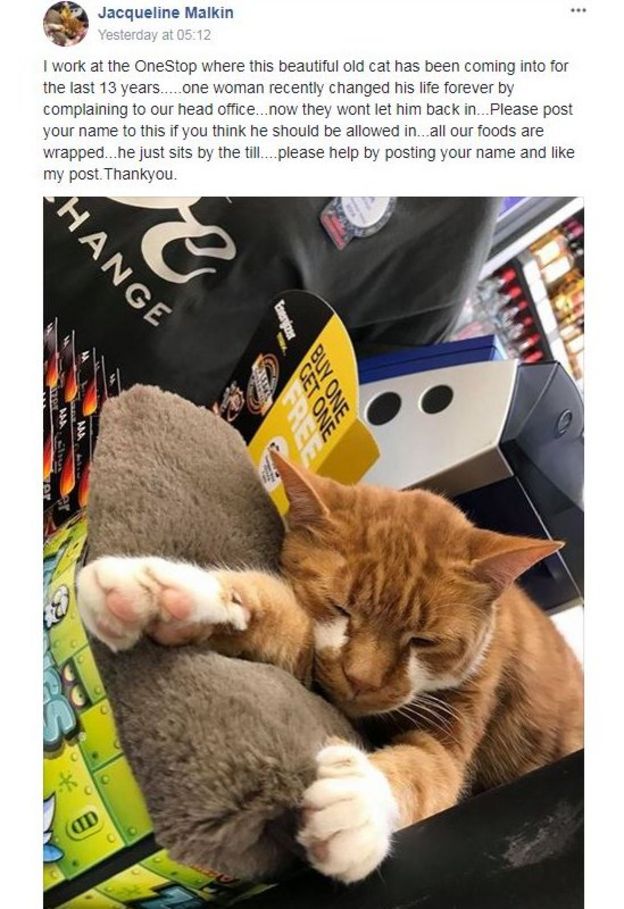 Hope enough Bournemouth shoppers apply enough heat that this little orange citizen can come back and meet his friends, again.
Thank you, shenmue.
---
Response to Judi Lynn (Reply #4)
Fri Feb 2, 2018, 11:27 PM
shenmue (37,592 posts)
5. U welcome